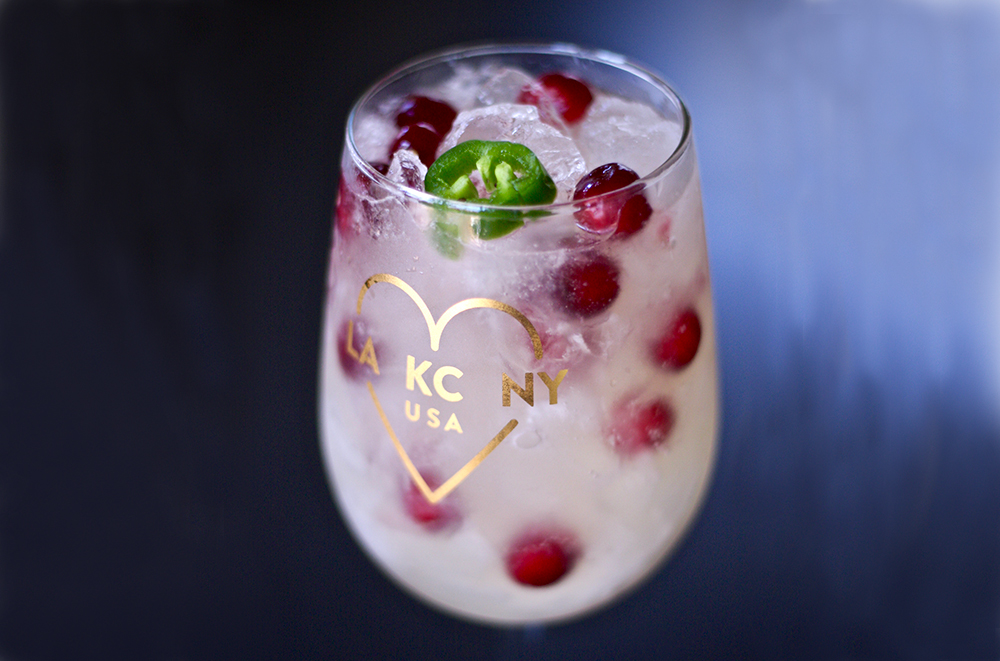 Making a drink that tastes delicious at home doesn't need to be complicated. Just ask Cheryl Bisbee, the founder of Boozy Botanicals. Her company produces small-batch syrups designed to make whipping up a round of cocktails approachable.
"People don't think that they can do it when really they can," Bisbee says. "It just takes one more ingredient to make their cocktail just as good, just as fun, just as different or unique as something they're going to get in the craft cocktail bar."
A self-described "huge foodie" who loves to cook and entertain, Bisbee would often try recreating elaborate drinks inspired by her latest find at a cocktail lounge. At the same time, she was feeling restless in her career as a lawyer and was ready to make a change. 
"I've never been a bartender, but I started looking at all these cocktail ingredients on the cocktail menus and thinking, 'How can I make this thing with fourteen different ingredients and liqueurs I know I don't have in my home bar? How can I create that at home fairly easily without buying a bunch of ingredients that I may or may not ever use again?'"
The answer she came up with was infusing syrups with flavors she didn't see already available. Her first batch was made using ingredients she had on hand: A pot of rosemary on her deck, mint growing throughout her garden and fragrant roses from her natural-gardening neighbor's bushes. Those evolved into her first products—herbal and savory rosemary mint syrup and the aromatic classic rose syrup. Boozy Botanicals was born. 
"Everyone in my life thought I was completely crazy," Bisbee says. She worried whether she had the credibility to enter the cocktail space, "but that was kind of the point. With Boozy Botanicals, I wanted to make the craft cocktail more accessible."
Bisbee figured out the food manufacturing process and homed in on the ingredients she wanted—certified organic cane sugar serves as the base, while lemon juice acts as a preservative, allowing the syrups to be all natural. 
Still, Boozy Botanicals has been a bit of a slow burn. Bisbee sold her first bottles of syrup in 2015 but didn't fully focus on the business until mid-2016. Since then, she's worked on establishing the brand in the Kansas City market and beyond. Her syrups are available online and at stores throughout the Kansas City area as well as at several retailers in Colorado and Nebraska. 
The company's line of flavors has expanded too, highlighting an array of other herbs, spices, and florals. There's a smoky vanilla allspice syrup and a cardamom spice (which initially featured saffron as an ingredient, until Bisbee realized how costly the spice would be for large batches). Other offerings include ginger hibiscus, lavender earl grey and the sweet and spicy three pepper syrup, which replaces the traditional orange liqueur in Boozy's simple version of a margarita. 
"This syrup is infused with jalapeño, serrano, and Anaheim peppers and gives the drink a uniquely flavored sweet heat," Bisbee says.
For best results, she recommends using a quality silver tequila and fresh lime juice. Frozen berries help keep things cool and provide an unexpected visual pop.
---
Three Pepper Margarita
2 ounces tequila

 

½ ounce Three Pepper syrup
Juice from one fresh squeezed lime
Combine everything in a shaker with ice and shake vigorously. Strain into glass filled with ice and frozen cranberries (any frozen berries will work). Garnish with jalapeño slice and top with a splash of club soda.