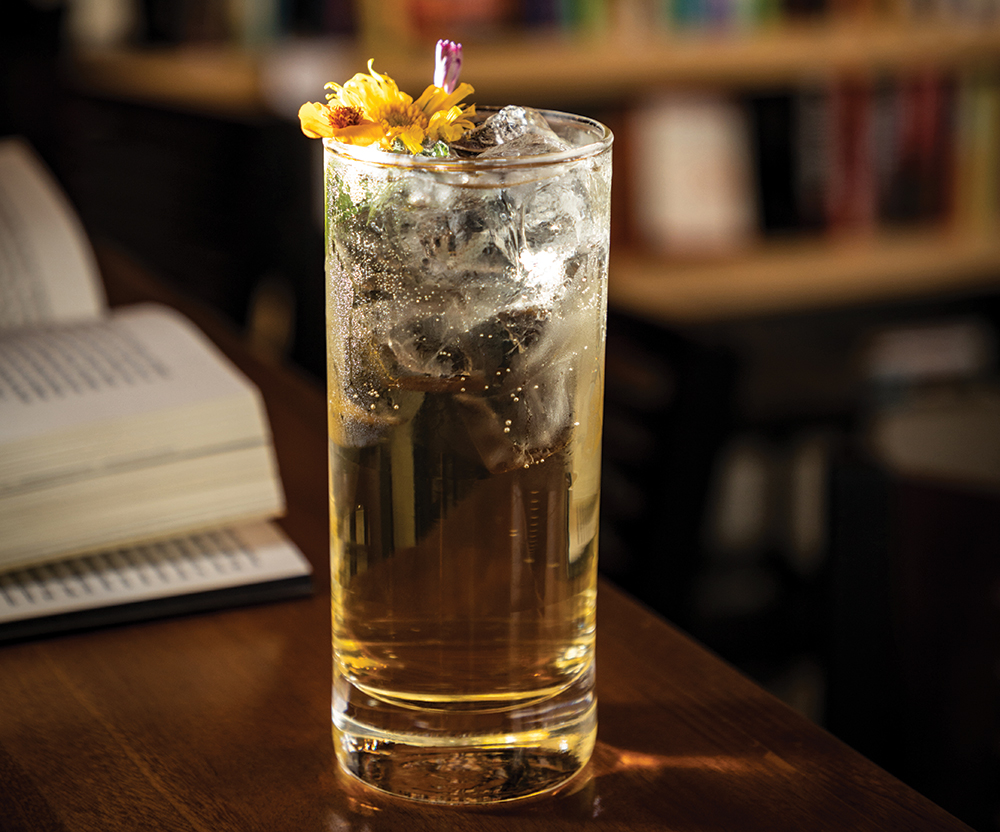 Alcohol and literature go way back, for better or for worse. And yet the idea of combining the two still feels—dare we say it?—novel, especially at Afterword Tavern & Shelves.   
Since opening last summer, the stylish hybrid bookstore/bar has made itself at home in the Crossroads, where it's open Wednesday through Sunday. Visitors have wasted no time cozying up on the assortment of comfy couches and chairs, holding book-club meetings or savoring some quiet time with their next favorite read at a table hand-painted in tribute to Mark Twain.
Afterword is generally relaxed enough that you can enjoy your reading time without distractions, with an added bonus: It's scientifically impossible not to look sophisticated reading a book at the bar. Bibliophiles can also peruse a small but mighty collection of genre-spanning books available for purchase. If the tome you want isn't currently stocked, you can order it from Afterword and pick it up in less than a week along with a beverage or beignet. Let's see Amazon top that.
Playful, unpretentious appreciation for the written word seeps out of every pore at Afterword, from the framed pictures and illustrations of notable authors to book recommendations penned on library cards. It's most deliciously felt on the cocktail menu, where each drink's description is accompanied by a relevant quote. Sip a Negroni ("The bitters are excellent for your health, the gin is bad for you. They balance each other out," Orson Welles noted), or show your hometown spirit with The Crossroads, a blend of Union Horse Reunion Rye, Ruby Port, Passionfruit, tea, and Fee Brothers plum bitters ("If you want to see some sin, forget Paris and go to Kansas City," as Edward Morrow famously said).
The boozy quips and quotes of writers also make their way onto the beer and cocktail list dominated by local makers, such as Amigoni Vineyards, Torn Label, and Cinderblock. Sample the fare during "Story Time," also known as happy hour, 3 to 6:00 p.m. daily. Hungry for more? Afterword serves up a selection of salads, pressed sandwiches, flatbreads, and toasts, plus charcuterie and cheese boards and a rotating selection of beignets.
Blue Sky Thinker
This original cocktail, a collaboration between bar manager Vanessa Waters and bartender Alex Allen, came from a discussion about unique ways to incorporate Kansas City-made Mean Mule Agave Spirits into cocktails during a lazy, hot summer day.
"I'll read my books and I'll drink coffee and I'll listen to music, and I'll bolt the door."   

—J.D. Salinger
"We wanted something earthy and refreshing that highlighted the locally made spirit while remaining light and flavorful," Waters says. "The name comes from a phrase synonymous with open-minded thinking, and the quote on the menu, 'I'll read my books and I'll drink my coffee and I'll listen to music, and I'll bolt the door,' comes from J. D. Salinger—a perfect pairing for this delicious cocktail!"
¼ ounce Plantation Dark Rum
1 ounce Mean Mule Silver Agave Spirit
1½

ounces coffee-infused Luxardo Bitter Bianco*

Fever Tree Indian Tonic Water
In a Collins glass, add the Copper & King's Orange Curaçao, Mean Mule Silver Agave Spirit, Coffee-Infused Luxardo Bitter Bianco, and top with ice. Add Fever Tree-brand Indian tonic water and garnish with an orange peel or edible flowers.
* To make coffee-infused Luxardo Bitter Bianco: Add 1 cup of whole coffee beans to 750ml of Luxardo brand Bitter Bianco Amaro and let sit in a cool, dark place for 2 hours. Strain out coffee beans and discard.