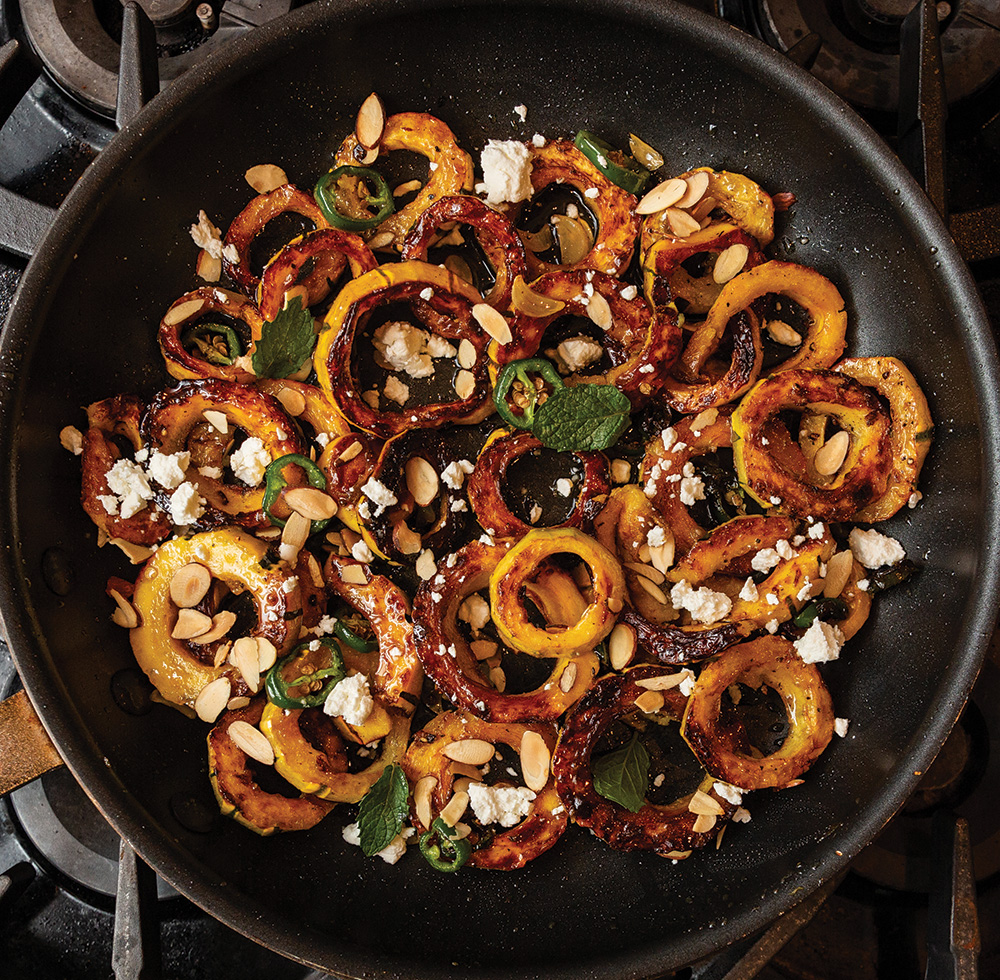 As we quietly slide into autumn, sweet and savory squashes like Delicata, butternut, acorn, and Hubbard find their way to the farmers markets, restaurants, and my home table. This year, in addition to the butternut I always cultivate, I grew Delicata. Its name is literal—it is a more delicate squash in both flavor and storability than most of the longer keeping "winter" squashes—I've kept and used butternut squash up to a year after harvesting it. But Delicata's nature makes it a perfect vehicle for accentuating flavors and textures. If you garden, or over-purchase squashes at the market (because they are all so beautiful and make great seasonal displays), keep in mind that the Delicata is the one you want to use up first. If you can't find it, acorn squash is a perfect substitute. This is a recipe to make your own by varying ingredients and technique to fit your palate and your lifestyle. For the sweet-sour element of the honey-lime drizzle, you could substitute balsamic vinegar or a maple syrup and lemon reduction. Different herbs could be used in place of the mint, such as basil, sage or cilantro.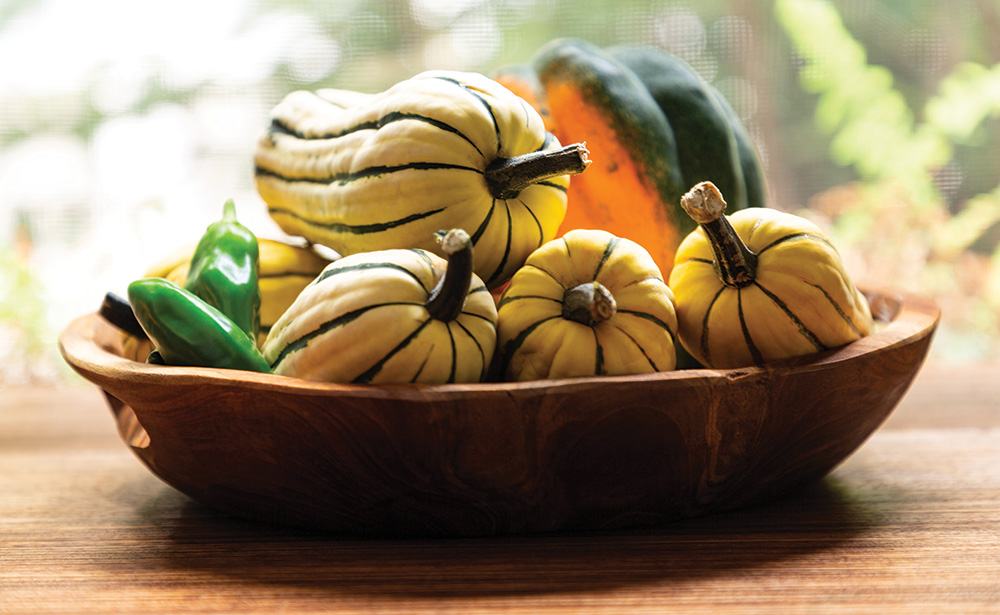 Instead of sautéing in a skillet, the squash could be roasted until tender on a parchment-lined sheet pan to achieve similar results. For the cheese, you can approach it from different directions: a tangy fresh sheep or goat's milk cheese as a counterpoint to the sweetness, or something nutty and mellow like a local cheddar-style cheese that goes with the almonds and provides textural contrast. You be the judge. If you can wait, the dish improves with a few hours (or day or so) of marinating. Just remove the squash from the refrigerator and allow it to return to room temperature before serving, or quickly heat it if you prefer it warm. Just before serving, garnish with the cheese and almonds. I think it is an excellent accompaniment to almost anything, but it is especially lovely with grilled fish or quail.
Delicata Squash with Almonds, Honey, Lime and Cheese
2-3 large Delicata squash (about 2 pounds), or an equivalent amount of acorn squash

2 jalapeño peppers (optional), sliced eighth-inch thick, stem end discarded

3 tablespoons butter

3 tablespoons extra-virgin olive oil, or as needed

¼

cup lime juice (or lemon, or apple cider vinegar)

¼

cup honey

3 cloves garlic, peeled and sliced

¼

cup sliced almonds, toasted

A few sprigs of mint leaves (or other fresh herb)

Salt and pepper to taste

¼

cup cheese of your choosing (I like fresh goat or sheep's-milk cheese)
Wash the squash and lightly peel the skin from the ridges (it is not necessary to remove all of the skin—the "valleys" are almost impossible to reach and it gives an attractive contrast to the color of the squash). Slice the squash into half-inch thick rounds, discarding the tough end pieces. With a small spoon or melon baller, scrape out the seeds. Preheat a large skillet with half of the butter and olive oil. When it is sizzling, begin adding the slices of squash, until the skillet is filled, cooking over medium high heat. As the squash begins to brown and caramelize on the first side, turn the slices over, and add half of the jalapeño slices to the skillet.
Meanwhile, combine the honey, lime juice and garlic slices in a small saucepan and bring to a simmer. Reduce by half, being careful not to over-reduce the mixture. It should not darken. Remove from heat.
As the first round of squash is browned on the second side, begin removing it to a plate. Continue with the remaining squash and jalapeño until all of the squash is cooked on both sides. Turn off the heat. Return all of the squash to the skillet and drizzle with the reduced syrup, add the mint leaves, and toss to coat evenly. Allow the squash to rest for at least 30 minutes before serving. To serve, toss again, reheating if desired, then sprinkle with the toasted almonds and crumbles or shavings of cheese.