Two of my favorite days of the year: the first day of tomato season—and the last day of tomato season. Like many other chefs who have to successfully manage the inventory of delicate and highly perishable heirloom tomatoes, tomato season is both a blessing and a curse in a restaurant kitchen. Daily inspections—sometimes twice a day—are necessary to catch the best moment of ripeness and avoid spoilage and loss. Beautiful and delicious tomatoes are not cheap.
At home, tomato season is a different animal. Even though I have a sizable garden, I have never had more tomatoes than I could manage—in part due to the squirrels. Every morning during the growing season, one of the first things I do is make a round through the garden harvesting every tomato leaning towards ripeness. Getting there before the critters is the challenge. Thankfully, "vine-ripened tomato" is something best avoided. Ripening off the vine and on the kitchen counter is ideal, especially when temperatures are extremely high. When left on the plant too long, texture and tang can fade resulting in flabby and mealy fruits—and tooth marks. Avoid putting them in the refrigerator—the flavors fade significantly. 
Tomatoes are extremely rewarding to grow, but if you don't have that luxury, these beautiful, meaty orbs are equally wonderful to shop for at the farmer's market. With the resurgence in popularity of heirloom tomatoes which come in a rainbow of colors, textures, and subtle flavor variations, there is surely a tomato for every palate. But even more fun than growing or shopping for tomatoes is cooking and eating them. 
The first tomatoes of the season, usually cherry tomatoes, are eaten raw and with relish. As the summer progresses, I tend to invest in more involved preparations like pasta sauces, pizza toppings, or tarts. If blessed with an overabundance of these treasures, make a lively fresh tomato sauce, or roast and freeze them for future use—I also like to dry or dehydrate them, but that is a bit of a commitment. No matter the preparation, do take advantage of the summer tomato season. For something extra special, give this tart a try.
Tomato-Leek Tart
When experiencing a glut of tomatoes, and I can't possibly eat another salad (although I usually can if they are especially delicious), I like to use fresh tomatoes baked into a tart. If you have a prepared pie crust, puff pastry or filo dough, feel free to use those, but I love to make this rich and flavorful dough for vegetable tarts. In a food processor (or not— but it does make things fast and easy) put 2 cups unbleached all-purpose flour and 1 teaspoon salt. Add about 1 teaspoon of chopped fresh thyme leaves and grate in the zest of one lemon. Pulse. Add 12 ounces of chilled butter diced into half-inch cubes, and pulse again until the mixture looks like coarse oatmeal. Drizzle about ¼ cup ice water over the mixture and pulse again until the dough begins to come together. If it looks too dry and crumbly to manage, add another tablespoon (or two) of ice water and pulse again. The dough will not look like a uniform mass, but will be shaggy with some stray bits in the processor bowl. Divide the dough into two balls. Wrap each in plastic wrap and flatten into a disk. Refrigerate the dough and allow the butter to chill and the moisture to evenly distribute itself, about 30 minutes. (You only need one piece for this tart, but the dough is easier to make in this size—and how wonderful to have enough to make another tart! And it freezes beautifully.) On a lightly floured board, roll out a piece of the dough slightly larger than the pan you will bake it in, approximately 1/8-inch thick. Gently press the dough into the pan, especially along the side. To ensure that the crust is extra crispy, blind bake the crust—line the crust with aluminum foil or baking parchment and weight it down with uncooked rice or beans in a 375F oven for about 15 minutes. Carefully remove the foil weights, poke the bottom and sides of the crust with a fork and return the shell to the oven. Bake until light golden brown, 15 to 20 minutes more. Remove from the oven and cool completely.
Meanwhile, heat a generous splash of extra-virgin olive oil in a skillet over medium heat. Add 2 cups sliced leeks (white and light green parts)—or sliced onion if that's what you have—and cook, stirring often, until tender and very lightly browned, approximately ten minutes. If you would like to add a bit of your favorite herb, here is the place to put it, in with the leeks for the last few minutes of cooking. Basil and oregano would be wonderful, but don't forget other options like thyme or dill (see "In Your Pantry"). Season with salt and pepper and remove from heat. Allow to cool completely. Assemble the tart by spreading an even layer of shredded cheese (I like Montasio, but any good melting cheese like fontina, low-moisture mozzarella, young cheddar or even a mixture of whatever scraps you have in the fridge will do), about two cups, in the bottom of the tart shell. Spread the cooked leeks over the cheese. Arrange ¼ to ½-inch thick slices of ripe tomato overlapping one another to cover the leeks. If you have a few cherry tomatoes, poke them into any vacant spots. Season the tomato slices with salt and pepper and drizzle with a bit of olive oil. Bake until the tomatoes are lightly browned and the pastry shell is fully baked, about 20 minutes. Hold at room temperature until ready to serve. Although this tart is delicious at room temperature, it is even more lovely served warm. When ready to serve, sprinkle the tomatoes liberally with grated Pecorino Romano or Parmesan and quickly reheat in a hot oven or under a low broiler. Serve with a light and refreshing salad or some flavorful sautéed summer vegetables. 
---
In the Pantry
More Than Just Basil
Tomatoes and basil (and oregano, of course) are obvious best friends in the kitchen. But tomatoes are equally wonderful with other herbs. Don't forget about these options the next time you are faced with a mound of tomatoes looking for a bit of embellishment.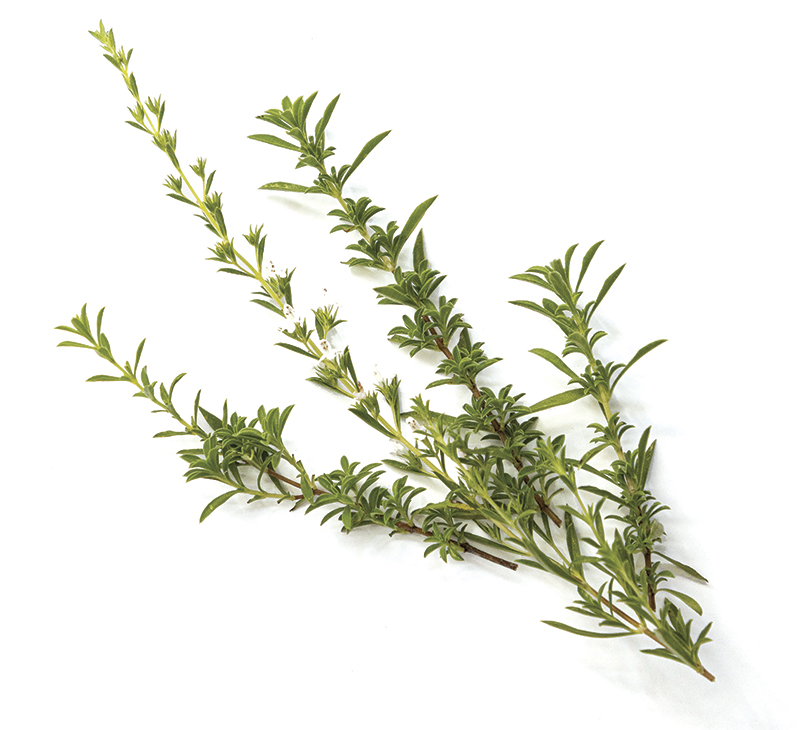 Winter Savory
This attractive herb is a mystery to many—you've probably heard of it but have no idea what it tastes like. Winter Savory is resinous, a bit like rosemary, oregano, or thyme. You may substitute it for those herbs or use it in combination. Strip the leaves from the stems for a quick simmer in your next tomato sauce, or drop in the whole branch which can easily be removed when cooking is finished. Savory is hardy in our climate and is especially welcome in comforting cool-season bean and tomato soups.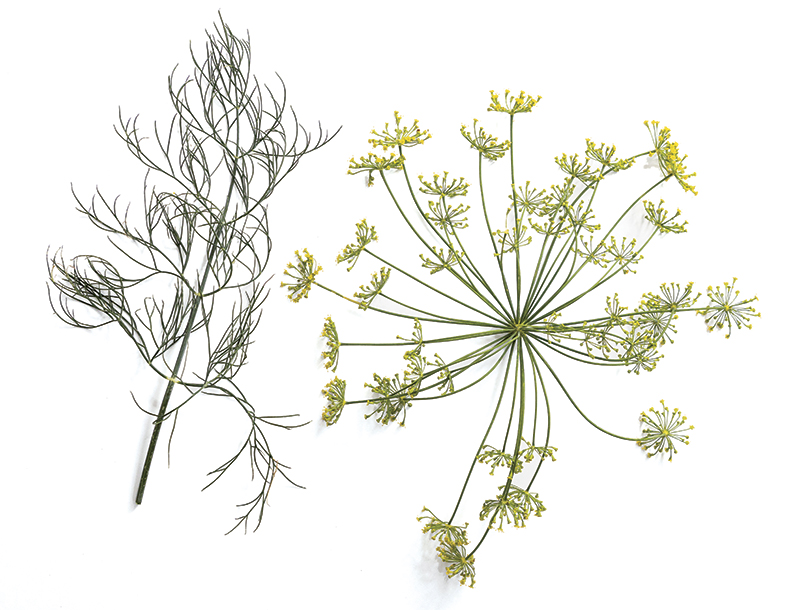 Dill
Give your next tomato salad a Greek twist with a sprinkling of dill fronds or flowers and a dollop of yogurt. Plant dill in the garden one time—that is probably all it will take to have a lifetime supply. It's not a perennial, but freely and randomly reseeds itself.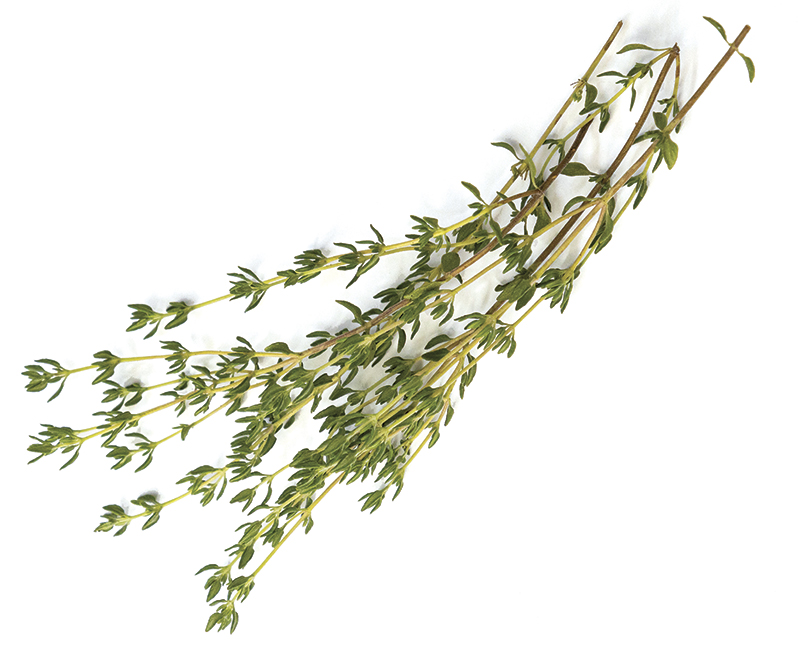 Thyme
Thyme cooked with tomatoes is a culinary ticket to the south of France. The duo is especially wonderful with lamb. Try a sprinkling of thyme when roasting tomatoes to intensify their flavor, or mix with bread crumbs and olive oil as a crunchy topping for baked tomatoes. A light tomato broth with white wine and thyme is a lovely companion to most seafood.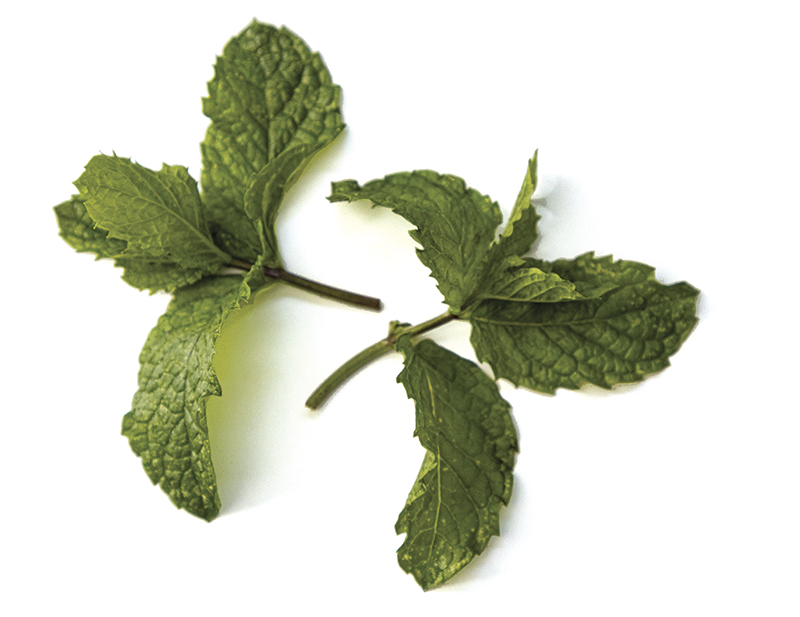 Mint
A member of the same plant family as basil, mint is frequently overlooked as a seasoning for tomatoes. Slowly braised in a tomato sauce, or chopped and added at the last minute, mint brings a refreshing quality to summer tomato dishes. Try it in your next tomato sauce for pasta or bruschetta topping. Mint is especially welcome in very spicy preparations.