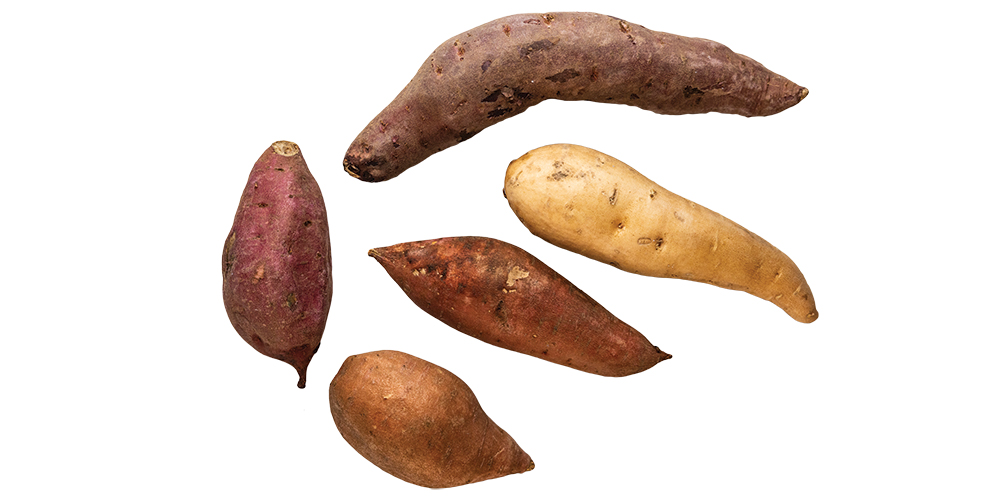 For many, a holiday table without sweet potatoes would not be complete. I don't necessarily feel that way, but I understand the importance of tradition and food. For those who need sweet potatoes, I'll share one of my favorite renditions and hope you will make it a part of your tradition.
First of all, sweet potatoes and yams are not the same thing—potatoes are also unrelated. It's a long story, but believe me, they're not even cousins and act and taste differently when cooked. Sweet potatoes do come in a variety of colors with varying sugar contents and textures. Those most popular in the US are the golden orange ones like Jewel, Garnet, and Beauregard—they also tend to be the sweetest. Asian varieties run from purple to yellow and even white. The farmers market, ethnic groceries, and Whole Foods are great sources for exploring the world of sweet potatoes, especially at this time of year.
Sweet potatoes are incredibly versatile. I like them simply roasted, topped with butter, salt, and pepper, or roasted in wedges then glazed in a reduction of balsamic vinegar. Their sweetness is also a pleasant addition to vegetarian or traditional chili, diced and added for the last 20 minutes of cooking—it pairs beautifully with cumin, oregano, and a little piquant spice. Fries are nice, too. Generally speaking, sweet potato (the intense orange-yellow type we eat here in the US) can be used in most places where one would use pumpkin. What it doesn't need is a marshmallow.
This recipe is one we use in various guises at Lidia's, the restaurant where I am chef. It is a great standby for home cooks, too—especially when entertaining for large groups. It is inexpensive, filling and reheats beautifully, so it can be prepared the day before if necessary. In this variation, braised Swiss chard is folded into a rough mash of roasted sweet potatoes. Other greens or cabbage can be substituted. The leaves of the sweet potato plant can even be substituted for the Swiss chard (with a much shorter cooking time), but their flavor is not as earthy and pronounced. The "rocky mash" concept can be adapted to any type of potato, but only sweet potatoes can be successfully reheated after being refrigerated (Idaho, Yukon Gold, red potatoes, etc. all take on a weird "reheated" quality after they have been chilled). Whatever your sweet potato and greens choice—enjoy!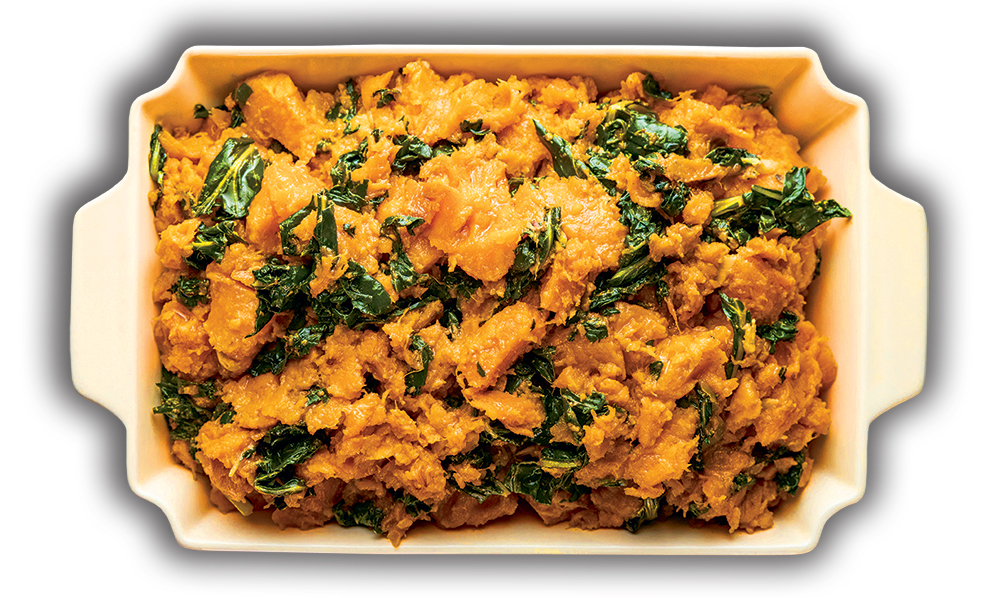 Sweet Potato and Swiss Chard Mash
There are several ways to reach the finish line with this recipe. The dish could be cooked entirely in one pot (instructions follow*), but I think the flavors are more intense and satisfying if you are willing to dirty a few more dishes and turn on the oven. Begin by roasting the sweet potatoes in their skins in a 400°F oven until tender, about 30 minutes depending on the size of the potatoes—I've seen some giants that take up to an hour to cook through (you can cut those into smaller pieces to speed up the process if you're in a rush). In the meantime, remove the stems from a big bunch or two of any type of Swiss chard (reserving them for stock or soup), wash the leaves (don't dry them), stack, and then slice them into wide ribbons. In a large skillet with a lid, sauté a few sliced cloves of garlic in extra virgin olive oil or butter. When the garlic begins to turn golden brown around the edges, add the wet chard leaves, shake the pan briefly and cover for a few moments so the leaves begin to steam and wilt. When wilted, sprinkle with salt and then turn down the heat and continue cooking while the sweet potatoes roast in the oven. Monitor the chard and if at any time it appears that it might scorch, add a few tablespoons of water. Over time, the chard will take on a more savory quality. When the sweet potatoes are easily pierced with a knife or feel tender when gently squeezed, remove them from the oven and allow them to cool briefly. Being careful not to burn your fingers, remove the skins (they should slip off easily) and put the sweet potatoes into the skillet with the chard. When all of the sweet potatoes are in the skillet, gently turn them into the Swiss chard until you have a rough mash interlaced with ribbons of dark green. Taste and adjust, adding salt and pepper and EVOO or butter. Keep warm, or reheat and serve when needed. Don't even think about a marshmallow.
*For the one-pot method, sauté a few sliced cloves of garlic in oil, then add peeled sweet potatoes, cut in one-inch-thick slices, roughly chopped Swiss chard leaves, a generous dash of salt, and enough water to reach a depth of about 1/4 to 1/2 inch. Stir to prevent the garlic from burning, cover and simmer until the sweet potatoes and greens are tender, 15 to 20 minutes. If at any time you are worried about scorching, add a bit more water. If, when the contents are cooked, there is water left in the bottom of the pot, turn up the heat to high to quickly boil it off. Drizzle with EVOO or add a few knobs of butter. Adjust seasoning. Done, and with only one dirty pan.
---
In Your Pantry
Cool Season Greens
Cool season greens allow the sensation of the freshness available from gardens and farmers markets to continue past what we think of as the typical growing season. In fact, cool season greens benefit from lower temperatures and acquire their best flavors and colors when kissed by frost. Sensing the change in the weather, many plants increase their sugar content which acts like natural antifreeze. In addition to cabbage, arugula, and radicchio, think about these the next time you have a wintertime craving for something fresh.
Kale
There is an incredible variety of kale available in markets today. For all practical purposes they are interchangeable. For salads or consuming raw, most kales are best when immature (very small/baby), but even larger leaves can be used if they are stripped from their inedible stems and "massaged" to help tenderize the leaves. Tough stems should also be removed before cooking, and braising for extended periods of time results in a savory, velvety flavor and texture. The most common kale is green curly kale, and curly redbor—with the deep purple and magenta leaves— is its stunning cousin. Lacinato or cavalo nero (AKA dinosaur kale) is the favorite variety in Tuscany and makes a beautiful edible ornamental. Red Russian and similar varieties (flatter leaves, similar flavor), and ornamental kales (some growing straight through winter in our area) are a different plant family but still edible (more cabbage like).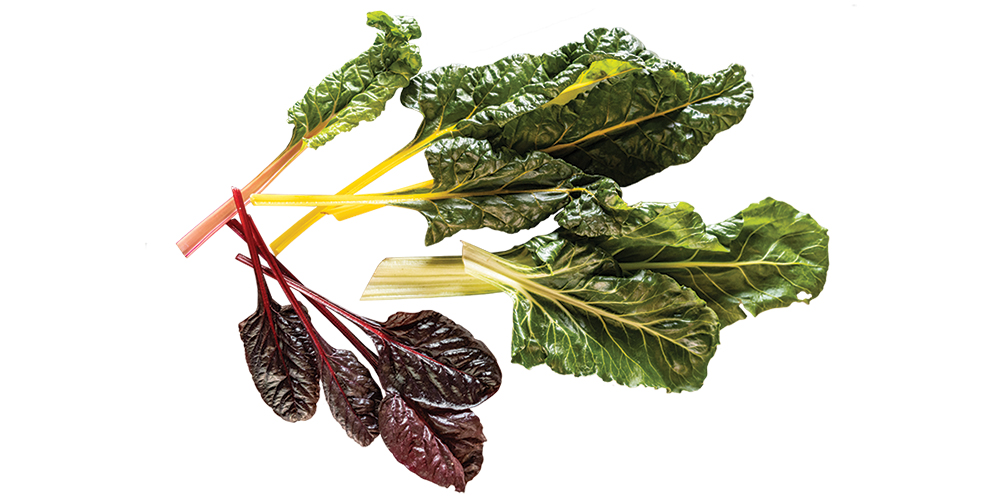 Swiss Chard
An extremely healthful and beautiful green, Swiss chard comes in a rainbow of colors and sizes. From green (white-stemmed) varieties to red, fuchsia, orange, and electric yellow, all are prepared in a similar manner. Smaller leaves can be delicious in salads while larger leaves benefit from longer cooking—in fact, cooking these leaves for at least 45 minutes brings out a savory umami quality. Delicious in soups, stews, pasta fillings, and stir fries. Leaves can also be used as packets for stuffing with rice or seasoned ground meats. The stems, which can have a more pronounced mineral flavor, are typically reserved for other uses, like stocks, stuffings and fillings, or soups.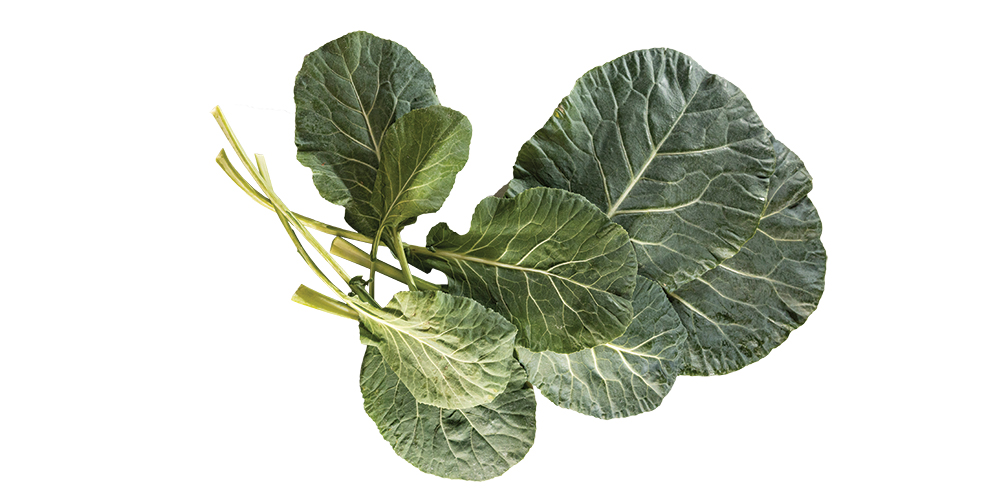 Collard Greens
This savory and slightly bitter southern favorite is actually a type of kale. Grown in many warmer climates around the planet, collards are most delicious right after a frost when their natural sugar levels are higher. Many cooks enhance this effect by adding a bit of sugar or honey when cooking collards. All across the American South, they are prepared by slow cooking (sometimes overnight) to yield a more tender finished dish. They also mix well with other types of greens like mustards and turnip greens. Collards excel when cooked with pork of any kind, and also pair well with spicy mustard and sour cream.