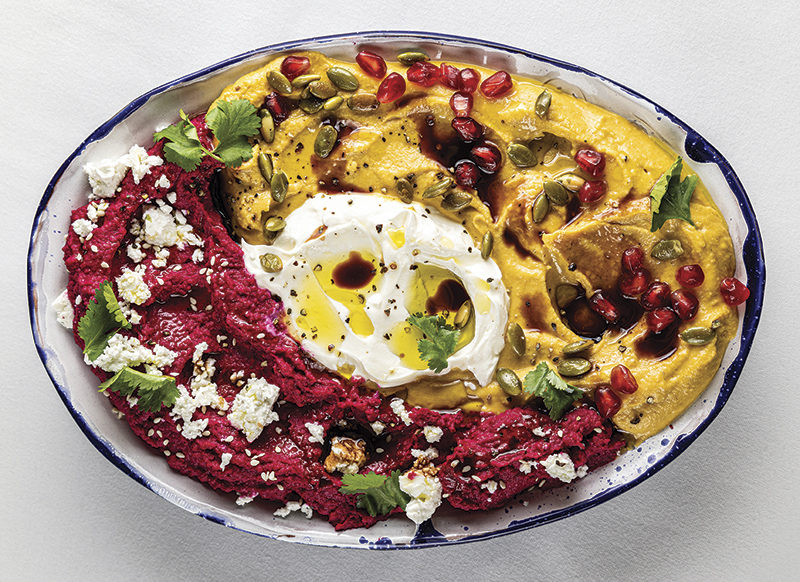 If there's one food that is always a hit during holiday parties—anytime, really—it's a good dip. Just a glance at the exhausted buffet towards the end of a soiree will reveal that the crispy salty things and the dips will have been the most ravaged. Fortunately for the cook, one of the most delicious, versatile, healthful(!) and easiest dips to prepare is hummus. 
In its most traditional rendition, cooked chickpeas (aka garbanzo beans or chana) are mashed with garlic, lemon juice, and tahini (sesame-seed paste—see In the Pantry for more info) into a relatively smooth spread. A much faster method uses a food processor (or blender for the smoothest texture). Devotees insist that the creamiest, most silken purée is the desired outcome, and it is hard to disagree. Some go so far as to remove the skins from the cooked beans (which adds considerable time to the whole process). But I do love a bit of texture and certainly won't say no to less-than-velvety renditions. The garlic, lemon juice, and tahini are essential but variable. But a little travel around the Mediterranean and Middle East will reveal countless variations in hummus texture and flavor. 
As for flavoring the hummus, one of the most common additions is cumin, which lends a deep, savory character, but other spices and herbs are certainly an option. Even other legumes in place of the chickpeas are welcome, if perhaps unorthodox—lentils, split peas, fresh peas, white beans, fava beans, and mung beans come immediately to mind. For lighter and more nutritious spreads, additions like roasted carrots or beets, sundried tomatoes, canned artichokes, or cooked spinach are a great way to sneak another vegetable (and more flavor!) into your diet and use up leftover vegetables at the same time.
Regardless of the flavor and type of hummus you serve, having a good selection of things to dip into the spread is essential. The traditional accompaniment would be a flatbread like pita or lavosh, but any sturdy chip or cracker, especially whole or multi-grain, would go equally well. For those watching their gluten intake, thinly sliced raw vegetables are a nice alternative, and I have seen good hummus eaten with nothing more than a spoon on more than one occasion.
Two of my current favorite hummus variations follow. The first is a more traditional hummus with the addition of roasted beets. The second is made with red lentils flavored with butternut squash and a curry blend. The garnishes, including crumbled cheeses, nuts, and oils, are just a few suggestions out of countless possibilities. I hope each recipe will provide a blueprint and inspiration for you to make a hummus of your own for this holiday season and many more to come.
Roasted Beet and Chickpea Hummus
Visually, this brilliantly colorful hummus variation is a welcome addition to any holiday table. The earthy and sweet beet flavor is more subtle than one would expect from its appearance, and even the beet averse should enjoy it. I am suggesting canned garbanzo beans but you could certainly cook dried beans if you have the time (and the flavor would be even better, the texture a little creamier). In a food processor combine 2 cans garbanzo beans (drained, liquid reserved), 1 medium-sized beet (roasted or boiled and peeled—perhaps leftover from cooking too much for a salad?), ¼ cup tahini, the juice of one lemon, 1-2 garlic cloves, 1 teaspoon of ground cumin, a good dash of salt, and a few tablespoons of extra-virgin olive oil. Purée and pulse the mixture. It will most likely need assistance with a spatula and the addition of some of the reserved bean liquid. Depending on the desired texture, the mixture will need to process anywhere from two to five minutes. For a really luxurious purée, continue running the food processor for about ten minutes, and add an ice cube or two during that period to keep the hummus from overheating. Taste and adjust the seasoning, perhaps even adding a bit more tahini and olive oil if you want it super smooth and creamy. For more textural contrast, you could garnish the finished hummus with some whole chickpeas or a little diced beet. Toasted sesame seeds, crumbles of feta (or goat cheese), a grind of coarse black pepper and a drizzle of olive oil are also welcome additions. 
Curried Red Lentil and Butternut Squash Hummus
Combine 1 cup of red split lentils (aka masoor dal) with 2 cups water, a pinch of salt, fresh bay leaf, and splash of olive oil. Bring to a boil and then simmer for about 15 minutes, or until the lentils are tender and begin to disintegrate. The water should be completely absorbed. Remove the pan from the heat. Discard the bay leaf and allow the mixture to cool for a few minutes. In a food processor or blender, combine the cooked lentil mixture, ¼ cup tahini, 1-2 cloves garlic, 1 tablespoon curry powder (use whatever is your favorite convenience blend), plus a little extra fenugreek (I love fenugreek), juice of half a lemon (or more!), dash of salt, and about a cup of cooked butternut squash or sweet potato (this is a great way to use up that little bit you have left over from last night). Purée until smooth, adding a bit more oil (or water if you're watching your calories), and adjust the seasonings to suit your taste. To serve, spread on a plate and garnish with pomegranate seeds, toasted pumpkin seeds (pepitas), cilantro, extra-virgin olive oil, labneh, feta, or other cheese.
---
In the Pantry: 

Open Sesame
They're for more than just hamburger buns! Sesame seeds are a great source of flavor, nutrients, and texture, especially after they've been processed into an unctuous paste or flavorful oil. The sesame plant has been cultivated for thousands of years and grows in conditions many plants would find unfavorable. Sesame seeds have found their way into cuisines worldwide. Look for these products in larger grocery stores, specialty stores, and markets specializing in Middle Eastern, Indian, and Asian cuisines. Note that sesame seeds can cause an allergic reaction in people with sensitivities to nuts and seeds, so proceed with caution if you are one of them.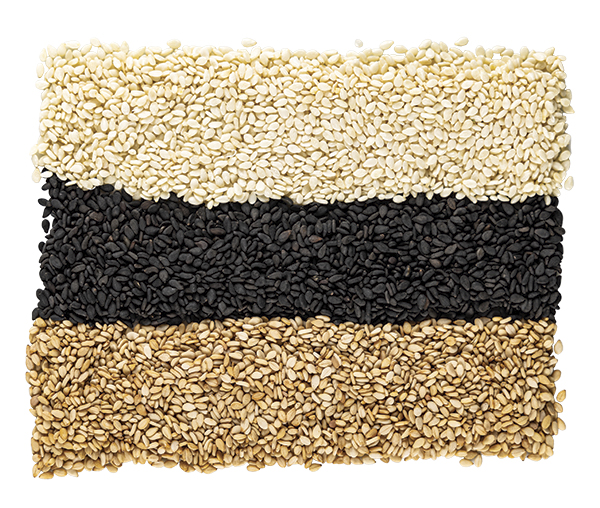 Whole Seeds
Whole sesame seeds come in a wide variety of colors, the most common being off white, black, and light brown. The flavor profile doesn't particularly vary from color to color, but growing terroir, storage methods, and age do cause variations in taste. Try them sprinkled on or mixed into many types of breads. Their nutty flavor and chewy, crunchy texture can be a stimulating addition to salads and rice dishes. Different color seeds mixed together can make a visually striking crust on a piece of fish or garnish to many desserts.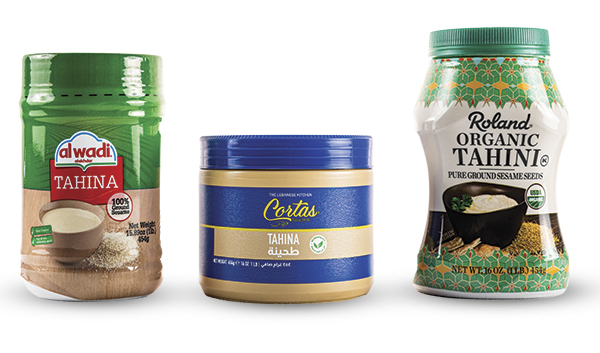 Sesame Seed Paste
Also known as tahini or tahina, finely ground sesame seeds produce a rich and creamy spread similar to unsweetened smooth peanut butter. Like natural peanut butter, tahini separates into solids that sink to the bottom and oil that rises to the top when it sits undisturbed for any length of time, so it should always be mixed thoroughly before each use. Tahini can be stored at room temperature for up to a year before the flavor begins to go off. For the best flavored tahini, look for varieties from Lebanon or Israel. Try thinning tahini with lemon juice and a little water and salt to taste (and maybe a garlic clove) for a quick dressing for salads or vegetables. Tahini drizzled with honey or pomegranate molasses makes a nice spread for toast, a bagel, or even pancakes.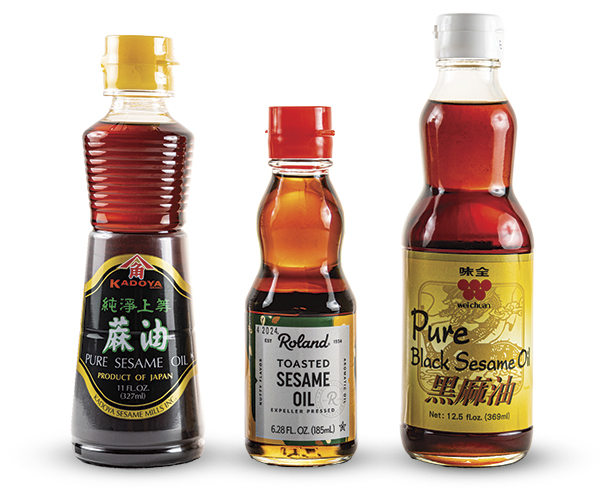 Sesame Seed Oil
One of the oldest seed crops cultivated for oil production, sesame-seed oil comes both raw (regular) and toasted—both are delicious. Regular sesame oil has a high smoking point and is good for cooking or as a finishing oil. Toasted sesame oil has a more pronounced nutty quality and is best used for drizzling over finished dishes—-and as it has already been cooked, it can quickly take on a burned taste if heated. Black sesame oil has one of the richest antioxidant profiles of all plant oils and is frequently used in Ayurvedic medicine and cooking.