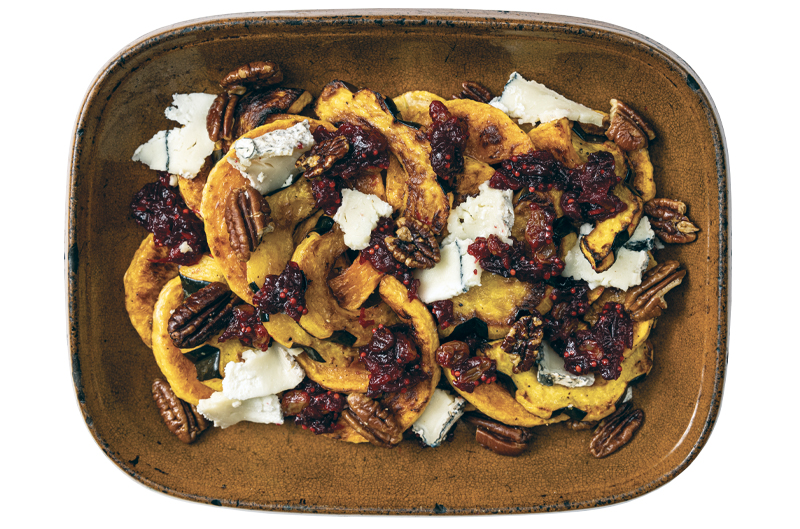 I essentially neglected the cranberry for the first 30 years of my life. I guess I never needed it. The jiggly cranberry jelly, shimmering and shaped like the can it just sprang from, sliced and served on a fancy pressed-glass plate at Thanksgiving and Christmas—it just never held any interest for me. It was something the old people ate at holidays. Well somewhere along the way, I guess I became one of those old(er) people.
As a cook, the cranberry is actually quite useful, especially during the time of year when freshness, acidity, and cheerful colors begin to fade from the culinary palette. If you cook with the seasons, cranberries are the berry equivalent of a relief pitcher when there are no other berries in sight for months. They also make a nice companion to all those winter squashes serving as a still life on your kitchen counter, complementing the squash's sweet starchiness—and giving you an outlet for some of that squash. I like to combine the two, and with crunchy nuts and a creamy, rich cheese, they can become a very satisfying dish.
This composition is really two recipes—a cranberry chutney that can stand alone, doing its duty next to a roast turkey, ham, or brisket; and a roasted winter squash salad that can be served at room temperature on a buffet or warm with melting cheese, garnished with dollops of cranberry piquancy.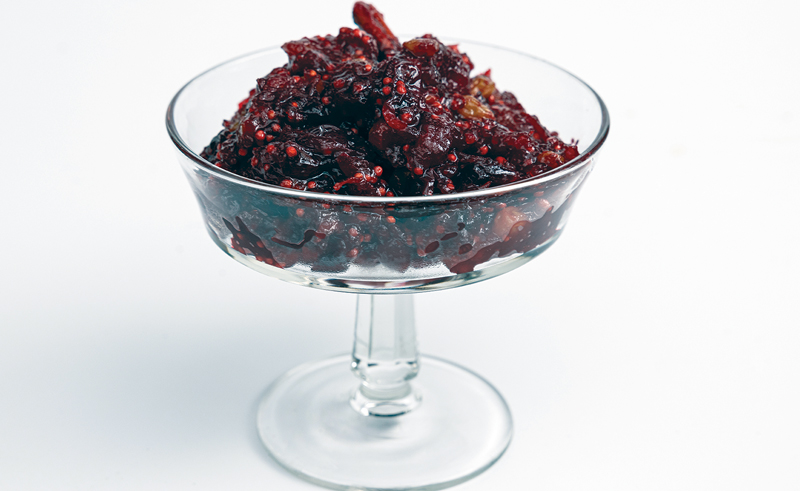 Roasted Squash with Cranberry Chutney
To make the chutney, begin by putting a 12 ounce bag of fresh or frozen cranberries in a medium saucepan with one half cup of honey, one cup of water, and one cup of golden (or other) raisins, and bring it to a boil. (If your cranberries came in a larger increment like 16 ounces, go ahead and use all of them—because you know the leftover bits would most likely sit in the fridge and rot unless you are a habitual consumer of cranberries. Just increase the amounts of other ingredients accordingly). Meanwhile, remove the zest from an orange and add it (I like to use a bartender's zester that removes the zest in long, thin sexy strips rather than a microplane or grater, although those would work). Squeeze the juice from the orange and add it to the pot, as well as one half cup of sugar, a one-inch knob of ginger peeled and finely chopped, one small cinnamon stick, and one heaping tablespoon whole mustard seeds (or even two if you like mustard as much as I do). When the pot boils, reduce the heat to a simmer and cook for about 15 minutes and taste. If the sauce is shockingly sour, add more sugar—one half to one full cup depending on how sweet you like it. Simmer 10 minutes more, adding a splash of water if necessary if there seems a danger of scorching, or the sauce just seems too thick (remember, it will thicken considerably when it cools). Taste a bite of mustard seed. It should "pop"between the teeth like sturdy caviar. If it is still tough, add another splash of water and cook a few minutes more.
The remaining components of the dish can be prepared while the chutney cooks—or you can just forget about them and be happy with the chutney. To roast the squash, completely peel a small to medium-sized butternut squash and/or peel the tops of the ridges of an acorn squash (the acorn squash will look striped). Cut the squash in half lengthways and scrape the seeds and strings out of the hollow of the squash. Slice the squash crossways into finger-thick slices and toss them with oil, salt, and pepper. Arrange them on a parchment-lined baking sheet and roast in a hot (400F) oven until tender, around 20 minutes. The variety, water content and thickness of the squash can cause significant variations in cooking time, so keep an eye on the slices (they go from just tender to mushy in a short amount of time). Remove the squash from the oven, leaving them on the roasting pan until cool enough to handle. At the same time, briefly toast a big handful of pecans in the oven or in a skillet with a little butter or oil and salt.
To assemble the salad, place slices of roasted squash, slightly overlapping, on a serving platter. Drop little dollops and drips of the cranberry chutney all around, then sprinkle on the toasted pecans, drizzle with extra virgin olive oil and season with salt and pepper. Lastly, scatter shavings or crumbles of goat (or other) cheese all around—my favorite is the elegant and lightly aged Humboldt Fog from Cypress Grove. The dish can be served like this, set out at room temperature. For an extra luxe treatment, heat the finished dish until the cheese begins to melt and serve warm. No matter your method of serving, I hope this recipe will become a part of your holiday celebrations, even if you're not old(er).
Notes for kitchen freestyling: Any type of winter squash would work. My favorite choices would be butternut, acorn, or delicata squash for this dish, but chunks of pumpkin, Hubbard, Kabocha or other squash family member would work, as would chunks of sweet potato, although the cooking times will vary. Other nuts or pumpkin seeds can be substituted for the pecans, or omitted entirely. If you wanted to extend the sauce or make it a bit less "cranberry", you could add diced, peeled apple, pear or quince about half way through the cooking (quince take a much longer cooking time).
---
In Your Pantry
Cran-Variations
Cranberries are a fascinating and delicious fruit, so don't let the holiday season be the only time you use them. Look outside of the produce department and you can find all manner of cranberry-lusciousness year round. Indulge your next cran-craving with one of these: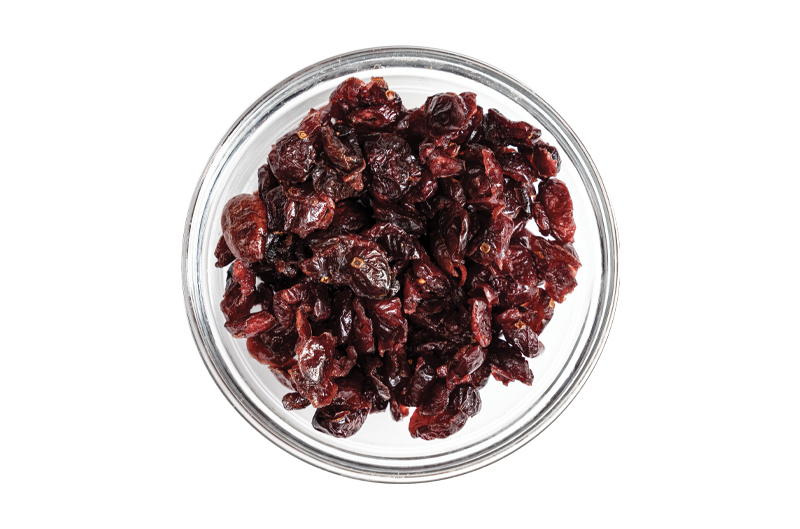 Dried Cranberries
Most dried cranberries have been "moistened" with some type of fruit juice—and a lot of sugar. If you're trying to avoid sugar, this may not be the way to go. Dried cranberries are packed with flavor and can easily serve as a stand-in for raisins or dried cherries. They excel in cookies, muffins, crumbles, and other baked goods, as well as chutneys, relishes, and compotes. Try soaking them in brandy or Grand Marnier for an extra boost of flavor.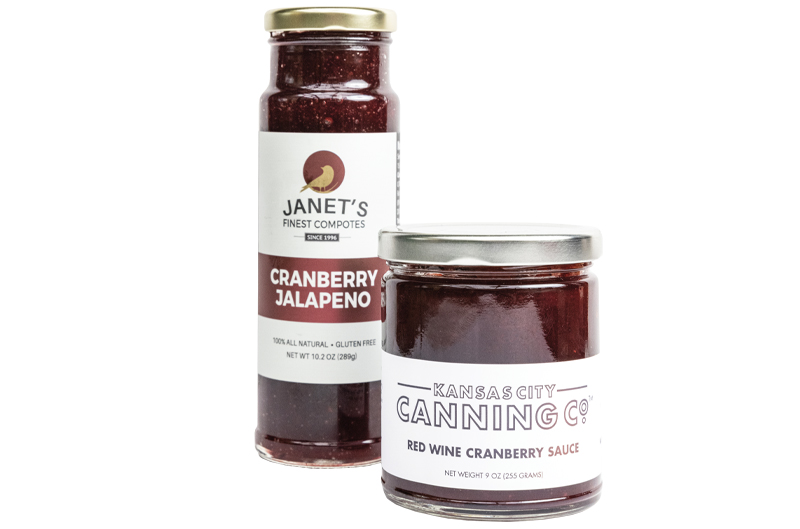 Cranberry Preserves
If you don't have time or desire to make your own cranberry conserve, there are a number of delicious prepared cranberry condiments ranging from sweet and spreadable to peppery and chunky. They're delicious with all manner of cheeses, spread on a sandwich, or made into a dip. And these are produced right here in KC, available in larger grocery and specialty stores like Better Cheddar.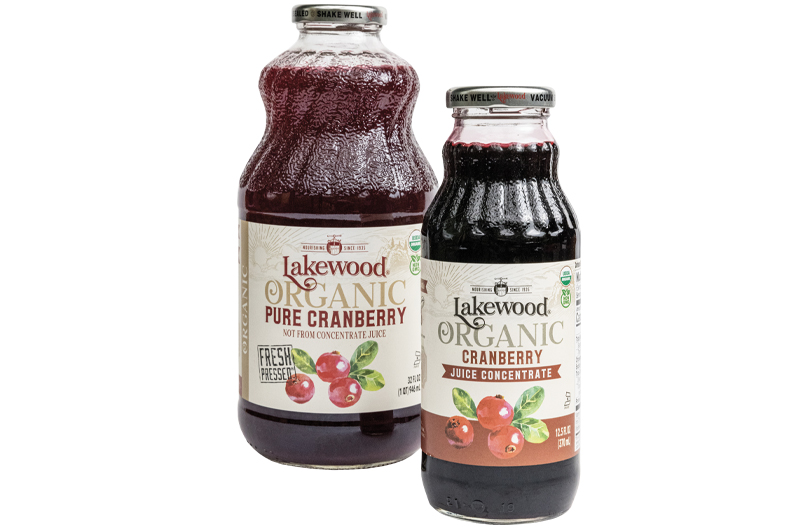 Pure Cranberry Juice
Take your juice game to the next level with 100% cranberry juice (as in not the typical juice cocktail loaded with sugar—often more than the average soda). These examples from Lakewood Organic are intensely flavored, especially the cranberry juice concentrate, and loaded with antioxidants. Both juices are perfect for use in cocktails to knock your socks off, but the concentrate would be fabulous added to savory glazes and sauces or to flavor homemade ice cream. Just be warned—the uninitiated might need a little something sweet to add, like honey or maple syrup. Available at specialty grocers.