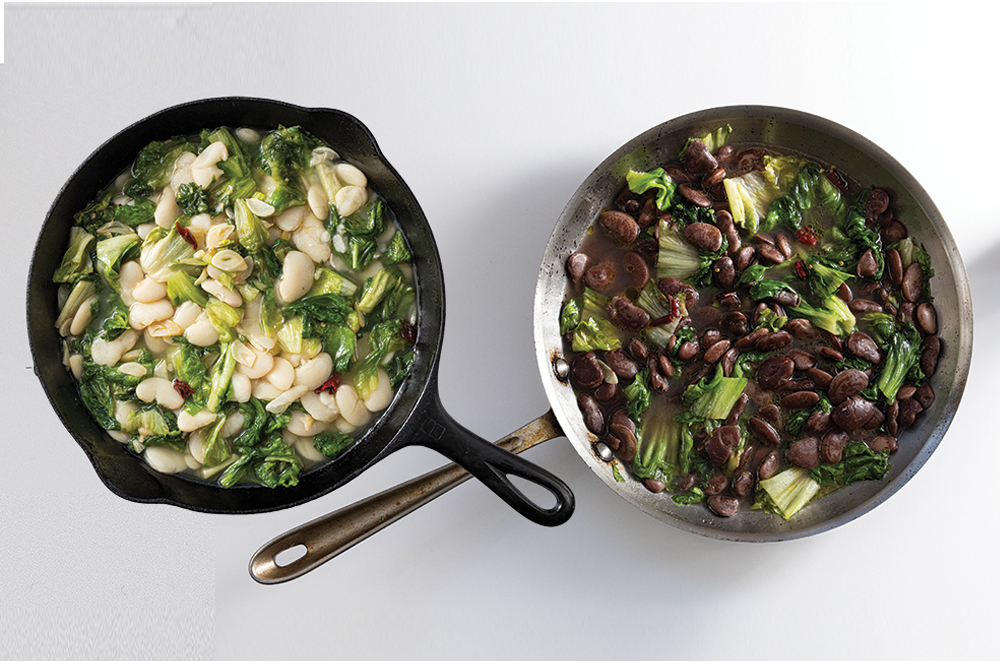 After an indulgent and overwhelming holiday season, I like to begin the new year with a little culinary simplicity. One of my favorite dishes at this time is a comforting bowl of braised beans and greens. At its most basic—cover dried beans with water and simmer until tender, adding greens (or not) at any point desired, season and serve—the restorative properties of this dish can seem nothing short of miraculous. In addition to being loaded with protein, soluble and insoluble fiber, and assorted vitamins and minerals, the dish is easy on the wallet and absolutely delicious. As a friend of mine says, it hugs you from the inside.
I cannot count the pots of beans and greens I have prepared over the past two-and-half decades or the variations on this theme that I have experienced in assorted locales. The refinements that can elevate these two exceedingly versatile ingredients are expressed in countless ways from culture to culture, household to household. There are just a few tips to remember for preparing your own steaming bowl of comfort. First, not all dried beans are created equal, nor do they perform the same way. Second, beans don't have to be soaked before using, but it does significantly speed up the cooking process.
Really fresh dried beans—like the ones you collect from your own garden and use within a few months—sometimes sprout if soaked for more than 6 hours. You can toss or keep the soaking water for cooking the beans. (Some swear you lose nutrients when you toss the soaking water, others say you alleviate the flatulence factor—I've never noticed that much of a difference either way, but I usually change the water.)
Don't be afraid to experiment with different types of beans. Countless varieties have been bred throughout the centuries, each for particular uses. If your local market doesn't have much of a selection, Rancho Gordo, an heirloom bean purveyor from Napa Valley has a stunning assortment (ranchogordo.com). The type of greens you use is a matter of personal taste and the seasons. Go with your gut.
And lastly, I never cook just enough beans and greens—I always cook too many. Intentionally. Once cooked, you can take them out of the braising liquid and have an entirely new ingredient to work with (the liquid can be served on its own, or used as a soup base). I love beans at room temperature, dressed with oil and vinegar in a salad, perhaps with tuna or poached shrimp, seasonal vegetables or salad greens. They can be puréed and seasoned like hummus to use as an appetizer or dip, or the purée thinned into a creamed side dish in place of mashed potatoes, or turned into refried beans. And that is just the beginning.
Did I mention they freeze beautifully? I love having a delicious quart or two of beans and greens in the freezer for an impromptu meal, or one that is easy to take to a friend who may need a little comfort.
Braised Christmas Lima Beans and Escarole
Rinse the beans (Christmas limas or giant Peruvian lima beans are a favorite of mine) and pick through them, discarding any irregular specimens. I usually cook anywhere from a half to full pound. Place them in a bowl and cover by at least two inches of water (use warm water if you're trying to hurry things along a bit). Soak the beans, preferably around six or so hours, but even an hour or two will help. Discard the soaking water and place the beans in a spacious pot. Cover them by an inch or two of water and bring to a simmer. I like to add a bay leaf or two, but sage or savory would work as well. The beans, depending on size, variety, and age—the longer dried beans are stored, the longer it takes them to cook—will be done in as little as 45 minutes or could take as long as three full hours. I find one-and-a-half to two hours generally does the trick. When the beans have reached the desired tenderness (or just a little before if you want them to have more bite), remove them from the heat, season with salt, drop in a big rosemary sprig or two and finish with a glug of extra-virgin olive oil. Allow the beans to sit and absorb the seasonings for about 30 minutes. You can stop there and have a simple and delicious pot of beans, or continue with the greens as follows.
As for the incorporation of the greens, that depends on the variety you have to work with, and the desired outcome. Sturdy or bitter greens like mustards, dandelion, chicories, collards, kale, and cabbage all benefit from long braising with the beans. An alternate approach to use with more tender greens—and my favorite technique—is to combine the beans and greens right before serving which yields a finished product with a bit more texture and freshness. To do this, wash and roughly chop the greens—escarole is absolutely perfect this way, but spinach is good, too. In a wide skillet with a generous pour of olive oil, sauté a few cloves of sliced garlic until golden, then add a big pinch of crushed red pepper flakes and briefly toast. Then add the still-wet greens and cover the pan with a lid so they steam a little bit. Uncover and toss the greens and season well with salt. Ladle as many of the beans as you want and some of their cooking liquid into the skillet with the greens and bring back to a simmer. You're done. Serve immediately, drizzling with more flavorful extra-virgin olive oil and possible a grating of Parmesan, pecorino or other hard cheese. Serve with grilled bread or crackers—or just a spoon. Loaded with satisfying flavors, texture, and goodness, everyone is sure to appreciate this warm and nourishing expression of simplicity. 
---
In your Pantry: Unusual Beans

Cranberry Beans
AKA borlotti beans, these velvety wonders are thin-skinned, making them wonderful for cold-weather soups. Similar in appearance to pinto beans, they are the traditional bean in the classic Pasta e Fagioli. Available at Clearly Nature's Own in Westport or online.
Purgatory Beans
Try these tiny, tender, Italian beans when you're in a hurry and don't have the time or patience for cooking other dried beans. Just skip the soaking step and simmer these little beauties with sage and broth or water until tender, then finish with a little sea salt and a drizzle of good olive oil. Available online.
Yellow Eye Beans
Not-completely-white white beans. Meltingly tender and smooth textured, these are wonderful used for New England baked beans—or any baked bean dish for that matter—or refried beans. Great for absorbing other flavors. Available at Clearly Nature's Own in Westport or online.
Christmas Lima Beans
AKA calico beans, described as having a more meaty "chestnut texture." This variation on the traditional lima (its place of origin) is delicious cooked with a ham bone and a little rosemary for hearty soups or for use in salads. Available at Planters Seeds in the River Market or online.