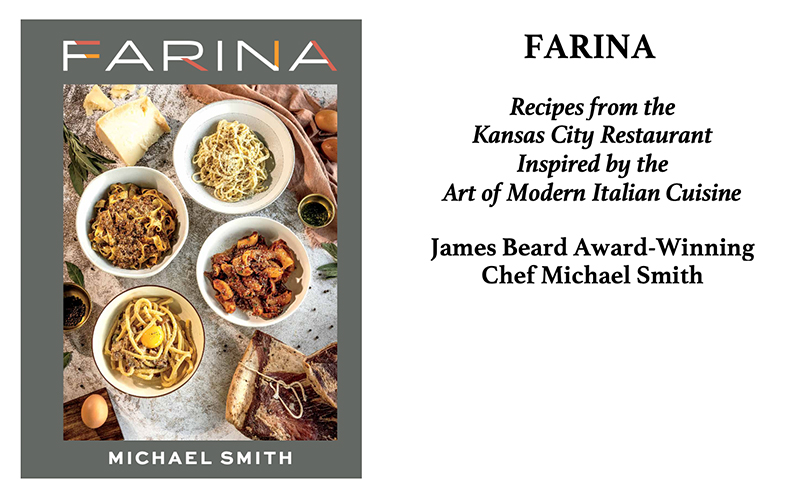 When dining at one of Michael Smith's restaurants—Extra Virgin and Farina—you know you're about to be treated to a mouth-watering delicacy. But what if you didn't even have to leave your house to enjoy some of your favorite dishes from Smith?
Lucky for all of us, the James Beard Award-winning chef just released FARINA, Smith's debut cookbook featuring some of Smith's favorite Farina dishes.
Throughout the 287-page book, you'll see photos of Smith's beautifully executed dishes (photographed by Jenny Wheat and styled by Janie Jones) along with Smith's recipes for piattini (small plates), insalata and soup, handcrafted pasta, seafood, meat, and dolce. The book also features wine-pairing suggestions from Smith's wife, Nancy, who's the general manager and wine director of Farina, and Smith's business partner.
Smith gave us a preview of the cookbook with his recipe for Champagne and black truffle risotto. Here's how to make it.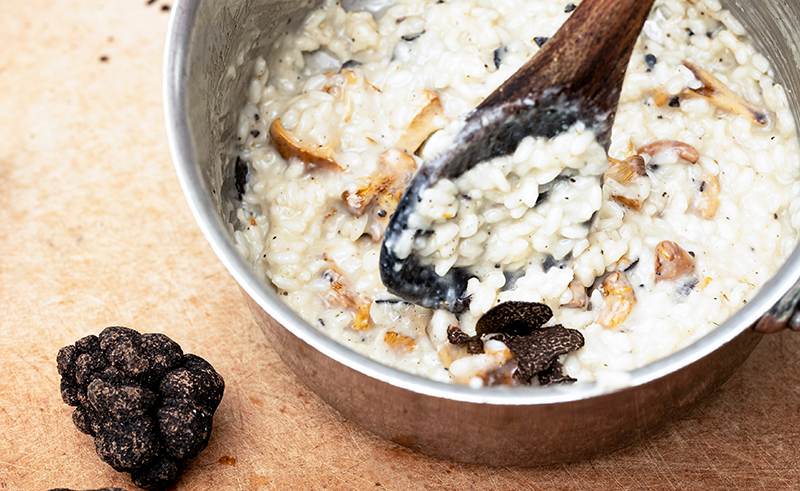 Michael Smith's Champagne and Black Truffle Risotto
Makes 4-6 servings
Ingredients:
3 tablespoons butter
2 shallots, minced
3 cups arborio rice
2 teaspoons kosher salt
1 cup Champagne 
2 quarts poultry broth (get the recipe on page 237 of FARINA), bring to a boil, and set aside
2 tablespoons chopped fresh black truffles
8 ounces fresh chanterelle mushrooms, cleaned, thinly sliced, and sautéed  
1 cup grated grana Padano cheese 
1 bottle of high-quality extra virgin olive oil
Directions: 
Heat a wide, heavy-bottom saucepan over medium heat. 
Add half the butter and minced shallots and sweat for about three minutes without browning. 
Add rice and stir for several minutes, letting the rice lightly toast to a light golden color. 
Add the salt and Champagne to the rice, stirring until the Champagne is nearly evaporated. 
Next, add just enough hot poultry broth to cover the rice. Continuously stir until most of the broth is absorbed into the rice and the risotto starts to thicken and dry out about 8-10 minutes. 
Repeat these steps, stirring continuously until the rice is cooked through but al dente; about 30 minutes. You may not need to use all the poultry broth, but it will be close. Or if you need more liquid, add hot water or broth if you have more. 
When the risotto is ready to be served, stir in truffles, precooked chanterelle mushrooms, half of the grana Padano cheese, and the remaining butter. 
Serve family style in the saucepan directly on the table or divide the risotto between four warm bowls. Garnish with remaining cheese and drizzle with high-quality extra virgin olive oil.  
FARINA is available for $35 at Farina, Extra Virgin, Rainy Day Books, Jorjy in Brookside Shops, Terrasi Living & Scandia Home, Made in Kansas City, and on Amazon.
Michael Smith has announced the following book signings:
November 19:
Michael Smith Meet& Greet and FARINA Book Signing at Jorjy
11 a.m. to 1 p.m. at 320 W 63rd Street
December 11:
Michael Smith Meet & Greet and FARINA Signing at Terrasi Living & Scandia Home
12 -2 p.m. at 501 Nichols Road