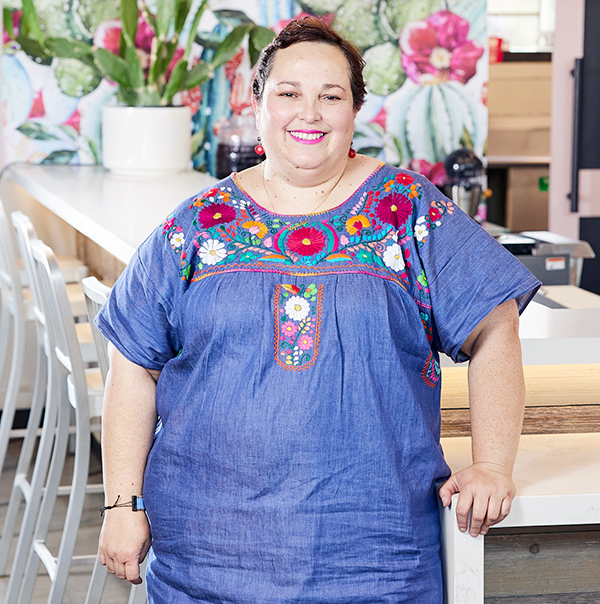 Alejandra de la Fuente, the chef/owner of Red Kitchen in Lenexa Public Market, recently added chilaquiles to the menu, and she's sharing the recipe. Easy to make and sure to please, this traditional Mexican breakfast is perfect to eat anytime!
Like bread pudding, which uses leftover bread, chilaquiles are a delicious way to use leftover tortillas. The Guadalajara, Mexico, native says, "Chilaquiles can be a little crisp or soft, like an enchilada. It's however you like it. That is the beauty of cooking. You can make it your way!"
Red Kitchen Chilaquiles 
Makes 4-6 servings 
6 Roma tomatoes 

3-4 jalapeño peppers or serrano peppers, stems removed 

2 cloves garlic, peeled 

1/4 white onion, roughly chopped 

2 tablespoons salt 

1 tablespoon vegetable oil 

25-30 corn tortillas, cut in squares or triangles and dried for two days in a pan or flat surface (do not dry in the fridge) 

1 cup shredded chicken 

8 ounces Mexican crema 

2 cups shredded Chihuahua or mozzarella cheese 

Sliced red or white onion, for garnish 
In a saucepan filled with water, heat water to boiling, add tomatoes and peppers and cook until soft, about 5 minutes. Remove tomato skin. Put tomatoes and peppers in a blender with garlic, onion, and salt. Blend all ingredients until smooth. Taste the mixture and add more salt if needed, then blend again. Pour the mixture into a saucepan and simmer over low heat. 
In a skillet over medium heat, add oil. When the oil begins to shimmer, fry the tortilla chips until they are crisp, using tongs to place the chips on paper towels. 
When the sauce is warm, add the chips little by little until all the chips are covered in sauce. 
Add chicken to the skillet, let it cook until the meat is warm throughout. Turn the heat off and add Mexican crema or sour cream and Chihuahua or mozzarella cheese. Cover skillet with lid until the cheese is melted. 
If you like a bubbly top, alternatively you can place the mixture in an 11-by 7-inch glass baking dish and warm in a 350-degree oven until the cheese is browned.
Use a spatula to move chilaquiles to a serving plate. Garnish with slices of red onion or diced white onions. 
Other options you can try at home include adding a fried egg, scrambled egg, or using steak instead of chicken.