Café Trio's executive chef Vinnie Ross says his pork katsu is always a crowd favorite. The recipe is both filling and easy to duplicate at home. The sweet/savory/tart trifecta is perfectly executed in each bite.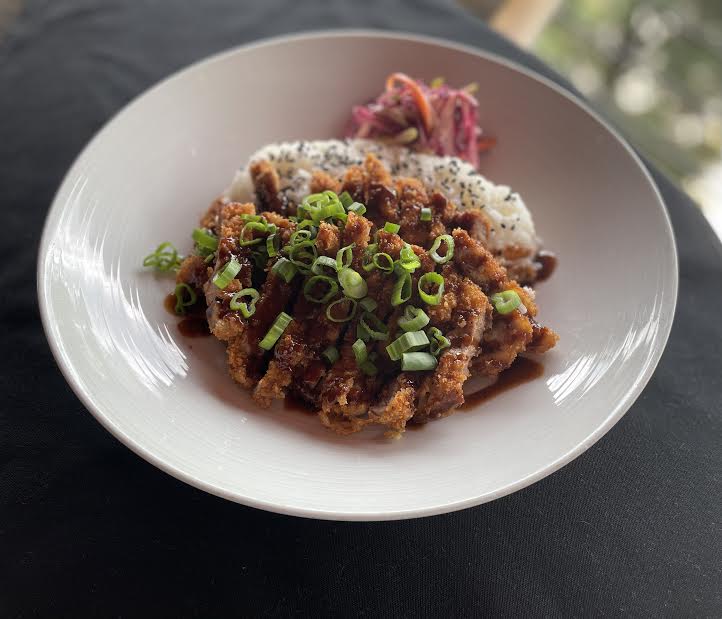 Pork Katsu over Steamed Jasmine Rice with Granny Smith Apple Coleslaw
Ingredients:
2 4-ounce boneless pork chops, (tenderized by pounding out into thin cutlets)
For coating:
2 tablespoons all-purpose flour
1 large egg
Salt and pepper
2 tablespoons canola oil
Katsu sauce:
1 tablespoon ketchup
2 ½ teaspoons Worcestershire sauce
1 ½ teaspoons oyster sauce
1 ⅛ teaspoons sugar
Apple slaw:
1 Granny Smith apple, julienned
1/2 cup thinly sliced red cabbage
1/2 cup mayonnaise
1 teaspoon reduced sodium soy sauce
2 teaspoons sugar
1 teaspoon apple cider vinegar
1/2 tablespoon grated fresh ginger
Jasmine rice and black sesame seeds
1 cup jasmine rice
2 cups water
Black sesame seeds and green onions (for garnish)
Directions:
Mix water and rice in a saucepan and simmer for 10-15 minutes. Remove from heat, cover with plastic and let steam. Set aside. Mix apple slaw ingredients and refrigerate 20 to 30 minutes to chill and marinate. Mix Katsu sauce ingredients refrigerate.
Pound the pork chops to ¼-inch thickness. Place flour, salt and pepper in a shallow bowl. Whisk egg in another shallow bowl. Dredge cutlets first in seasoned flour, then dip in egg and shake off excess. Pan fry in 2 tablespoons of canola oil for 3 minutes per side and let rest on paper towels.
To plate, put white rice in the middle of the serving dish. Place slaw on top of the jasmine rice. Thinly slice the pan-seared pork and place leaning against the jasmine rice. Drizzle Katsu sauce over the pork and rice. Garnish with thinly sliced green onions over pork and black sesame seeds over rice. Enjoy!