From creating pastry masterpieces at the Blair House in D.C. to Webster House in KC, Sharon Reitz resume reveals she is a pastry chef with a wide repertoire. As the keeper of pie-making techniques at Tippin's Pies, Reitz has quite a few recipes up her sugar-rific sleeve.
But ask her to name her favorite thing to make at home, and it's a quick answer: Lemon Ricotta Cookies. "These are my go-to cookies. They're such a refreshing change from chocolate. Plus, they're easy to make and one of my kids' favorites," she says. "And having trained at the New England Culinary Institute in Vermont, I just think cheese should be in everything."
During a cooking trip to Italy in 2011, Reitz secured this recipe from a local. She brought it home and adjusted the recipe to work with the flour we have here, and she's been making these refreshing summertime cookies ever since. "They're flavorful, pillowy soft, and have a vibrant, bright flavor," says Reitz. "You can make a lime or orange version or add crushed lavender flowers to the lemon for a delicious twist."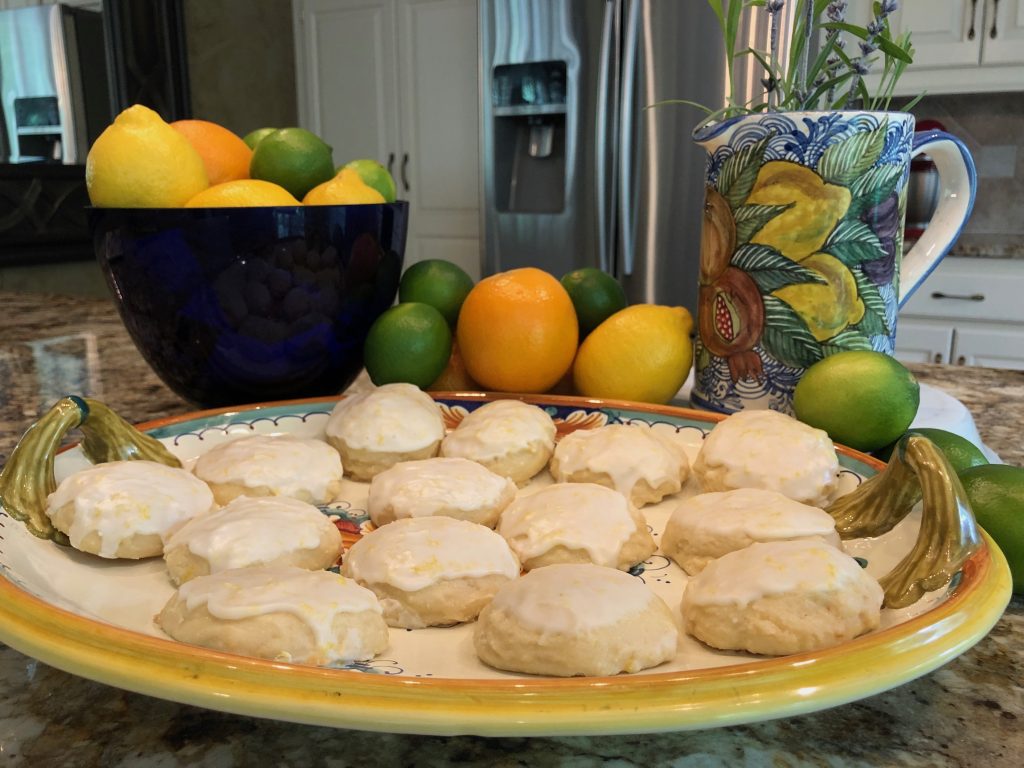 Lemon Ricotta Cookies
Cookie Ingredients:
3 1/4 cups all-purpose flour (Chef note: I prefer Hudson Cream or King Arthur Flour, both available at Hen House)
1 1/4 teaspoon baking powder
3/4 teaspoon salt
1 stick unsalted butter, softened to room temperature
1 3/4 cups sugar
2 eggs
1 (15-ounce) container whole milk ricotta cheese
4 tablespoons lemon juice
3 lemons, zested
For the Glaze:
1 1/2 cups powdered sugar
4 tablespoons lemon juice
2 lemons, zested
Directions:
Preheat the oven to 350 degrees. In a medium bowl combine the flour, baking powder, and salt. Set aside. In a large bowl combine the butter and sugar. Using an electric mixer, beat the butter and sugar until light and fluffy, about 3 minutes. Add the eggs, 1 at a time, beating until incorporated. Add the ricotta cheese, lemon juice, and lemon zest. Beat to combine. Stir in the dry ingredients. Scrape down sides and bottom of bowl to ensure all ingredients are combined thoroughly.
Refrigerate for an hour or overnight. Line 2 baking sheets with parchment paper. Spoon the dough (about 2 tablespoons for each cookie) onto baking sheets. Bake for 15 minutes. (Cookies will be light in color.) Remove from the oven and let the cookies rest on the baking sheet for 20 minutes.
Glaze:
Combine the powdered sugar, lemon juice, and lemon zest in a small bowl and stir until smooth. Dip top of each cookie in glaze. Let the glaze set for about 1 hour.
Chef Variations:
For Lime Ricotta Cookies, substitute lime zest and lime juice for the lemon.
For Orange Ricotta Cookies, substitute orange zest and orange juice for the lemon.
For Lemon Lavender Ricotta Cookies, add 2 tablespoons of crushed lavender flower to glaze.