There's a reason why downtown KC's Epic Burgers has such a following—they keep mixing and matching ingredients until they find the perfect burger-rific combo. One of their most popular menu items is their to-die-for Steakhouse Burger—complete with beer-braised onions, creamy horseradish Dijon, blue cheese, and black-pepper bacon. (Drooling yet?)
Served on a toasted brioche bun with arugula and sliced tomato, it's a tasty collaboration between executive chef Ronnie Kotz and sous chef Alyson Martin. Both culinary pros just kept adding great ingredients and toppings until this over-the-top, gourmet version was the result.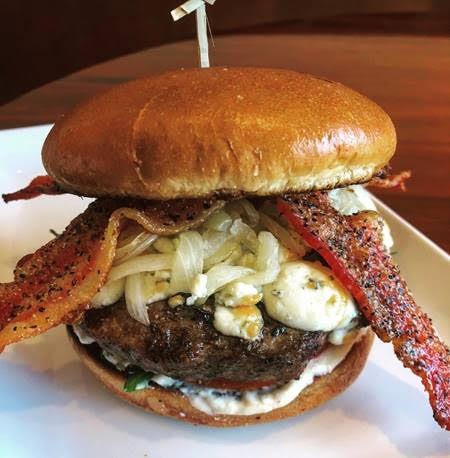 Epic Burger's Steakhouse Burger
Ingredients:
4 ground beef angus burgers (brisket blend if you can find it)
4 tablespoons softened room-temperature butter
3 ounces crumbled blue cheese
8 slices thick-cut bacon
4 brioche buns (or your favorite hamburger bun)
Coarse-ground black pepper to taste
Salt to taste
Creamy Horseradish:
5 tablespoons fresh prepared horseradish
3 tablespoons Dijon mustard
8 tablespoons sour cream
Directions:
Mix well in small bowl and set aside.
Beer Braised Onions:
1 medium onion, julienned
3 tablespoons butter
½ cup Guinness (or your favorite dark beer)
Directions:
In a small saucepan over moderate heat, melt butter, add onions and stir frequently until golden brown and just a bit of darker edges begin to form. Add beer and let liquid simmer and reduce until the liquid is gone. Transfer to a bowl and keep warm.
Pepper Bacon
Directions:
Line up bacon on parchment-lined sheet pan. (Two pieces per burger.) Sprinkle with coarse ground pepper.
Bake at 325 until desired doneness, this will depend on the thickness of your bacon. (Start watching it after 10-12 minutes.) Once rendered and golden, remove from oven and drain on paper towel-lined plate.
How to build your burger:
Preferably cook your burger outside on the grill, season liberally with kosher salt and fresh ground black pepper. Cook to desired temperature. Top with crumbled blue cheese and melt under a broiler. In a small sauté pan over medium heat, butter and brown the hamburger buns. On the bottom bun add the creamy horseradish, arugula and a slice of tomato. Top with the burger, beer braised onions, and pepper bacon. Enjoy!