KC Hopps Restaurants corporate exec chef Ryan Sneed loves a flavorful dish, but as a busy dad he's all about convenience when it comes to dinner. So when we asked him about an easy-to-duplicate recipe to make at home, he mentioned this tantalizing South Asian-inspired meal he whipped up from scratch.
The dish was such a hit, it eventually became one of restaurant group's popular, make-at-home meal kits. "I wanted to give our loyal guests local options to third-party meal kits that were creative and also kept my people working," he says. "Ethnic cuisine can be intimidating, so we adapted this particular recipe to give it a familiar anchor—and had people dust-off their Instant Pots."
This rich dish has both kick and zing—and a little sentiment behind it. "Our goal was to keep things interesting and evolving. Quarantine really gave us all a good excuse to break from the convention of our restaurants' favorite offerings and try something new," says Sneed. "It ignited new and old passions for cooking. We remembered how good it feels when a human being prepares a meal for another human being."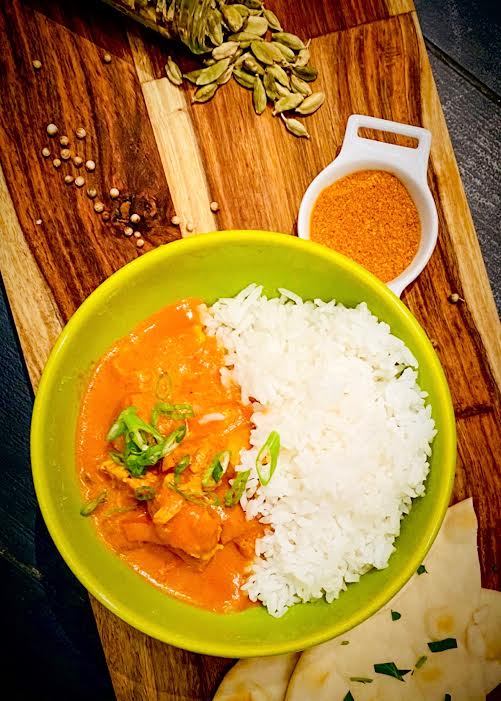 Instant Pot Indian Butter Chicken
(Serves four to six)
Ingredients:
2.5 pounds chicken thighs—boneless and skinless cut into ¾" pieces
3 – 5 tablespoons of your favorite curry or butter chicken seasoning (DIY recipe below)
6 tablespoons butter, unsalted
6 cloves garlic, minced
1 red bell pepper, ¼-inch dice
1 medium white onion, ¼-inch dice
10 ounces tomato paste
1 teaspoon salt
8 ounces chicken stock
1.5 cups water
2 tablespoons cornstarch
1 cup heavy cream
Butter Chicken Seasoning
Ingredients:
6 tablespoons garam masala
2 tablespoons ground coriander
2 teaspoons ground cumin
2 tablespoons paprika (smoked sweet paprika preferred)
2 teaspoons ground turmeric
Directions:
In a large bowl, mix the diced raw chicken and seasoning until well coated. (Add more or less spice depending on your preferences.) Melt the butter using the "sauté" function on your Instant Pot. When the butter is melted, add the minced garlic and sauté for 30 seconds, being careful not to burn. Cancel the sauté setting on the Instant Pot to start cooling it down. (Chef's note: Not doing this will later cause the mixture to "burn" which the Instant Pot will detect and display on the screen.)
Add the diced onions and red bell peppers and sauté (pot will still be hot) until the onions and peppers turn translucent, approximately 4 to 5 minutes. While the veggies are cooking, combine the tomato paste, chicken broth, water, salt, and cornstarch into a separate container and set aside.
When the veggies are translucent, add the raw chicken to the pot and mix. Add the tomato paste/stock mixture to the pot. (Chef's note: be sure the cornstarch is mixed well into the liquids and not stuck to the bottom of the bowl.)
Place the lid on the Instant Pot, activate the poultry setting and set it for 5 minutes. After the time expires, allow the Instant Pot to vent naturally over about 5-7 minutes. Remove the lid, add the heavy cream and it should immediately thicken up.
Serve with white rice and traditional Naan bread—and enjoy!