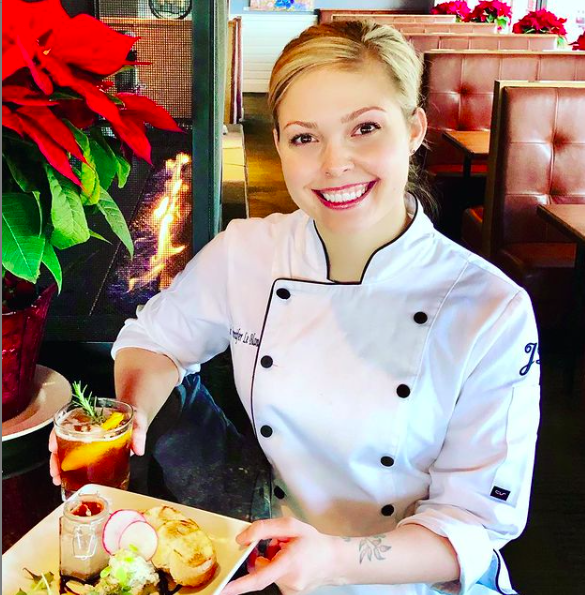 Tavern in the Village's executive chef Jennifer LeBlanc says creating seasonal dishes between seasons can be a bit tricky. "I created this recipe specifically for people to try at home—and to use the last of this season's root vegetables," she says. "Guests have seen me make it and now they want it, so it's going to be on Tavern's farmer's menu in April."
LeBlanc says her honey glaze is what makes the dish. "And it's a relatively easy recipe to make," she says. "Once you have the ingredients, it's quick. You have a salad you can make at home that's delicious—done and done."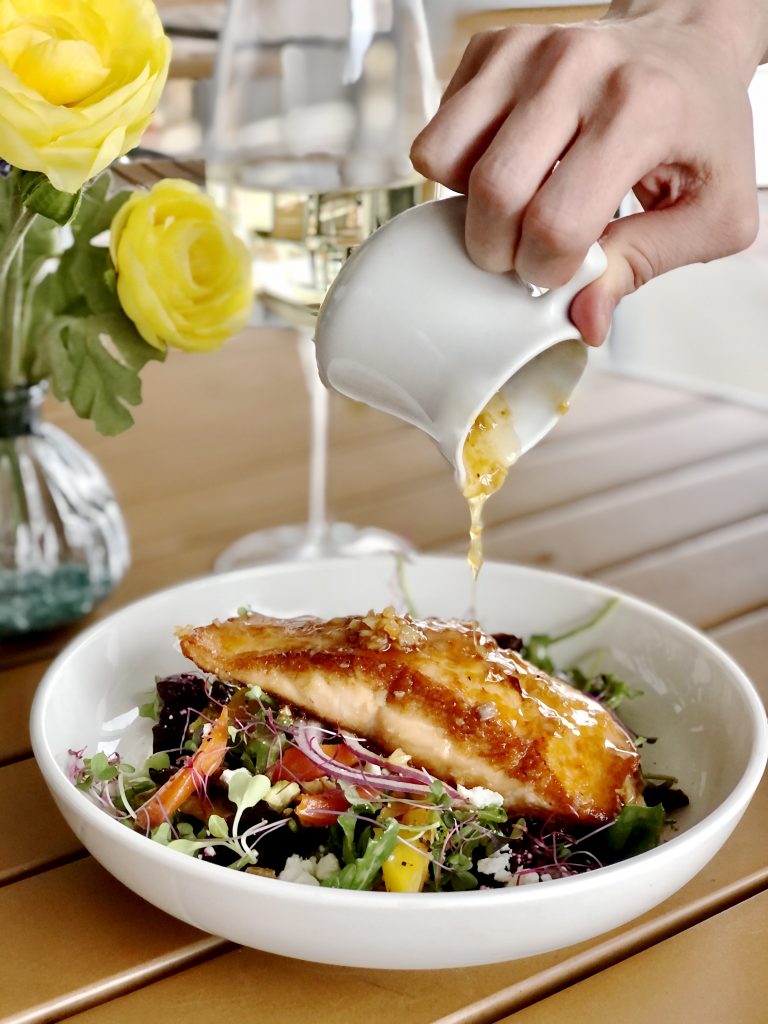 Spring Honey & Garlic Glazed Salmon with Roasted Root Salad

Ingredients:
For the Honey Glazed Salmon:
6 ounce salmon filet
1 tablespoon butter
1 tablespoon olive oil
2 tablespoons minced garlic
¼ cup honey
Salt & pepper
For the Balsamic Vinaigrette:
¼ cup balsamic vinegar
¾ cup olive oil
½ shallot, minced
2 tablespoons honey
¼ teaspoon salt
¼ teaspoon black pepper
For the Roasted Root Vegetable Salad:
5 ounces arugula
2 ounces balsamic dressing
2 roasted beets
3 roasted heirloom carrots
¼ red onion, sliced thinly
3 ounces goat cheese, crumbled
2 ounces toasted pistachios, chopped
1 ounce fresh microgreens *optional
Directions:
For the roasted root vegetables:
Wash and wrap beets in aluminum foil. Peel carrots, cut on bias into 2-inch chunks and drizzle with olive oil, and season with salt and pepper. Put on tray and into the oven at 400 degrees for 40 – 50 minutes or until fork tender. Remove aluminum foil from beets, and carefully peel skin off with a paper towel, then cut. While roasting vegetables make balsamic vinaigrette, then cook salmon when roasted vegetables are ready.
 For the Balsamic Vinaigrette:
By hand, or in blender, combine vinegar with shallot, honey, salt, and pepper. While whisking, or with a blender on medium, slowly add the olive oil until combined. Separation will occur, mix again before use.
Honey Glazed Salmon:
Heat pan on medium heat. Add 1 tablespoon butter and 1 tablespoon olive oil. When butter and oil are hot, season salmon with salt and pepper then lay salmon face down into the pan and cook 4 minutes, or until a thick sear is developed, then flip. When salmon is flipped add 2 tablespoons minced garlic to the pan with one-fourth cup honey and allow to reduce in pan until the salmon is finished. Shake pan gently back and forth as the honey reduces. While cooking the salmon sears, before flipping and making the garlic honey reduction, assemble salad.
Salad:
Combine arugula and balsamic and put into dinner bowl. Top with beets, carrots, red onion, goat cheese then pistachio. Lay salmon over the top of the salad and drizzle with garlic honey glaze. Finish with micro greens for a sweeter bite. Enjoy.