Chef Michael Smith is known for creating fresh, bold flavors in his popular Crossroads restaurants. Last Tuesday, chef Smith introduced a Mediterranean-forward menu at Extra Virgin. Instead of Spanish tapas, guests will discover intriguing mezes, crisp salads, flatbread, swordfish skewers, falafel, tagines, and more—a conglomeration of a dozen or more regional cuisines that are traditionally bundled under the vast umbrella term Mediterranean.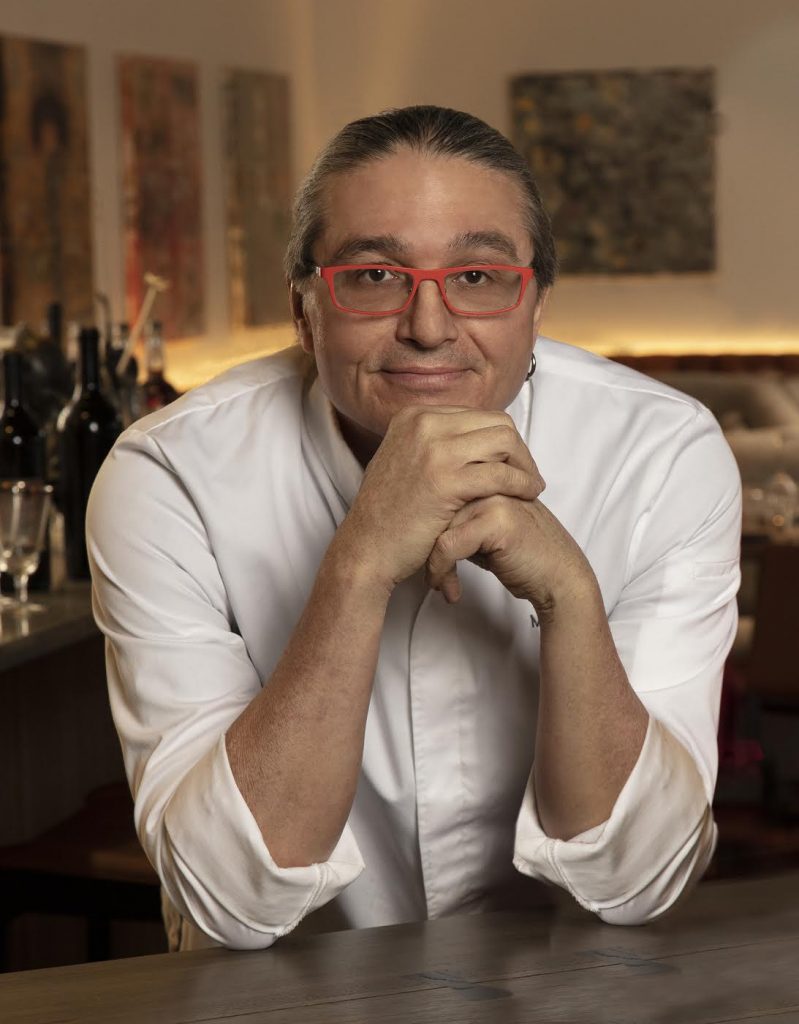 Smith and his wife Nancy— who is general manager and the force behind the wine lists —became enamored with Mediterranean cooking during their many travels to countries like Spain, Greece, and Italy. "It was time," he says, "for a menu makeover. It will be in the spirit of the Mediterranean, and it will be wonderful."
This easy Chicken Musakhan, a classic Palestinian dish Smith prepared for his two daughters when they were growing up, is on the new Extra Virgin menu. It's an iconic example of his spin on Mediterranean cuisine.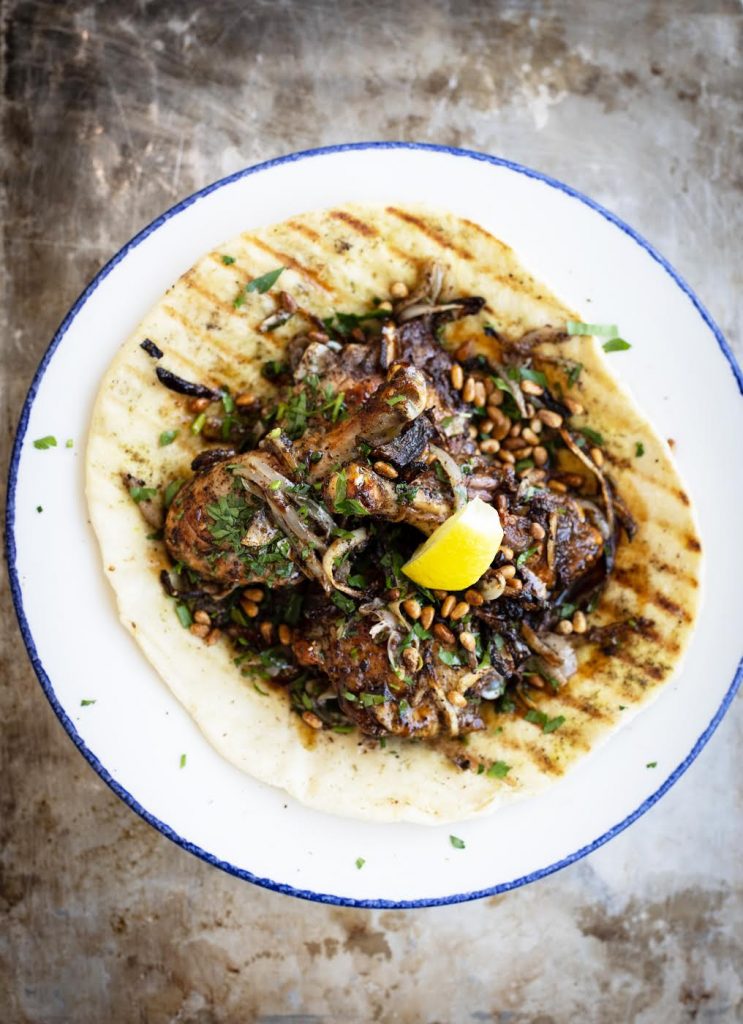 Chef Michael Smith's Chicken Musakhan
Ingredients:
Chicken and Marinade
4 leg quarters
2 yellow onions, thinly sliced
2 tablespoons sumac
1 tablespoon ground cumin
1 teaspoon ground cinnamon
Juice of 3 lemons
2 tablespoons canola oil
4 tablespoons olive oil
Salt & pepper
1 bay leaf, torn
1 tablespoon fresh thyme leaves
Directions:
Combine all ingredients to marinate the chicken legs. Marinate overnight or at least four to six hours. Sprinkle some sliced onions on the bottom of the roasting pan. Lay out the chicken legs on top of the onions. Keep the chicken legs separated. Scatter remaining onions over the top of the chicken. Add a quarter inch of water to cover the bottom of the pan. Roast in a 375–400-degree oven for about 45 to 60 minutes. The chicken and sliced onions need to turn dark golden brown as they are roasting. Roast until chicken is cooked through. The onions will be deeply caramelized as well.
Remove chicken and onions from the roasting pan. If the water has evaporated and caramelized in the roasting pan, add another half cup of water to the pan and scrape around all the caramelized bits to create a zesty jus to pour over the finished dish.
Final garnish
2 tablespoons barberries
2 tablespoons toasted pine nuts
½ bunch of cilantro
4 pieces warm flatbread
1 bottle pomegranate molasses
Extra virgin olive oil
To serve:
Lay a piece of warm flatbread on each plate. Put one chicken leg quarter on each flatbread and divide onions equally among the four plates. Sprinkle the chicken with pine nuts, barberries, and cilantro. Then drizzle each dish with olive oil and the molasses.
Chef pro tip:
Find pomegranate molasses at area specialty stores like Shahrazad Market at 126th & Metcalf, Pak Halal on 87th Street, Mediterranean Market in Westport, Al Habashi in the River Market, Halal Meat Market on 151st Street, and European Delights on 95th Street, among others.