After our repeated attempts to snag this recipe, Phillip Jones, the chef at Kind Food eventually relented. Talk about worth the wait! "This is my favorite plant-based spin on a chicken salad!" he admits. "This dish became a staple for my family early on in our plant-based lifestyle. It's easy to make, tastes amazing (hello, hint of curry!), and really is so good for you."
The dish is packed with protein—"nearly 40 grams per cup," says Jones—and full of essential iron, magnesium, calcium, and vitamin C and B-6. Think of it as satisfyingly flavorful and nutritious. "It'll fill you up without leaving you feeling heavy," says Jones.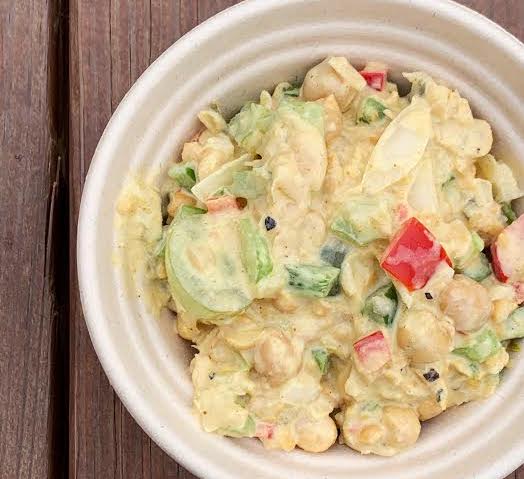 Curried Chickpea Salad
Ingredients:
2 15 ½-ounce cans chickpeas/garbanzo beans, drained and rinsed
¾ cup vegan mayo (now available in most grocery stores next to the regular mayo)
Juice of 1 lemon
¼ cup sweet relish
1 1/2 tablespoons agave syrup
½ tablespoon apple cider vinegar
1 1/2 tablespoons yellow curry powder (or your favorite curry seasoning)
1 teaspoon coarse black pepper
½ cup red bell pepper, diced
½ cup green bell pepper, diced
½ yellow onion, diced
2 stalks celery, diced
1 cup grapes, halved (green or red)
Directions:
In a medium-sized mixing bowl, lightly mash the chickpeas so that some beans are left whole and some are just slightly broken open. (Chef note: this helps keep the salad from falling apart as easily, just make sure not to over-mash the chickpeas—you're not making hummus!)
In a separate small bowl, whisk together vegan mayo, lemon juice, apple cider vinegar, agave syrup, relish and seasonings. Pour liquid mixture over chickpeas and stir to mix well. Add remaining ingredients to the bowl and gently fold in until mixed well.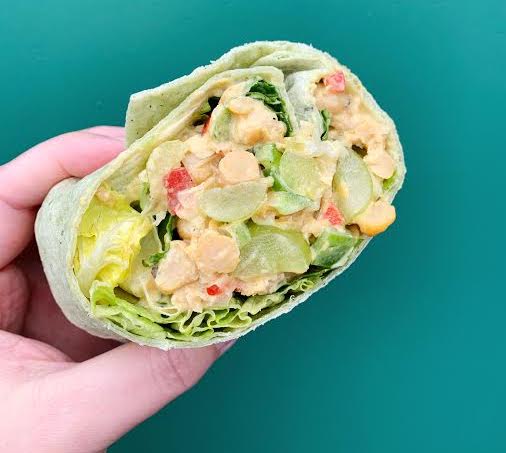 Chef serving suggestions:
In a large tortilla, layer chopped romaine lettuce with spoonsful of chickpea salad, roll tightly, cut in half and enjoy. Remove the firm inner-most leaves of romaine hearts, rinse and dry, then fill with spoonsful of chickpea salad. It's crunchy and extra fresh! (And it's my favorite way to eat it!)
Tasty Tips:
Add dimension, creaminess, and healthy fats with chunks of fresh avocado. Not a fan of grapes? Try chopped apple instead. Feeling spicy? Add some sriracha! Want a more classic flavor? Ditch the curry seasoning and add chopped walnuts.