Just how good is chef Adam Glass's Shrimp Étouffée? He made this dish to impress a girl on their first date. She ended up marrying him. "My wife always claims this is what made her fall in love with me," he says.
Given that this was one of the very first dishes Glass ever mastered, he's since honed it within an inch of its crustacean-centric life. "Early on, my mentor in school taught me how to make it, and it's a recipe I've carried with me ever since," he says. "The city of New Orleans has always been near and dear to my heart. This dish always reminds me of the amazing food and culture that exists in the bayou."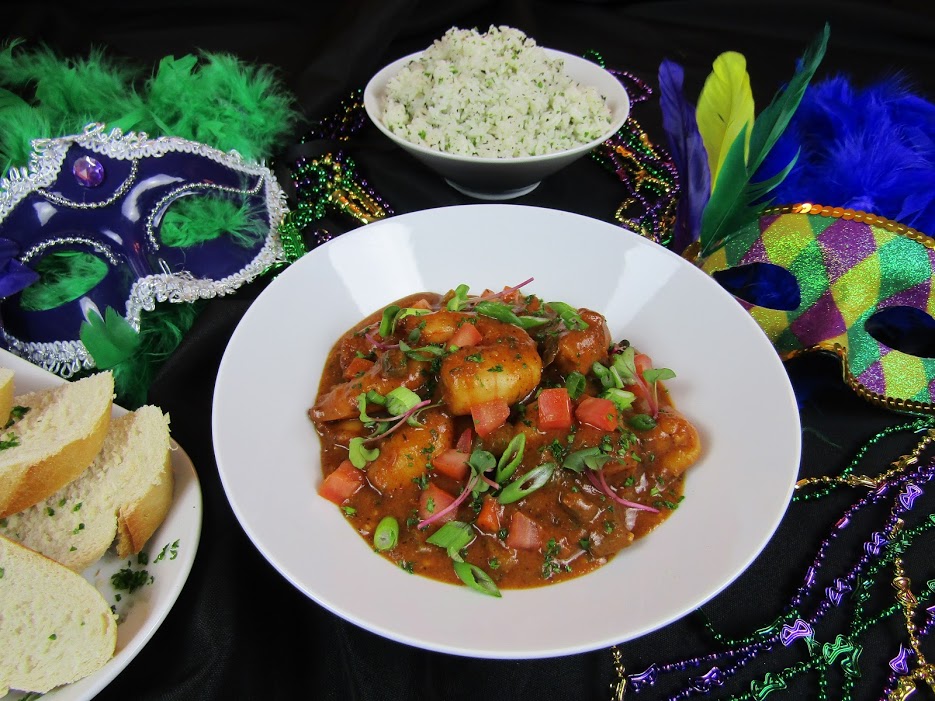 Shrimp Étouffée
(Serves four)
Ingredients:
1 medium yellow onion, diced
1 green bell pepper, diced
3 stalks celery, diced
1 medium carrot, diced
4 cloves garlic, minced
4-6 cups chicken stock
1 bay leaf
1 lemon, juiced
2 tbsp. Worcestershire
1-2 tbsp. favorite hot sauce (Chef note: I use Crystal Louisiana Sauce.)
4 tbsp. flour
4 tbsp. butter
4 tbsp. Creole seasoning (recipe below)
1 pound shrimp, peeled & deveined
Garnishes:
Chopped parsley
Diced tomatoes
Chopped scallions
Creole Seasoning:
2 tbsp. smoked paprika
2 tbsp. mild chili powder
1 ½ tbsp. garlic powder
1 ½ tbsp. onion powder
1 tbsp. Kosher salt
1 tbsp. black pepper
2 tsp. dried oregano
2 tsp. dried thyme
1-2 tsp. cayenne pepper (optional)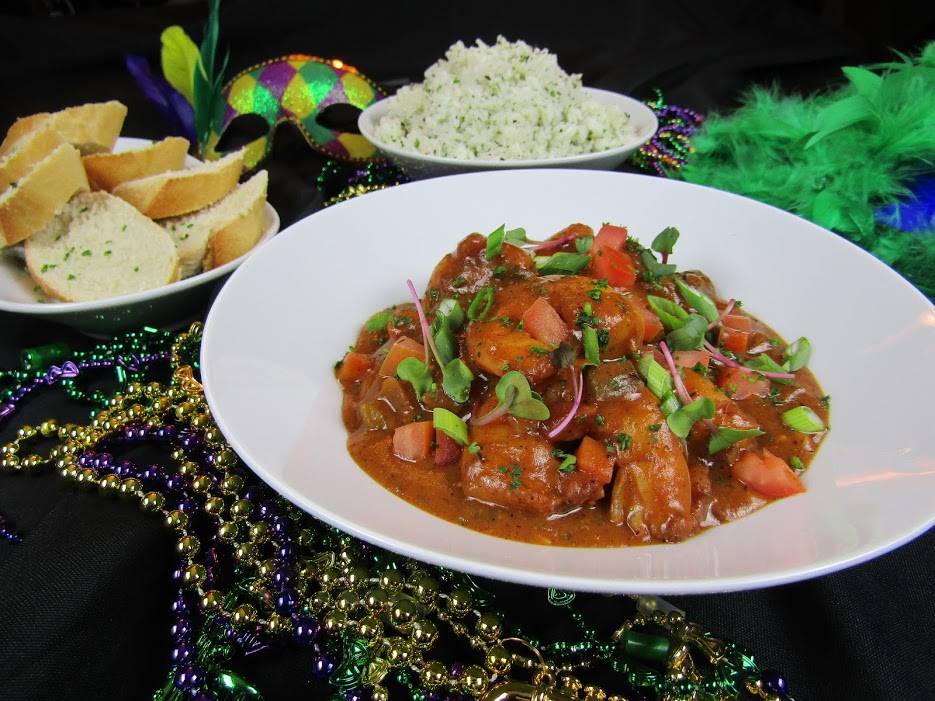 Directions:
To prepare the roux: In a saucepan, melt the butter over medium-high heat. Once completely melted, add the flour all at once and mix thoroughly with a wire whisk. Continue to stir, monitoring so it does not burn. After about 10 to15 minutes, it will begin to change color to a deeper and darker brown. You want to stir the roux until it resembles the color of caramel sauce. Remove from heat immediately and reserve. It will be very hot so be careful. (Chef note: The key to this dish is in the roux. You definitely want to pay attention to this step to make sure it doesn't burn, and that you get a good, deep brown color. The darker you take the roux, the nuttier the flavor—which is good! FYI, the color of the roux is also what the color of the final product will be.)
Étouffée
In a heavy-bottomed soup pot, sauté the onions, bell pepper, celery, and carrots over medium-high heat for 4 minutes. Add garlic and cook for 1 more minute.
Add half of the Creole seasoning, bay leaf, and 4 cups of stock. Bring to a boil and reduce heat slightly. Simmer for 7 minutes. Add the Worcestershire sauce and hot sauce. Check for seasoning and add more Creole spice if you'd like a stronger flavor.
While stirring, slowly add the roux, thoroughly incorporating. Bring back to a boil and adjust thickness by adding more stock if necessary. Add shrimp, lemon juice, handful of diced tomatoes, scallions, and parsley. Cook for 1-2 minutes until shrimp are cooked through. Check seasonings and adjust with more Creole spice, salt, or lemon juice as necessary.
Serve with rice, garnish with additional tomato, scallions, and parsley. Enjoy!