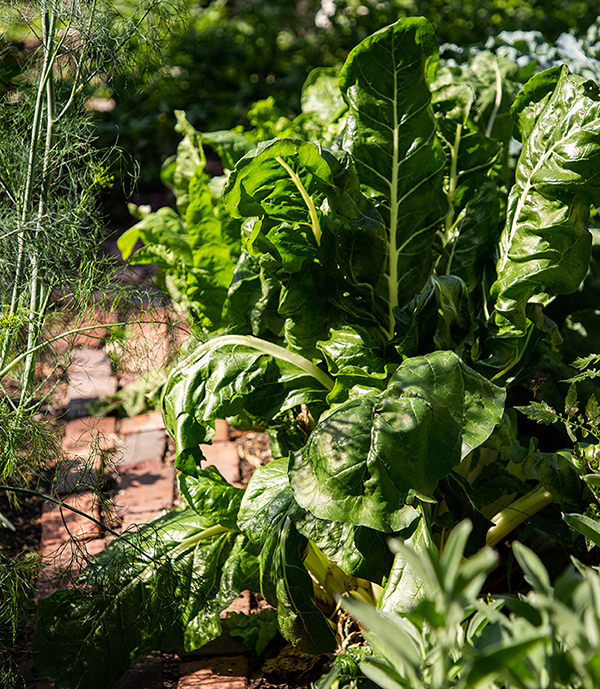 The summer garden in Kansas City has many offerings, but one frequently overlooked is Swiss chard. I love greens—all kinds of them—but Swiss chard is my favorite. In addition to being delicious and versatile, it is easy to grow, very tolerant of our climate, beautiful, and you get at least two years out of one planting. Chard can be used when as tiny as one inch or as large as three feet. Depending on the variety, the stalks and veining of chard come in a rainbow of colors from white to cream to every shade of yellow, gold, pink and even ruby red, making it a delight for both the gardener and the cook. Obvious uses include raw in salads when it is very small, or braised as a side dish when it is more mature. But it can be so many things, like a lovely filling in ravioli when mixed with ricotta, a tasty vegetarian burger when crisped inside a cheese coating, or as in this recipe, where it serves as a silken wrapping for a savory meat filling. All parts of the plant are useable so nothing goes to waste, and it is a nutritional powerhouse. And it's not Swiss at all—no one is sure why it's called that.
Although this recipe may seem daunting—quite a few ingredients and a good number of steps—it can be prepared a day ahead of serving, and it freezes quite well. The actual filling makes a delicious meatloaf or the lightest and most elegant of meatballs. You could simply sauté the leaves with garlic and serve as a side. Also, think of this recipe as a starting place. Any of the amounts or seasonings can be adjusted to make this your own.
---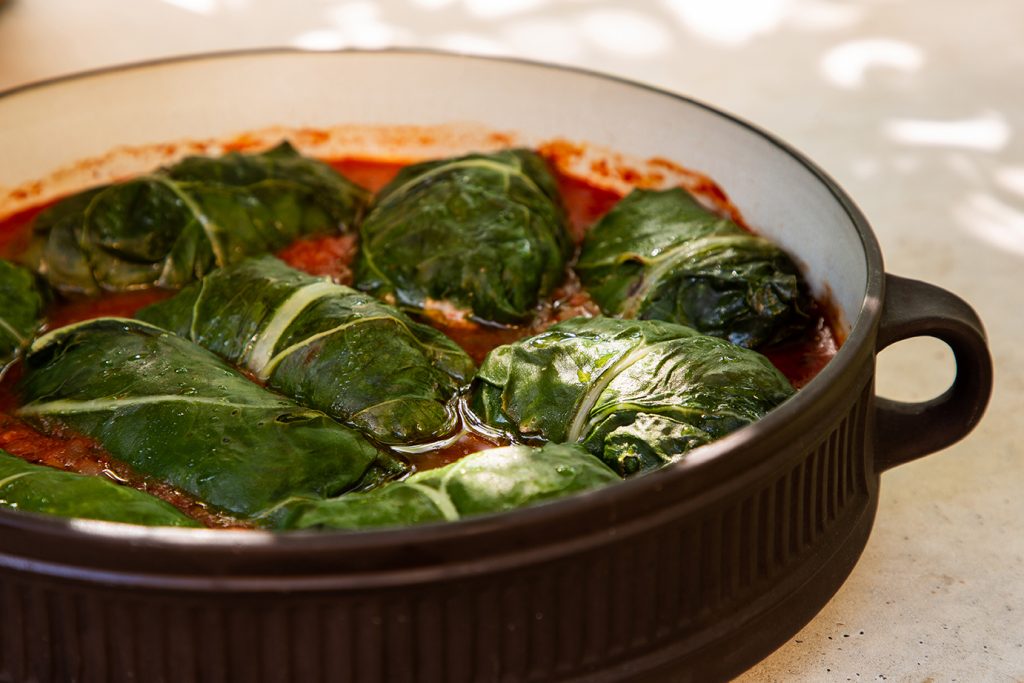 Stuffed Swiss Chard Rolls
1 bunch of large Swiss chard, about 12 leaves, stems removed at the base of the leaf and cut into chunks, leaves reserved

1 onion, cut in chunks

1 stalk celery, cut in chunks

1 medium carrot, peeled and cut in chunks

2 slices bacon, cut in pieces (optional)

Extra virgin olive oil

1 pound ground turkey (or ground pork, veal or beef, or a combination)

1 cup cooked rice

1 bunch scallions

1 teaspoon dried oregano

1 cup ricotta cheese, drained

1 cup Grana Padano or Parmesan cheese, grated

2 teaspoons salt

1 28 ounce can San Marzano tomatoes, crushed
While assembling and preparing the ingredients for the dish, put a large pot of water on to boil. Combine the chard stalk chunks, onion, carrot, celery, bacon, and a tablespoon or two of olive oil in a food processor. Pulse until a coarse paste is formed. Place a large skillet over medium heat and add the contents of the food processor. Gently simmer until the vegetables are tender and the bacon (if using) renders its fat, about 15 minutes, adding a few tablespoons of water if necessary to avoid scorching.
Remove the pan from the heat. Scrape half of the mixture into a large bowl to cool. Return the other half in the skillet to the heat and add the crushed tomatoes and a large pinch of salt, and simmer while assembling the rest of the dish.
A few at a time, dip the chard leaves into the boiling water for about 30 seconds, or until no longer rigid. Remove them from the water, let them drip for a moment and then lay them out on a cutting board or the countertop. With a paring knife, shave off the thickest parts of the stem and discard. Meanwhile, combine the cooled vegetable paste with the ground turkey, cheeses, rice, and seasonings and mix thoroughly. Place about one half cup of the mixture in the center of the leaf (two smaller leaves may be put together if necessary), then begin to roll the filling inside the leaf, tucking in the sides as you go. Place the roll seam-side down in the simmering tomato sauce. Repeat until all of the filling is used. Put a lid or foil over the dish and place it in a preheated 350°F oven, and bake for about 40 minutes. Serve warm, with a generous ladle of sauce.