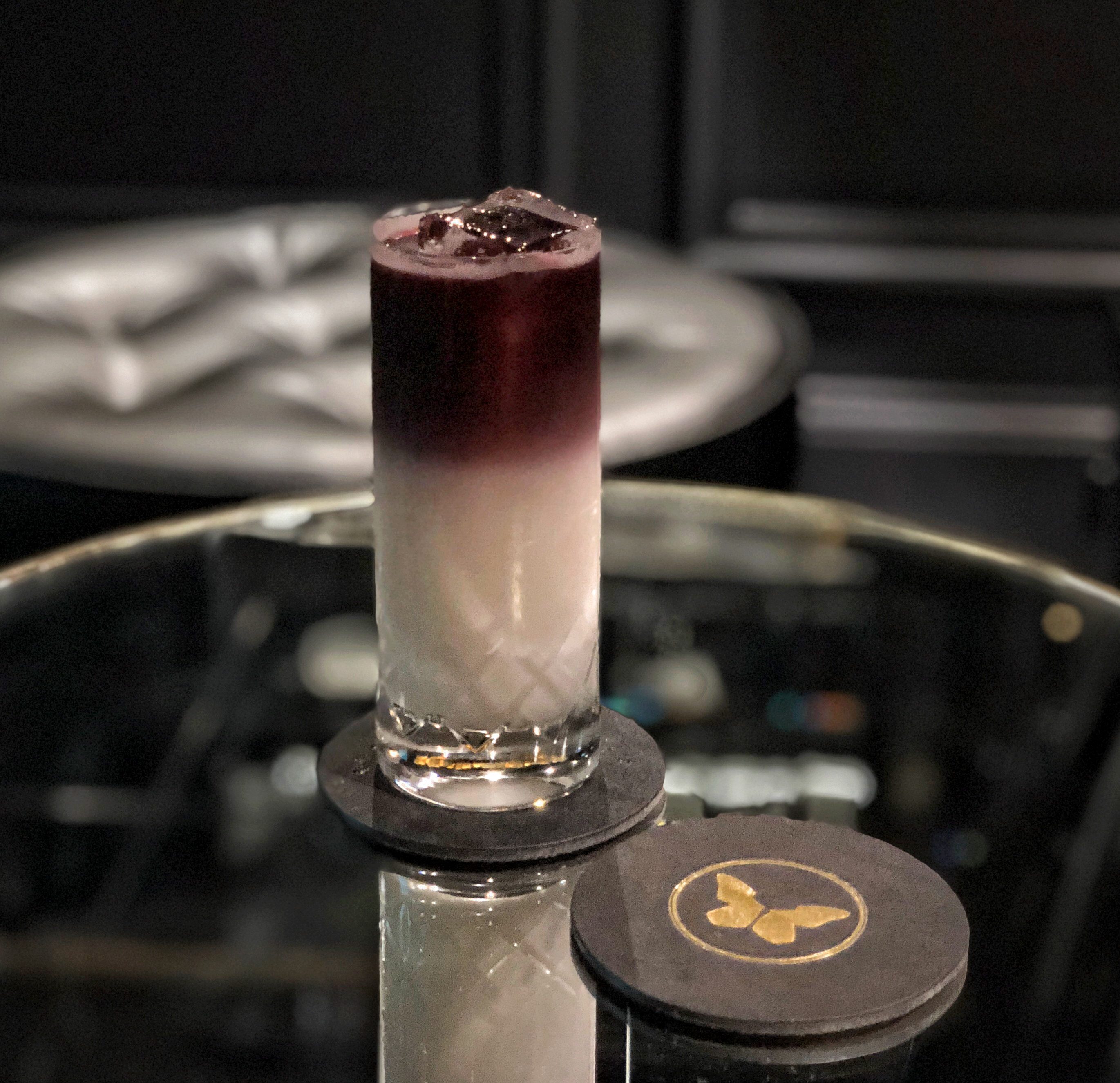 Monarchs fly south for the winter, but Kansas Citians will be flocking west—to the West Plaza's Monarch Cocktail Bar & Lounge, that is. Bar director Brock Schulte is serving up a memorable fall and winter menu inspired by the migratory patterns and flight paths of its namesake butterflies from around the world.
It's just one of the ways you notice the attention to detail paid at The Monarch. Stepping into the bar feels like being transported to another era, or maybe just a more civil one where going out for cocktails is good reason to get dressed up and drinks are savored, not swallowed whole. The Monarch's main room encourages guests to meet its high standards—and with a stunning butterfly chandelier hanging over the marble center bar, it is a high standard indeed.
The Monarch's outdoor terrace boasts a more relaxed ambiance, as well as heat lamps and a glass canopy, while the parlor takes the opposite approach. Dark and atmospheric, the intimate space requires reservations or an invite to enjoy the curated collection of spirits and inventive cocktail menu based on works of art. This season, guests can enjoy offerings inspired by Ayn Rand's The Fountainhead, with cocktails and excerpts from the corresponding source material showcased alongside art by Jennifer Janesko on the menu.
The Parlour is managed by Kenny Cohrs, and both his and Schulte's status as veterans of the Kansas City cocktail scene shines through, from the attentive service to the expertly prepared and conceptualized drinks.
The Monarch Bar's fall and winter menu invites imbibers on a migration-inspired journey with cocktails influenced by the ingredients and flavors of different regions. Offerings on the Atlantic Coast flight path feature bourbons and scotches balanced with fresh herbs, vanilla and soft citrus, like the Ferdinand the Bull, a blend of Haut-Armagnac, Cocchi Dopo Teatro, tart cherry liqueur, smoked applewood and grilled orange. Meanwhile, the Floribbean section takes its direction from the clever butterflies that skip migrating altogether in favor of the island life, injecting the menu with some lightness, both with its flavors and its concepts—the Rockafella Spritz, billed as the Monarch's tribute to both rosé and Fatboy Slim, is made with Sparkling Infinity Rosé, Aperol, pamplemousse and papaya.
Patrons can also enjoy treats from the kitchen such as Velvet Crème caramel popcorn with honey roasted nuts, charcuterie, or Christopher Elbow truffles, made exclusively for the Monarch, among other sophisticated, satiating options.
---
King Palm 2.0
For the King Palm 2.0, one of The Monarch's current seasonal drinks, Schulte looked beyond regional influences to a specific Colorado bar.
"This is an ode to Death & Co. Denver's spirit-free cocktail called the King Palm. I loved the one I had there, but I wanted to make it my own," says Schulte, who uses J. Rieger & Co. gin to support a local product. Taking a cue from New York sour-style cocktails, he also chose to add a little tannin and fruit. "So, it gets a short shot of red wine on top. It has a smoothie-like texture and is very refreshing."
1

½

ounces J. Rieger & Co. Midwestern Dry Gin

1

ounce kefir whey

¾

ounces coconut water

½

ounce cinnamon

½

ounces lemongrass
Shake hard and double strain into a collins glass, garnish with a collins cube and float about an ounce of red wine over the top.