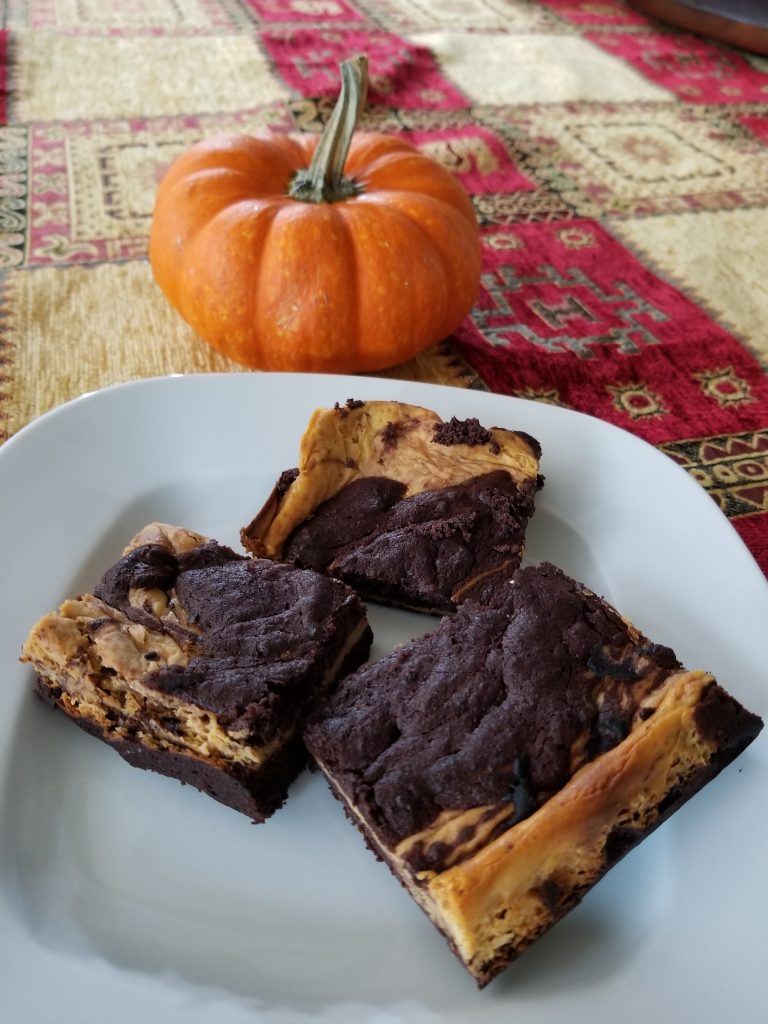 When Duke University-certified integrative health coach Mithra Amaran started Loka Wellness a couple of years ago, one of her goals was to introduce her low-carb, keto-friendly diet to as many people as possible. Amaran is determined to help people live their best life and for many folks that starts with a change in their diet. (Read that: cutting way, way back on sugar and carbs.) "We are what we eat. And scientific studies have repeatedly shown that—through diet alone—a low-carb diet is what is best to lose weight and keep it off, reverse chronic diseases such as diabetes and high blood pressure without medications," says Amaran. "Almost all drugs have side effects that can affect your quality of living."
Even Amaran has the occasional sweet tooth though, so when we challenged her to come up with a recipe to celebrate National Pumpkin Cheesecake Day, she was game. Turns out "pumpkins are naturally low-carb and lend themselves to great low-carb dessert recipes," says Amaran. Who knew? Who says you can't have your (cheese)cake and eat it too? Here's her Loka Wellness tasty, guilt-free version—Keto Pumpkin Cheesecake Brownies:
Keto Pumpkin Cheesecake Brownies
(Makes 16)
Ingredients:
For pumpkin cheesecake layer:
1 eight-ounce pack plain cream cheese softened at room temperature
3/4 cup powdered monk fruit (Available on Amazon. Make sure it is powdered or powder if granules or 1 teaspoon of pure Stevia extract. Add more if needed according to your taste.)
1 egg
1 teaspoon vanilla extract
1 ¼ teaspoon pumpkin spice – (½ teaspoon ground cinnamon, ¼ teaspoon ground ginger, ¼ teaspoon ground cloves, ¼ teaspoon ground nutmeg)
½ cup to 1 cup organic canned pumpkin puree
For keto brownie layer:
5 tablespoons organic butter
5 tablespoons cocoa powder
½ teaspoon of powdered Himalayan rock salt
1 cup monk fruit powder (or 1 teaspoon of pure Stevia extract)
3 medium sized eggs
½ cup almond flour
Baking instructions:
1) Preheat oven to 350°F. Line a 9×12 inch baking pan with parchment paper and butter it.
2) Make the pumpkin cheesecake layer first. Add cream cheese and sweetener to a bowl and beat using an electric mixer. until creamy and smooth. Mix in the egg, vanilla extract and pumpkin spice until fully combined. Mix in pumpkin puree. Set aside.
3) Add butter, cocoa powder, and salt to a medium heatproof bowl. Melt in a microwave for a minute or two until the butter melts. Add in sweetener and mix until combined and let it cool.
4) Add one egg at a time, whisking well after each one until completely incorporated. The texture should appear smooth, with all the sweetener dissolving into the mixture. Add the almond flour, whisking vigorously until fully blended (about a minute).
5) Pour 2/3 of the mixture into prepared pan, followed by all of the cheesecake layer. Add the remaining brownie batter in dollops and swirl the two batters together using a knife or chopsticks.
6) Bake for 23-30 minutes until the middle is done (it will still be jiggly).
7) Cut brownies and serve warm with keto vanilla ice cream or sugar-free whipped cream.