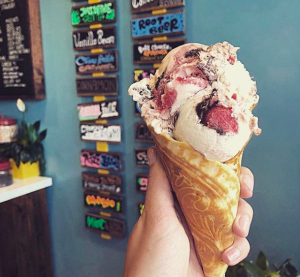 Kansas Citians by and large are not very patient when it comes to waiting in lines—that is, with one major exception—Betty Rae's Ice Cream in Waldo. It's not uncommon for lines to wrap around the building, especially given our on-going 100+ degree summer from hell. When the insanely popular Waldo ice creamery announced they were opening up a second location in River Market earlier this summer, mouths immediately started salivating.
Now we're less than one week until D-Day (read that: dairy day).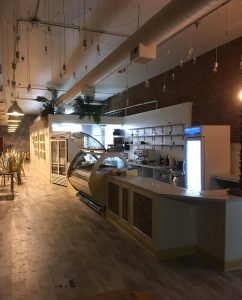 "We are insanely excited, building a space for people's enjoyment is such a fun undertaking that we almost shouldn't be paid for it," says owner David Friesen. "We were able to do a lot with the space, decor and equipment that we could not when we first opened in Waldo. Our goal is to continue to do what makes people happy, and refine and grow as a destination and a business."
The tenacious team will be putting the finishing touches on the space in the next few days in anticipation of their guesstimated August 29th grand opening. If you see people milling around near Delaware Street in the River Market, it's probably a line starting to queue. Think of it as the Black Wednesday of Ice Cream.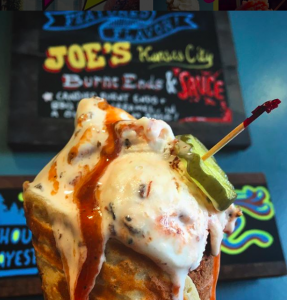 And don't worry Betty Rae-ophiles, they're bringing their dozen-plus signature whack-a-doo ice cream flavors (Joe's BBQ Burnt Ends & Sauce! Thou Mayest coffee!) along with them. Owner David Friesen plans to offer the same menu at the new location—for the time being. Eventually, each shop may be able to develop their own one-off flavors. Regardless, response has been phenomenal. "We feel privileged and honored that so many people like what we do and have given us a place in this city, and we set down in the River Market to truly be a part of this city and its story," says Friesen.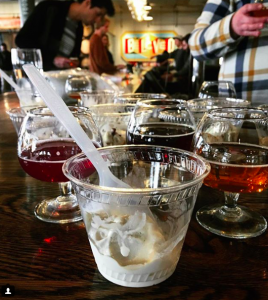 Want a little kick with your crème brulee caramel? No sweat—uh, unless you're standing outside in line. The new Betty Rae's also has their liquor license. That's great news for folks who want to imbibe on boozy floats and their oh-so popular adult milkshakes. Oh—and did we mention happy hour specials that include drink pairings? "We'll stock beers by local/regional breweries such as Torn Label, KC Bier Co, Tallgrass, Cinder Block—and of course—Boulevard," says Friesen. "And we have a photo booth inside courtesy of Classic Photo Booth Co."
Even better? The new Betty Rae's in River Market is conveniently perched on the streetcar line.
Welp—there goes the neighborhood—and our waistline.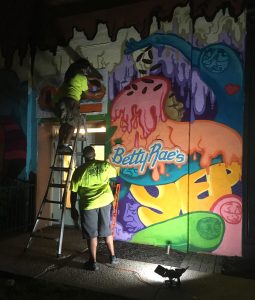 Betty Rae's Ice Cream will be open seven days a week, including Sundays through Thursdays from 11am to 9pm and Fridays and Saturdays from 11am to 10pm.