Sponsored content: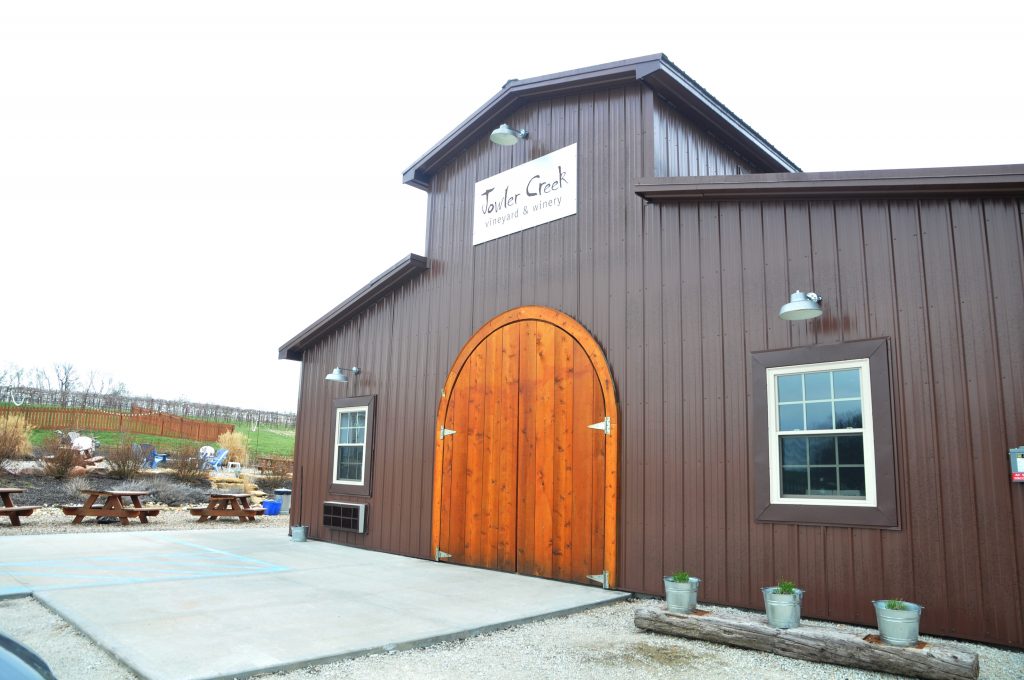 This fall, Jowler Creek Winery celebrates new owners and a lasting commitment to sustainability
While you sip a cold, crisp Vignoles or a delightfully dry Norton at Jowler Creek Winery, you might just see sheep, a few chickens, or Vidal, a fluffy Great Pyrenees, wander by.

Aside from adding to Jowler Creek's farmstead charm, the sheep and chickens play an integral role in the winery's designation as the first agriculturally approved, certified green winery in Missouri. The flock of sheep wanders the property, eating weeds and grass under the norton vines to keep the soil healthy and minimize erosion. The chickens stay busy eating bugs, ticks, and worms while keeping the vines safe. Together, the animals (along with others, like bats) minimize the amount of herbicides and pesticides needed to keep Jowler Creek's seven-acre vineyard healthy and thriving.
As for Vidal? Well, to many people—including Jowler Creek Winery owners Jason Lacy and his sister, Kit Lacy—Vidal's the boss! In fact, when the winery changed ownership in August, Jason says they were flooded with questions from concerned customers.
"As word spread about the sale, the biggest concern we heard from many people is what would happen to Vidal," Jason says. "She watches this place 24/7 and greets every car that drives in."
It was undoubtedly a difficult decision by Jowler Creek's founders and former owners, Jason and Colleen Gerke, but they opted to keep Vidal at the place she loves most: her winery.

A new chapter begins
This particular fall marks much more than a change in seasons. New owners Jason and Kit are now at the helm, helped by Colleen and Jason, who will stay involved in Jowler Creek as consultants.
For Jason and Kit, buying Jowler Creek Winery fulfilled a longtime dream.
"We'd been talking about starting a family business," Kit says. "When I saw online that the winery and vineyard was available, I immediately sent it to Jason. He loves farming, I love wine—it's the perfect match!"
Both Jason and Kit are no strangers to farm life. For the last several years, Jason has managed a family farm in Climax Springs, MO. Yet when they both made the decision to leave the corporate world—Jason in the financial industry, Kit in accounting—it surprised their families.
"We both left a very corporate structure," Jason says. "We just uprooted our careers and said, 'We're quitting!' It's nice to be out of the suit and tie."
Transferring business ownership typically introduces a few challenges, and in this case, Jason and Kit have been working long days to learn the ins and outs of winemaking.

"The growing part is more familiar to me, but harvest has been a learning curve," Jason says. "We're grateful to have Jason and Colleen here. They've become very close friends."
The Gerkes started Jowler Creek Winery in the basement of their home, opening their doors in 2008 after planting grapes in 2003 and beginning wine production in 2006. Since then, Jowler Creek has grown to include a separate 1,440-square-foot building that houses the tasting room, winemaking facility, and store. Jason and Kit's primary goal for their new business—build on the foundation created by the Gerkes.
"We want to expand the Jowler Creek brand they've built and encourage everyone to drink as much local wine as possible," Jason says. "It can be a challenge knowing that you're competing with California as a winemaking destination, but we just want to produce really good-tasting Missouri wine with locally grown products."
Fall fun awaits
Fall is typically the busiest time at a winery, and Jowler Creek is no exception. The winery's three varieties of grapes—vignoles, traminette, and norton (the official Missouri state grape)—are harvested in quick succession, starting with the fragrant vignoles grapes in late August.

Volunteers, sometimes numbering close to 100, gather on weekends for four-hour picking sessions that are followed by lunch and a wine tasting. During one late August weekend, volunteers picked 19,000 pounds of vignoles grapes!
From there, the freshly picked grapes are moved to juicing tanks, where they're crushed. The grapes are then transferred to other tanks so that the juicing tanks can be thoroughly cleaned and sediments removed before the grapes are moved back to clean tanks for fermentation—in other words, where the winemaking magic happens.
Finished wines in several varieties, including Vignoles, Butterfly Blush, Norton, and Traminette, are bottled and sold at Jowler Creek Winery, as well as distributed to more than 100 retail locations throughout Missouri and Kansas.
Autumn's cooler days also usher in a packed events schedule. Live music, hayrides, grape stomps, and grill your own dinner nights are among the winery's weekend events. Visit www.JowlerCreek.com for a full events calendar.