When her memoir was published last spring, noted restaurateur and award-winning chef Lidia Bastianich came to Kansas City to raise money for a professional organization she holds near and dear: Les Dames d'Escoffier. This international group of professional women in the culinary arts has a Kansas City chapter replete with its own James Beard Award nominees, TV Food Network winners, and food, food-writing, cookbook, wine and spirits award-winners of all kinds.
LDEI is paying it forward by offering scholarships to women just beginning their culinary education.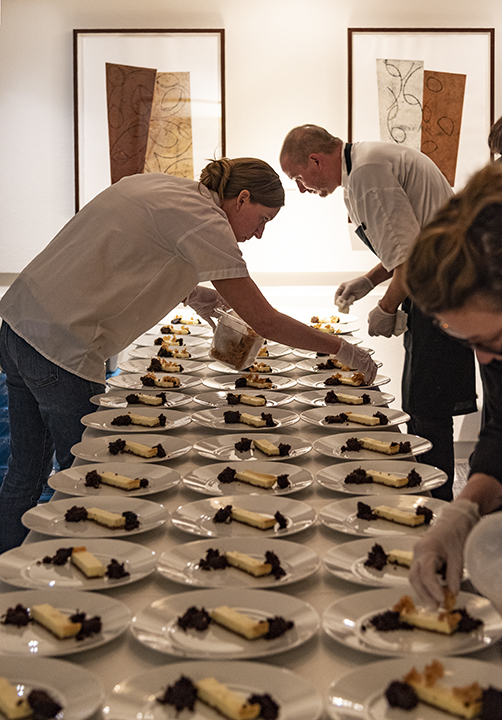 On Friday, October 9th, you can help support Kansas City's future movers and shakers by picking up the Les Dames d'Escoffier SupperClub Curbside dinner, prepared by the most amazing women in Kansas City's food and drink scene. All you have to do is get out your credit card, set the table, and pick up your feast.
The dinner includes the full menu below, all cocktails and a bottle of wine of your choice. (Upgrade your bottle or add another for an additional fee.)
Les Dames SupperClub Curbside Menu
First Course
Assorted Cheeses
with freshly made Concord grape jam and homemade herb crackers
Dame Alison Reed, chef-instructor, Olathe Advanced Technical Center and JCCC Wylie Hospitality and Culinary Academy & Dame Linda Hezel, owner/operator, Prairie Birthday Farm
Les Dames Lavender Sour Cocktail
Union Horse Reserve Straight Bourbon Whiskey, Boozy Botanicals Lavender Earl Grey syrup, fresh-squeezed Meyer lemon juice, Angostura aromatic bitters
Dame Louisa Shulteis, Union Horse Distillery & Dame Cheryl Bisbee, owner, Boozy Botanicals
Second Course
Beet Salad
pickled golden and red beets, candied pecans, mixed greens, white balsamic apple vinaigrette
Dame Shanita McAfee-Bryant, chef & founder, The Prospect Urban Eatery & Dame Mindy Riley, owner, Olive Tree
Main Course
Turf and Surf
Beef Wellington with shallot demi-glace
Dame Mary Holland, owner, Pierpont's at Union Station
rock shrimp pot pie with spicy cheddar biscuit crust and cauliflower friton
Dame Celina Tio, chef and owner, The Belfry Dame Jane Zieha, owner and Amanda Angles, general manager, Blue Bird Bistro
Dessert Course
homemade apple pie
layered with fall spices and streusel topping
Dame Megan Garrelts, pastry chef and owner, Bluestem and Rye
chocolate walnut caramel bar
Dame Jessica Armstrong, pastry chef and owner, Novel
Citron Limoncello
Enjoy dinner for two, and a bottle of wine, for only $200. Curbside pick-up will be on Friday, October 9 between 5:00 – 6:30 p.m. Choose your location Union Station or Olive Tree in Overland Park.  Place your order here.