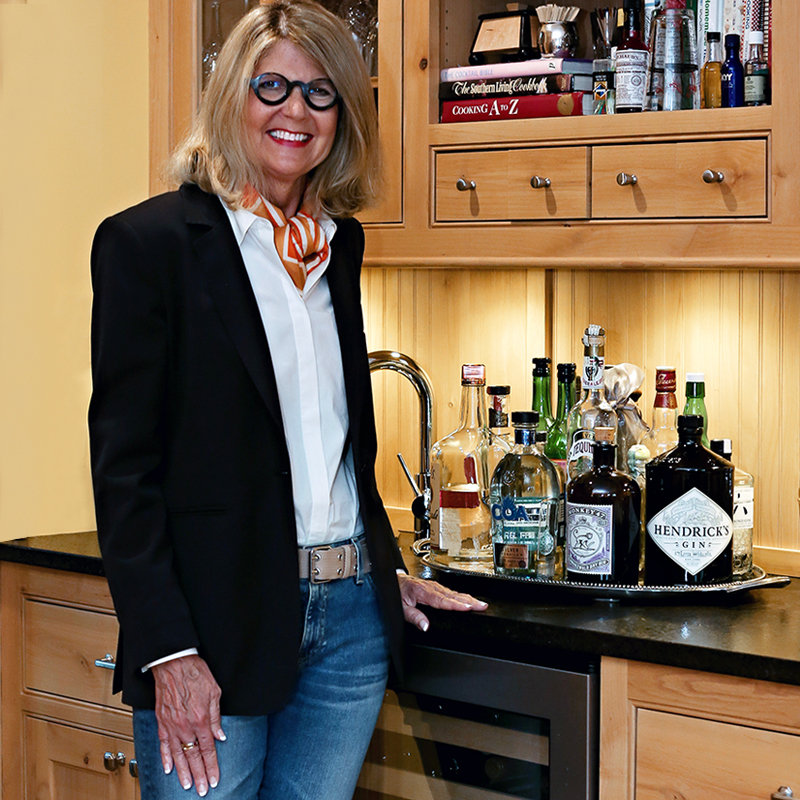 I can't drink wine anymore, a catastrophic turn of events. I won't bore you with the details; let's just say wine no longer agrees with me, although whiskey, in moderation, does—it's the only liquor that does—with ice and water. But even if I were a teetotaler, I would still take pleasure in serving liquor to guests. Since the dawn of man, fermented beverages have played a part in civilized meals because alcohol helps get the conversation flowing. As a rule, people relax after a drink or two (although I do know many non-drinkers who are plenty relaxed at parties).
I'm not saying you must get your guests tanked for it to be a successful gathering. In fact, nothing derails a party faster than a sloppy drunk. But booze makes things festive; there's a reason they call it "spirits."
Here, then, is some advice about serving spirits in your home.
Sophisticated Cocktails for a Small Group
There is something heartening about walking into a room and seeing a drinks tray. In fact, many attractive rooms you see in magazines have drinks trays because booze bottles clustered together, like a stack of books, are a good design element. All those shiny bottles in varying colors, shapes, and sizes, assembled on a handsome galley tray, are pleasing to the eye, regardless of their wicked contents. 
To serve small-group cocktails in style, you want a sturdy, flat surface on which to put your ice bucket, glassware, and drinks tray: a tabletop, an empty bookshelf or two, the top of a chest of drawers, practically anything will do. A basic drinks tray should have at least one variety of vodka, tequila, rum, and of course, gin and whiskey. Some people drink nothing but gin in warm months, then switch to whiskey when it turns cold, so never be without these two soldiers. 
Use premium brands, not swill. Plan to serve a red and white wine, too, and possibly beer, depending on your guests. In addition to the hootch, it's lovely—if you have the space for it nearby—to have elegant, single-serving bottles of Coke, Pellegrino water, cranberry juice, club soda, and tonic water, as well as lemon and lime wedges. A high-functioning drinks tray has small bottles of bitters, Worcestershire sauce, Tabasco, and Rose's lime juice.
Impromptu Drinks are a Good Thing
Know that for a casual, last-minute drinks gathering, all you really need is wine and the makings for gin and tonics, vodka sodas, and rum and Cokes. The great thing about and the standard mixers is everything keeps, so you always can have it in storage. Keep Pellegrino water and soft drinks in supply for your non-drinking guests.
Any time you serve alcohol, it should be with some kind of food, even if it's only mixed nuts or pimento spread and Triscuits, to soak up the booze. Email me for my list of classic cracker and cheese pairings, and my cocktail food recipes. 
A Party in a Pitcher
Nothing conveys hospitality like a drinks tray, it's true, but if you're having a crowd of, say, six or more, you will get the party off the ground faster if you provide a pre-mixed cocktail, preferably made with seasonal ingredients, something you can offer to thirsty guests the minute they arrive. Email me for my recipes for sangria, bourbon slush, and frozen margaritas for a crowd.
It's October, so an apple-based cocktail would be perfect. I can share my Autumn Fruit Hard Cider recipe, which uses a mixture of hard apple cider, ginger ale, Calvados, and lemon juice infused with apples and pears. 
Few people outside of Kansas City and Lawrence know what a horsefeather cocktail is, but 'round these parts, it is a classic drink, delicious any time of the year. A pitcher of horsefeathers is easy to make; there's a great recipe on the website of J. Rieger & Co. Distillery. If you're not in the mood for mixology, Rieger Distillery sells premixed bottles of horsefeathers at their shop in the East Bottoms. While you're there, have dinner at the cushy Hey-Hey Club and catch a show at Knucklehead's next door. 
The Champagne Trick
In a pinch, remember you can mix practically any fruit juice or fruit nectar with Champagne and serve it over ice in a tall glass. There's something about Champagne, even cheap Champagne, that shows largesse. Never waste expensive Champagne in a mixed drink.
 Or if you don't have time to think about a special drink, there's absolutely nothing wrong with simply serving wine and soft drinks.
You Needn't Spend a Fortune on Wine
The expulsion of wine from my life is tragic; I feel like a dear friend has died. I loved drinking wine, all sorts, especially fine wines. But you don't need pricey wines to have a good party. I consider us lucky to be living in an age and locale where there is so much affordable, delicious wine available. (See below for specific suggestions.)
If you are a person whose life is a quest for the perfect food and wine pairing, you won't find it at my house, unless it's by accident. I usually start with whatever wine my guests bring over, and when we've run through that, I move in the reinforcements and keep them flowing. I always try to have at minimum one bottle of white and one red open on the table, along with a big pitcher of ice water (critical) and let guests help themselves. Some consider it unseemly for one to fill one's own wine glass, but it happens a lot at my house. Keep in mind that a properly poured wine glass is never more than half full. 
It's None of our Business
A final note from the etiquette committee. There are plenty of reasons people hold back from alcohol, including designated driver duty, personal preference, dieting, medication interactions, and fear of a hellacious hangover, as well as being in recovery from alcoholism. There is no reason to differentiate one guest's reason from another's. If someone declines a drink, don't ask why, and don't make a big deal of it. Always have appealing non-alcoholic options that look like they might be a cocktail, and don't omit the wine glass from their place setting. No one wants to feel conspicuous for not drinking spirits. 
---

Respectable Wine Under Ten Bucks
Most party budgets call for a wine that is (to quote the Paul Giamatti character in Sideways) "quaffable but not transcendent." We have many great wine retailers in the metro: Cellar Rat, Mike's, Plaza Liquor, Underdog Wine Co., and Gomer's, to name just a few. All have knowledgeable staff who offer solid advice geared to your price range. 
Although I no longer drink wine, I have a couple of friends with discerning palates who tell me Trader Joe's has been hard to beat. These friends have recommended six wines Trader Joe's has in stock, more or less all the time, all under $10 (some well below). 
RED:
Phigment – Clarksburg, CA Lots of fruit. Sometimes described as "smoky." It's reputedly a clone of a very popular big-label red blend that sells for $15-17.
Terrain Vineyards – Napa, CA Nobody will try this if the price is mentioned. Very good with pizza, burgers, and casual fare. 
WHITE:
Claire Patelin Sauvignon Blanc – Gascony, France This one stumps the pros who taste it blind and try to guess the price range. Consistently well received and enjoyed.
Floriana Gruner Veltliner – Hungary Fairly light, bone dry, extremely versatile. A nice wine to sip over appetizers or on the porch. Pairs well with chicken and mild seafood dishes. 
BUBBLES:
Louise d' Estree Brut Sparkling wine from France. Tiny bubbles and the perfect degree of dryness to please almost any palate. This one punches way over its weight class on the taste/cost scale.
Opaline Brut Rosé This is also from France. The attractive faux cut-glass bottle will get some people's attention, but what's inside is even more notable. Pop open a bottle with fried chicken or breaded shrimp.
---
Email me with your entertaining questions, dilemmas, or triumphs at mjackson@inkansascity.com