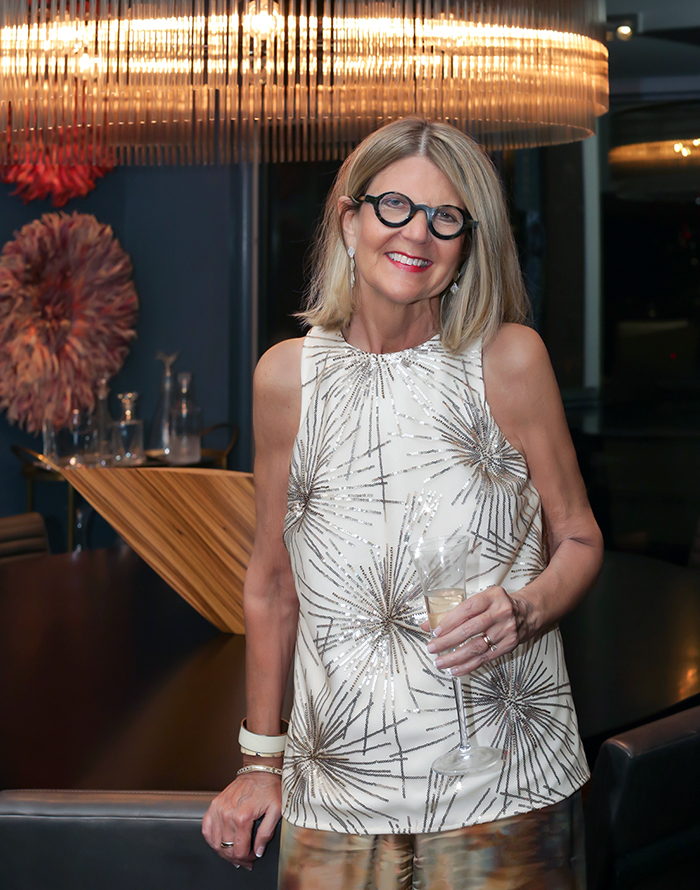 Even before the pandemic, it had become, to an extent, fashionable to stay home on New Year's Eve. "We never go out," you might have sniffed as you saw my topic this month. But there's a reason New Year's Eve has historically been the colossus of party nights: it's a chance to celebrate with friends the promise of a fresh new year, with a holiday the following day. 
December 31 falls on a Friday this year—that in itself gives you grounds (the whole weekend to recover) to host a little party with your vaccinated friends. Consider also that your house is already gussied up for the season. Have I persuaded you? If so, here are some tried-and-true ideas for New Year's Eve gatherings, and accompanying food ideas.  
The Pre-Party Party
Have friends in for cocktails early in the evening, before they proceed to other festivities, or perhaps before they just go back home and watch the telly, satisfied that they've been somewhere. Depending on your group, you could plan it for from 5 to 7 p.m., 6 to 8 p.m. or 7 to 9 p.m.  
Choose a simple yet glamorous cocktail to serve, something you can make ahead in quantity, like Lemon-Drop Champagne Punch. You'll also want to have, at minimum, red and white wine, beer and something interesting for those not drinking alcohol (see mocktail ideas below).  
Since your guests will be imbibing, you definitely want to serve food, but it doesn't need to be elaborate. I always appreciate being served small, bite-sized tidbits you can pop in your mouth without having to juggle them with your drink. Email me for my favorite cocktail food recipes, or any recipes mentioned herein.
A Fancy Covered-Dish Supper with Close Friends
A cozy, candlelit dinner party is a time-honored way to celebrate New Year's Eve. Invite six or eight people you love to spend time with—so the party is small yet populated enough to keep the conversation flowing. Lighten your workload by asking everyone to bring a dish, gently coordinated by you to avoid menu overlap. 
Invite people for 9 p.m., have drinks for an hour and serve dinner in three courses, starting at 10 p.m. Time it so you're finishing up the meal at about 11:30 p.m. That gives you just enough time to fill your glasses, pass out the silly hats and noisemakers, go around the table and have each person make a wish for the planet, and—voila! It's midnight. If you don't want to stay up that late, start the proceedings earlier, celebrate at 10 or 11 and pretend it's midnight.
Here's a festive menu idea. For an impeccable wintertime first course: a composed salad of endive, pear, and Roquefort cheese. Serve a slow-roasted beef tenderloin with red-wine sauce for your main course, along with potato fennel gratin and roasted cherry tomatoes, the latter is more for color on the plate. Vanilla crème brulée would be a delicious, make-ahead dessert. You could also serve this elegant dinner for Christmas Day. You know what to do if you want recipes.
An Evening of Wholesome Board Games
If you're a fan of board games, invite like-minded friends for an evening of Pictionary, Scrabble, Uno, Yahtzee, Monopoly or Trivial Pursuit. Cards Against Humanity and What Do You Meme are fun if you're hosting a group that's not too prim and proper.
Offer a light, simple dinner: corn and crabmeat chowder would be perfect, or white chili and cornbread, or jambalaya. Then, after you start the games, serve a few sweets for dessert, such as The Barefoot Contessa's Outrageous Brownies or Nigella Larson's chocolate peanut-butter cups.
For fun, spirited competition, you need comfortable seating, participants who are not especially inebriated, and a bossy, organized host. Your guests will be looking to you to have everything set up and ready to go, and to decide exactly when to settle down and start the games. Offer only two or three options—games that you are familiar with. This is not the time to wade through the instructions for a new game.
Late-Night Sweets and Bubbly
New Year's Eve will be the last time many will splurge on sweets before the diets kick in. Invite friends to ring in 2022 with Champagne and a dessert buffet.  
Here is a simple formula: at least one thing chocolate, something with fruit, something with nuts, something cold, and something warm. A good sample menu: a flourless chocolate torte; a fresh pear cake; a carrot-walnut Bundt cake and warm toffee pie with French-vanilla ice cream. If you have guests who are gluten-free or vegan, let that further guide your menu decisions. When possible, cut the desserts into small servings (one or two bites), so people can sample everything.
Coffee service will be deeply appreciated at this party. Make good coffee, regular and unleaded, from freshly ground beans—it makes a difference.
Regarding Champagne: let it chill for at least three hours and be careful opening it. You really can put an eye out! How much to buy? If the gathering will last just a couple of hours, the rule of thumb is two glasses per person. A bottle serves approximately six glasses. You do the math.
Two final notes for any party you have on New Year's Eve: Don't wait until the last minute to do your shopping. Markets are madhouses on holidays; liquor stores invariably run out of decent Champagne.
And don't forget the music!
---
Sparkling Mocktails to Ring in the New Year
On New Year's Eve, treat your non-drinking guests to virgin cocktails that are just as festive as those with booze. Use fancy stemware and a fun garnish.
Shirley Temple: 6 ounces ginger ale and 1½ teaspoons grenadine. Garnish with an orange slice and/or maraschino cherry. (For a Roy Rogers, substitute cola for the ginger ale.)
Virgin Mary: 3 ounces tomato juice or V-8, 3 ounces cranberry juice, 1/2 teaspoon Tabasco (more to taste) and 1 teaspoon lime juice. Lots of fresh-ground black pepper. Garnish with cilantro sprig, celery stick, lime wedge or pickle!
Winter Warmer: 3 parts pear nectar, 1 part cranberry juice and a big squeeze of fresh lemon juice. Garnish with lemon and cinnamon stick.
Faux Kir: 1 teaspoon raspberry syrup (available in coffee and gourmet stores) or grenadine, 6 ounces sparkling chilled cider. Garnish with fresh cranberries. Serve in a champagne flute. Cheers!
---
Email me with your entertaining questions, dilemmas, or triumphs at mjackson@inkansascity.com