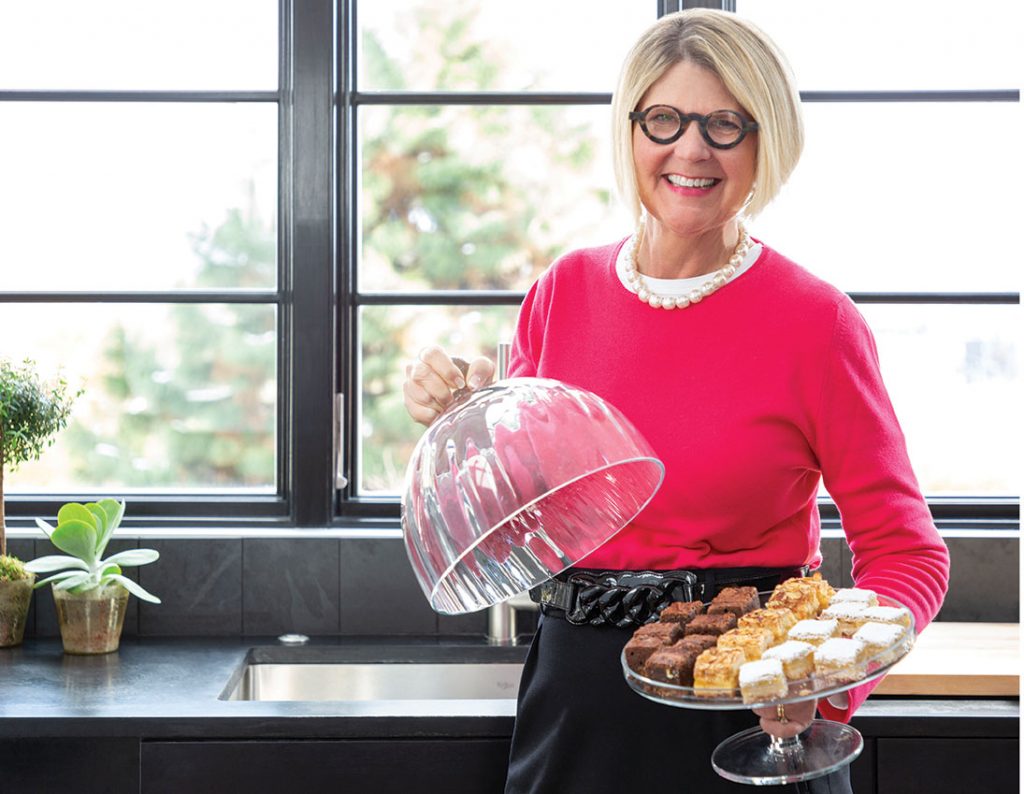 On a wintry night a long time ago, my husband and I went to a dinner party to honor a newly engaged friend and her fiancé. Somehow, I had inferred from the invitation that it was to be a seated dinner and when we arrived, my heart sank. In the hostess's smallish living room were assembled far too many for a seated dinner. And other than the guests of honor, we knew hardly a soul.
My dismay was short-lived. It turned out to be a swell party, and the memory of it endures, even though the marriage did not.
The hostess was, above all, gracious beyond words. If she had been daunted by the idea of feeding dinner to 30 people in her modestly sized Prairie Village Cape Cod, it didn't show. She made each of us feel welcome, plopping a drink in the hand of new arrivals, and introducing everyone around.
Dinner was served buffet style. She had thought through the logistics carefully. It was cozy, but miraculously, everyone found a place to sit and the atmosphere became clubby and companionable. My husband and I dined in the stairwell, plates on our laps, with a couple we'd never met; we were friends by the time we finished dinner.
The memory of this party inspires me whenever I think of the logistical challenges of serving a meal to a big group in a small space. It can be done and it can be fun.
Here are some guidelines for feeding a meal to a crowd, and by crowd I mean any number larger than can squeeze at your dining table.
Because no one likes to eat dinner standing up
You can use all manner of furniture for dinner seating: piano benches, ottomans; the aforementioned stairwell. Mix your living room furniture with your dining chairs to create clusters for seating. Folding chairs can look handsome if you cover them in fabric; wayfair.com offers canvas chair covers in either black or white. In every crowd there are those who gravitate to the floor by the coffee table. Make sure they have room for plates and drinks.
Nix the knives
I don't remember what was served the night we dined in the stairwell, I just remember it was tasty. Which reinforces that a great party is not about the food.
Avoid serving menu items that require a knife. Guests should be able to eat their meal with a fork and spoon. Think twice, honey, about taking your favorite recipe that serves six and quadrupling it; it probably will need to be tweaked. (Oil or butter for sautéing need not be multiplied, for example, as long as you have enough to cover the bottom of the pan.)
Menu-planning tips from a pro
My friend Stewart Lane knows how to design a menu for the masses. He grew up working for his dad, the venerated Lon Lane of Inspired Occasions. Stewart recently launched his own hospitality enterprise, Lane Partners Consulting Co.
Building a well-rounded menu is critical, says Stewart. "Always think about categories—meat, cheese, starch, seafood, vegetable, sweets—so your menu doesn't get lopsided."
Stewart says to consider oven and fridge space in every phase of planning. "Make sure you have oven room to accommodate your hot dishes. If oven space is limited incorporate a balance of room temperature, warm and hot dishes."
"Consider serving the meat at room temperature and the starches hot," Stewart says. Grilled and roasted tenderloin, cooled to room temp and then sliced, can be arranged to create a beautiful display while also freeing oven space." (Stewart has graciously shared his tenderloin recipe here. Follow his instructions, and your guests will devour it, with no need for a knife.) "Grilled vegetables or a fresh crudité can add color and an element of design as well."
"Build your salad ahead of time but hold back on dressing it. Wait till you are just about ready to serve and then add your dressing. This will keep your greens from becoming wilted and soggy, and buy you plenty of time to get the hot foods to the buffet."
"When planning desserts, go with small bites," Stewart advises. "Dessert bars, brownies, and tart shells filled with curd and berries all make excellent options for a large group. If you have room," Stewart says, "serve your desserts in their own dedicated area away from the main buffet but still accessible. This will keep people moving around the room and not overcrowding the buffet." Stewart has generously offered to share some delicious small-bite dessert recipes—email me for them!
The quantity question
It's a common mistake to make waaaaay too much food. Stewart has reassuring advice for figuring quantities. "Remember people will not take a full portion of everything, so as the number of choices increases, the portion sizes will shrink," he says. "Plan six ounces of total protein and one total cup of starches per guest." Email me for Stewart's celery root and cauliflower mash recipe, a starch alternative that will have carb-conscious guests coming back for seconds.
Be a buffet mastermind
It might make sense to position your table so guests have access from both sides. Arrange things logically, remembering that people will have one hand with which to serve themselves. Station clean plates and cold items at the beginning of the line, hot entries last. People deeply appreciate little signs that identify food or ingredients not easily recognizable.
Place silverware and napkins (cloth, and oversized, preferably) at the very end. For easier portability, roll a napkin around a fork and spoon; tie a pretty ribbon around it if you are so inclined. It's thoughtful also to provide extra loose napkins.
A smaller table with platters and bowls grouped together is more appealing than having them spaced evenly down the table. Remove a leaf from your table if necessary.
Vary the angle and height of items on the table. Stewart suggests using glass blocks, black shadow boxes, upside down silver bowls, and baskets as risers. "This will keep your table looking clean and neat, while also giving you the ability to remove any spilled food an overzealous guest may have dropped," he says.
Don't serve your guests using paper plates or plastic cups and flatware. Use the real stuff—rent if you must, but keep in mind that things don't need to match. People are coming to your home, and that's more interesting than going to a restaurant.
Baby needs a cocktail!
Most guests, upon entering a party, make a beeline for the bar. Stewart advises placing the bar far back inside your space to pull people away from the entryway and into your home. "This prevents a bottlenecking at your door while people wait to get inside," he says.
"One of the easiest ways to handle the holiday party stress is by hiring a professional," says Stewart. This could mean having the entire event catered, or simply hiring a bartender. "These people are experts in making your party a success," he says.
Decide what kind of bar you want: A full cocktail bar (absolutely divine), limited cocktails (lovely), or just wine and beer (perfectly acceptable). "Have a little fun by asking the bartender ahead of time if he or she could create a signature batch drink for your party," says Stewart. "This could be served in pitchers, a punch bowl, or a decorated beverage dispenser." He suggests having spiced nuts or crackers on the bar for guests to munch on while waiting for drinks. (Email me for the fabulous ginger-glazed almond recipe I got years ago from Keitha Kaminski!)
"Arrange for the bartender to bring the items you may not have, coolers, ice buckets, cocktail shakers, bar spoons, ice scoops, pitchers lemons, limes, and ice," says Stewart. "Don't forget the cocktail napkins."
Tip generously. "For a normal holiday party of up to four hours, plan an $80-$100 tip," says Stewart. "Make sure to schedule the bartender at least an hour before guest arrive to give him or her plenty of time to set up."
---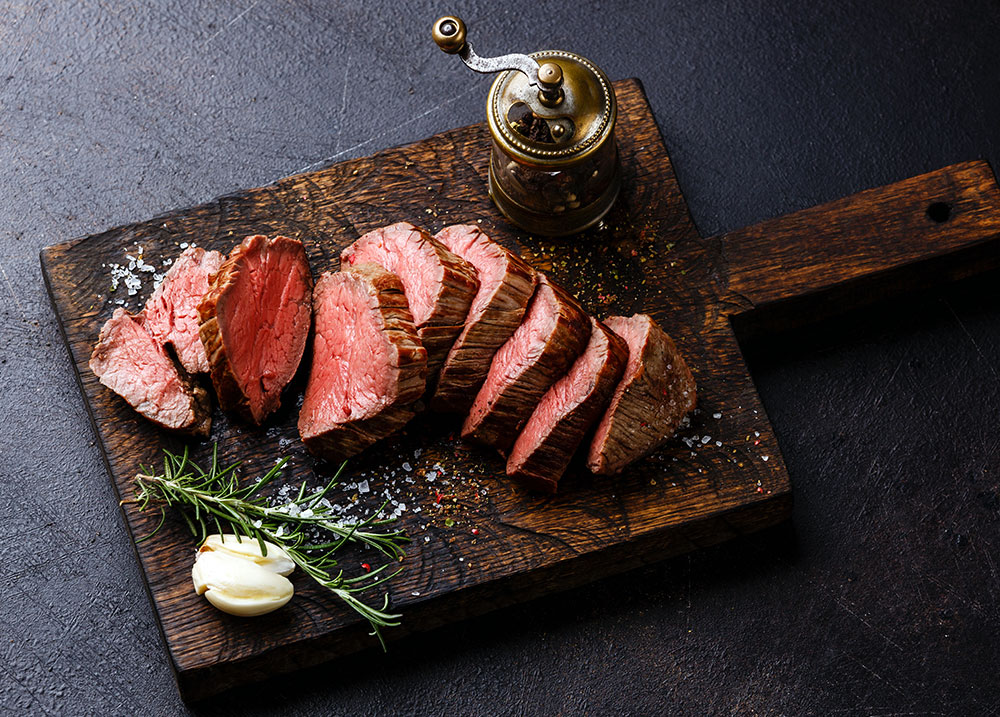 Stewart Lane's Flawless Tenderloin 
Serves 12 – 15 people
1 whole beef tenderloin 4-5 pounds
Kosher salt
Cracked black pepper
Granulated garlic
Worcestershire sauce
Trim the silver skin from the top of the tenderloin or have your butcher trim this for you.
Season the tenderloin with Worcestershire sauce, then liberally season with salt, pepper, and garlic. Let sit while your grill preheats on high.
Place the meat on the grill and cook for 2 minutes, roll and repeat with the remaining sides. Once all sides have good strong grill marks remove from the grill to a sheet pan lined with foil.
Place in a preheated 340-degree oven for 20-30 minutes or until the internal temperature reaches 120 degrees. Remove the meat from the oven and cover with a piece of foil and then a dish towel.
Let rest for at least 10 minutes before carving. For a large event, let cool completely and slice into quarter-inch slices.