Sponsored content:
The Albariño wines of Rías Baixas
Do you love white wines but feel ready to try something new? This spring and summer, take a virtual trip to Spain, to the northwest corner of Galicia—and sample the Albariño wines of Rías Baixas. Rías Baixas (pronounced: ree-ahs-buy-shuss) is home to the Albariño grape variety. Its picture-perfect landscape has been called one of the world's most breathtaking wine regions, and Albariño star performer. Postcard-worthy, the region is the ideal place for worldly white wines and shares the same mineral-rich soils and cool climate as France's Loire Valley, New Zealand, and Germany's Rhine region.
Rías Baixas is Galician for "Lower Rías," and refers to deep fjörd-like estuaries that reach many miles inland from the Atlantic Ocean. These arms of the sea mix fresh and salt water to sustain an amazing range of seafood—as well as the lush geography of the region. To first-time visitors, Galicia looks more like the green fields and rocky coasts of Ireland than classic images of drier, Castilian plains. The Celts once settled the area—where a soft mist shrouds granite castles, vineyards, and manor houses. The cool climate drives in from the rocky Atlantic coast; it brings rain, but also ample sunshine to ripen the Albariño vines to perfection.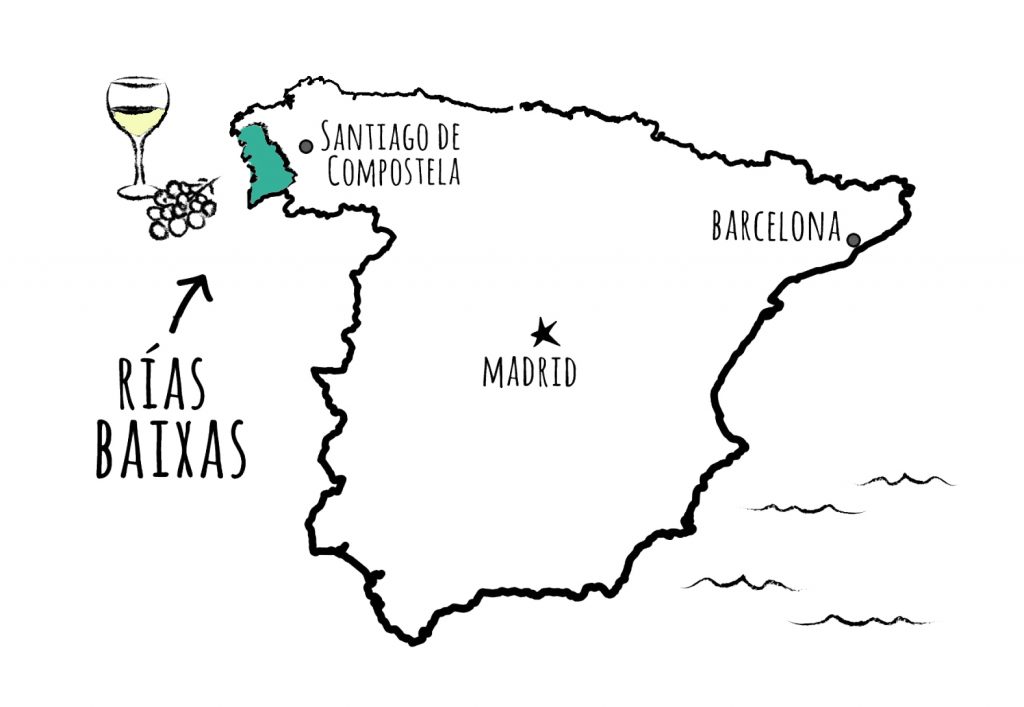 White-wine drinkers often have to choose aromatics over structure; however, there are just a few regions where you are blessed with both. Rías Baixas is one of them. This fact has not escaped the sommelier community, who were among the first to recommend the region: the natural acidity, a.k.a. structure, of these wines is on par with the aromas. As a result, Albariño works well by-the-glass or paired with a delicious meal.
Highly aromatic, a glass of Albariño often has hints of citrus peel, orange blossom, and the sea. Many of the vineyards are planted within view of the rocky Atlantic Ocean. They take on the flavor of the ocean and draw minerals from the natural granite soils. With a crisp, refreshing taste, these white wines are destined to brighten any day. Albariño's range of expression runs the gamut from mineral and Meyer lemon to tropical fruit, nuts and baking spice. It can be consumed young and lively, or aged for several years, allowing richer flavors to develop. There are five sub-regions in Rías Baixas, some more inland than coastal—variety is plentiful.
Rías Baixas tends close to 9,000 acres with more than 6,500 growers. The average vineyard size is very small and most are family-owned. More than half of the winemakers are women, a fact which many trace to the seafaring roots of this coastal place. Men used to work at sea for months, and someone had to take care of the home and cultivate the wines. The women of Rías Baixas did an outstanding job holding down the vineyards. They continue to figure prominently in the region.
If you're just getting started, the most typical expression of Albariño is young, fresh, tart, and citrusy. Ryan Sciara, owner of Underdog Wine Co. currently carries six options, ranging in price from $14 to $30. "I love introducing people to Albariño, especially as we roll into warmer weather," he says. "It's an easy shift to take someone from a Sauvignon Blanc or Pinot Gris to an Albariño that will way over-deliver. Albariño is incredibly versatile and a knockout with seafood; I love it with grilled shrimp and chimichurri."
Often called "a people-pleaser of a grape," you'll find it refreshing and easy to drink, but with complexity and character that makes white wine special. Look for DO Rías Baixas (the Denomination of Origin, or DO, is Spain's version of an appellation system) on the back label and you're on your way. A few producers to consider: Burgans, Martín Codax, Pazo Señorans, Santiago Ruiz and Paco & Lola. Pair these with a cheese and charcuterie board, olives, grilled meats, and fresh seafood of any kind. For more information about the food, wines and people of Rías Baixas visit www.riasbaixaswines.com.
Look for the Albariño wines of Rías Baixas at fine wine stores and local markets in Kansas City, including Underdog Wine Co., Cellar Rat, Cosentino's Markets, Lukas Wine & Spirits, and Mike's Wine & Spirits.
Helen Gregory has been traveling the wine roads of Spain for over 20 years. Her last visit to Rías Baixas ended with a tapas crawl in the ancient Celtic port of A Guarda. She lives in Sunset Hills and enjoys Albariño on the patio with friends & family. @gregoryandvine