Chef Vaughn Good knows a thing or two—or ten—about concocting the perfect charcuterie tray. Good, who cut his teeth running his own butcher shop—Hank Charcuterie in Lawrence—now owns Fox & Pearl near the Crossroads. "My love of charcuterie came from my days in culinary school," he says. "I had a professor who was really into it. I would go in and stay late and work his charcuterie projects with him."
We hit up the local pâté pro to find out what makes the perfect tray and how you can whip up one that's sure to dazzle your guests. And granted, while you may not have your own resplendent charcuterie room in your basement as Good does, at least he knows how to point you in the right direction.

5. Variety and texture are both mandatory. "With charcuterie, you need a lot of different items. Make sure not everything is a cured, sliced meat or soft pâté. You definitely want a nice mixture. For my palate, I'm into salumes. I'm also really into terrines, like a molded pâté. They're versatile, and you can put lots of different things inside them or encase them. Basically, you could shape a pie crust around it or wrap it in bacon."
4. Get out of your comfort zone. "Charcuterie was born as part of the farm-to-table movement—where it's about using the whole animal and not wasting anything." And while we're not suggesting incorporating pig's snout on your platter, Good says there are plenty of options out there. "Go to your local butcher shop. Ask a lot of questions," he says.

3. Find epic accompaniments. Good says most charcuterie trays are, in general, either salty or fatty or both. "I'd suggest putting stuff that cuts the richness or complements it—things like pickles, mustards—some acids add a good balance." Good is also a fan of homemade jams and/or fruit butter. "Put something sweet that plays against the saltiness—like apple butter." Oh, and don't forget some killer, fresh-out-of-the-oven bread. That's a must. "There are plenty of awesome bakeries around here," he says.

2. Quality, quality, quality. Don't skimp, Good warns. "If it's not quality, it will be uninspired. Sometimes you'll go some places and maybe they were concentrating more on the design of the board than the quality. It has to taste good first and then look pretty." And while you're at it, use seasonal fare. "Think about what's in season—for instance, add a petite salad to put some herbs on it," he says.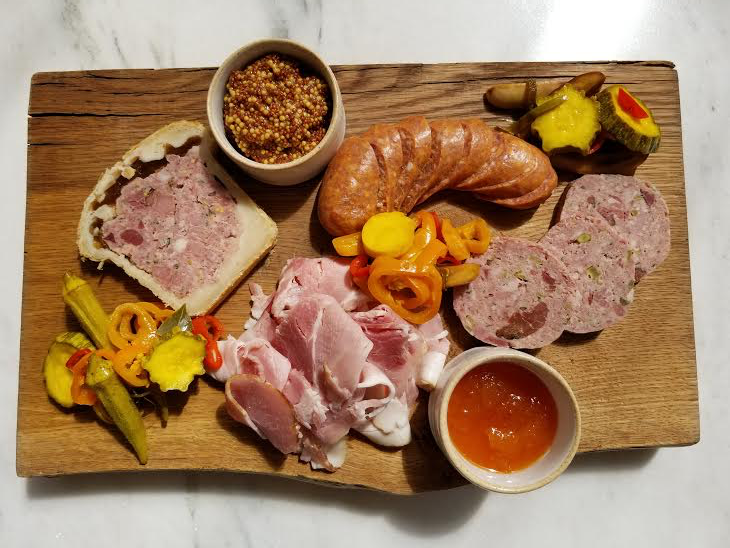 1. Kick it up a notch or two. "Get a strong mustard, either Dijon or stone-ground. Or add pickles, because everybody likes pickles. I like spicy garlic pickles. Who cares? Add as many different kinds of pickles as you want," he says, chuckling. "And maybe some gooey cheese, like Green Dirt Farm's creamy Bossa. I just want to dip stuff in it."
Remember, the best charcuterie trays come from trial and error, Good says. Meanwhile, if you order a charcuterie-esque small plate at Fox & Pearl, don't expect anything conventional. "We do some pretty traditional things, but we do our own take on it," Good says. "People aren't into using all the organ meats and fats, but for me, that's really important because that's where charcuterie came from in the first place."