Most of us aren't comfortable having parties yet, due to social distancing. But we can brush up on our reading about entertaining. Merrily shares her favorite source books.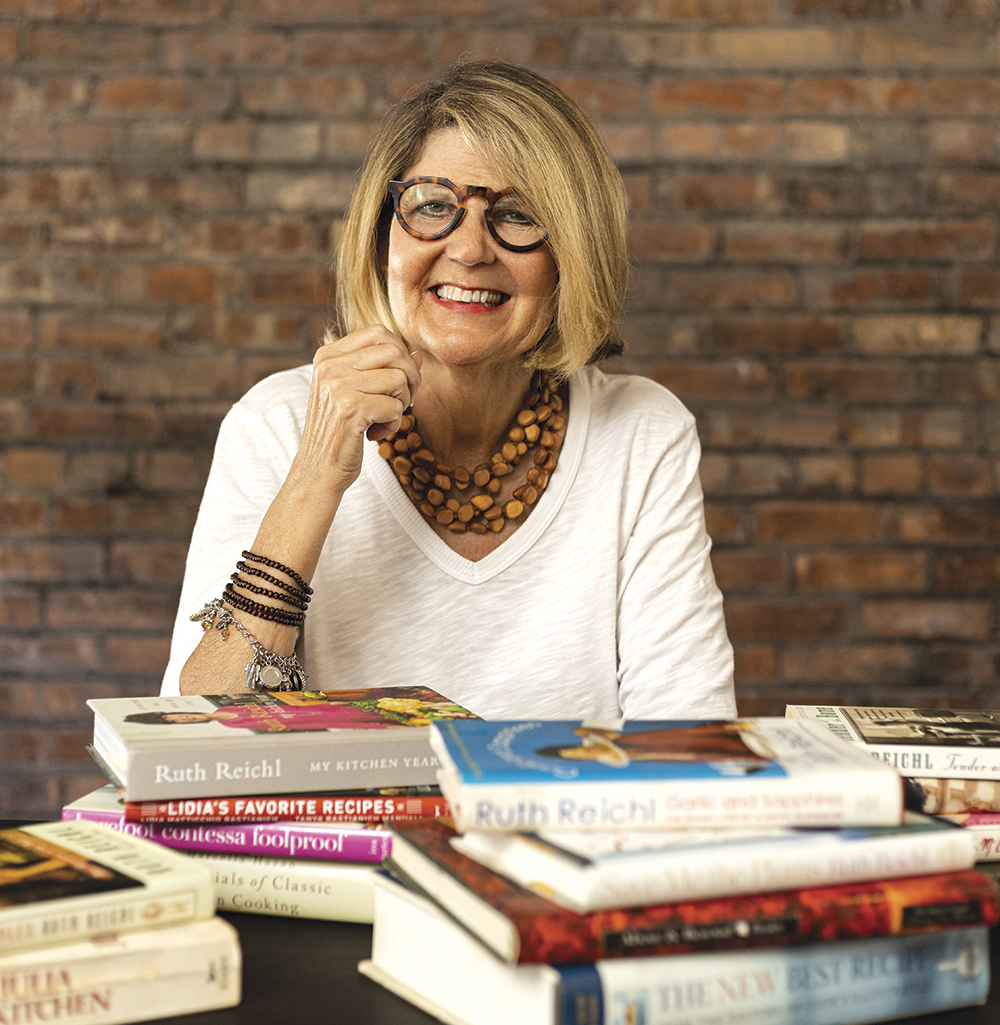 After four-plus decades of working for The Man, I officially retired last month. (Many readers weren't aware this column was my side hustle, I had a full-time job working in PR and marketing at Kansas City's essential hospital: Truman Medical Center/University Health). 
Despite the pandemic prohibiting me from the boozy, frivolous socializing I'd been so looking forward to, retirement has been pretty dreamy. It's lovely to have an hour-after-unscheduled hour to invite my soul, to putter, to organize things—like my out-of-control cookbook collection. 
Cookbooks: My Version of Self-Help
I confess I have an addiction to cookbooks. I have hundreds of them, stashed all over the house, many of which I've never used to produce a single recipe. Cookbooks are my great relaxation, my insomnia cure, my escape. I have a Kindle for all non-food-related reading, but for cooking I must have the pages of a hard-copy book. I have not had good experiences with random recipes I've found online. Really, not even once.
Here are my top go-to cookbooks, and some of my favorite recipes within them. I have decided to leave out Ina Garten's Barefoot Contessa series, lest I sound like a broken record; regular readers of this column know how much I love Ina. Suffice it to say her books—all 11 of them—are to be trusted.
It's All in the Technique
One of the most useful books I own is The New Best Recipe from the editors of Cook's Illustrated. This bulky compendium explains cooking technique in the liveliest, most helpful prose. Say you see some lovely fresh scallops at the market, and you get them home and want to know the best way to pan-fry them. This book will help you. It taught me the techniques I will forever use for poaching eggs and making frittatas.
Amo Italiano — and Indian!
Many Kansas Citians were thrilled when Lidia's opened back up after it closed for the pandemic. Its food continues to be consistently excellent, a reflection of Lidia Bastianich's pitch-perfect standards. Her cookbook Lidia's Favorite Recipes is one of my keepers. Her Quick Garlic-Tomato Sauce recipe tells you how to turn a can of tomatoes into dinner. And, in a pinch, you can make dinner from her four-ingredient Red Cabbage and Bacon Salad. Email for the recipes, or any I mention herein.
But before Lidia, for me there was Marcella Hazan's timeless Essentials of Classic Italian Cooking. Read the book's introduction and you will learn so much about Italy and its regions. Besides offering up extremely coherent, doable recipes, this book is endlessly engaging. Her recipes for minestrone and pear cake (the perfect winter dinner-party dessert) alone are worth the price of the book.
What Marcella and Lidia did for Italian cooking, Julie Sahni did for Indian cuisine in her Classic Indian Cooking, the definitive work on the subject. It is a joy to cook from, and a fascination to read. If you are cooking for a vegetarian, this book is a treasure trove. My book falls open by itself to the lentils section.
Mon Amie Julia
My copies of Julia Child's legendary Mastering the Art of French Cooking, both volumes, are on the uppermost shelf in my kitchen, unreachable without a step stool. Always within easy reach, however, is From Julia Child's Kitchen. I have used it so often, it's broken in half, so it is also in two volumes. Full disclosure, though: I bought it used. Anyway, her Potage Parmentier (potato and leek soup) is easy but tastes like it took hours. Her Fast Moussaka is a perfect use of summer eggplant.
I Shall Always Be Loyal to the League
The Junior League is famous for the regionally themed cookbooks produced by its local chapters and sold to generate funds for worthy causes. When Beyond Parsley, the cookbook of the Kansas City, Mo. Junior League, was published in 1984, it set a whole new standard for its genre, drawing national acclaim and landing the prestigious James Beard Foundation Award. Thirty-six years later, it's still au courant, loaded with great recipes for entertaining. My copy of BP is spattered and dog-eared, with notes beside many of the recipes. 
Its sequel, Above & Beyond Parsley, is also excellent, but I am biased, having served as its production and design chair, and a proud member of the soup-testing committee. Which reminds me to tell you that one reason Junior League cookbooks are so reliable is that all recipes in them are tested a minimum of three times.
I Love Me a Memoir
My favorite sub-genre of cookbooks are collections of food essays, with a recipe or two at the end of each essay. I have read and reread Laurie Colwin's Home Cooking: A Writer in the Kitchen and More Home Cooking, as I have James Beard on Food and Amanda Hesser's Cooking for Mr. Latte. All are equal parts memoir and cookbook.
Ruth Reichl's books are my most cherished of this genre. Former editor-in-chief of Gourmet magazine and, before that, restaurant critic for the New York Times, the woman tells a story so entertainingly you forget you're reading. Although her memoirs are more autobiography than cookbook, the recipes she provides are wonderfully clear. 
Her book Garlic and Sapphires: The Secret Life of a Critic in Disguise delivers a penetrating message about the effect of our physical appearance on our self-identity. And she says some thrillingly catty things about her NYT co-workers and certain famous restaurateurs. Her recipes for Sort-of-Thai Noodles and Spaghetti Carbonara alone are stand-bys for me. 
I'll never loan you my copies of her other food memoirs, Comfort Me with Apples, Tender at the Bone, My Kitchen Year, or Save Me the Plums because I still turn to them for inspiration and recipes. 
A Final Note for Cooks and Non-Cooks
There's not a single thing wrong with perusing your pretty cookbooks, then picking up the phone and calling a restaurant to order dinner for your gathering. Takeout is really, really fine. Especially now, when restaurants need our support. 
---
Just Cook with Sally!
My new favorite cookbook is by someone I actually know and admire, former Kansas Citian and legendary hostess Sally Uhlmann. Just Cook with Sally is a dazzling blend of workable, delicious recipes, mouth-watering photography, and deftly written memoir. Sally has had a fascinating life. Her writing will beguile you.
The following recipe from her appetizer section would be perfect for a small drinks gathering, in this time of social distancing. Everyone or every couple could have their own tasty wheel of crumbly, melty baked goat cheese, with an individual ration of crackers.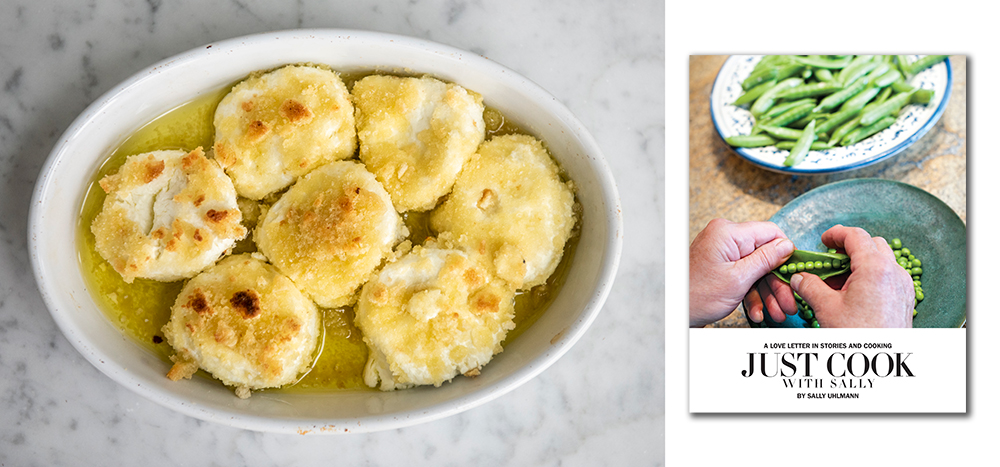 Baked Goat Cheese
As an appetizer or topping. Serve as an appetizer with vegetables and crackers or on top of leafy salads, roasted or steamed vegetables, or pasta.
1 log goat cheese
¼ cup olive oil in a small bowl
1 cup homemade breadcrumbs (pulse dried, leftover bread cubes in a mini blender until you have a coarse crumb)
Heat oven to 350°. Form individual goat cheese disks 1½-inches thick and 2 inches in diameter. (Plan on one goat-cheese patty per person.)
Dip each disk in the bowl of olive oil to coat. Put breadcrumbs on a small plate and dip the discs in the crumbs to coat. Place in a small baking dish. Pour remaining olive oil over the top of the discs.
Place on the middle shelf of the oven and bake until the crumbs are browned, and the cheese begins to ooze. Watch carefully as it will melt if over-cooked. Serve immediately.
---
Email me with your entertaining questions, dilemmas, or triumphs at mjackson@inkansascity.com