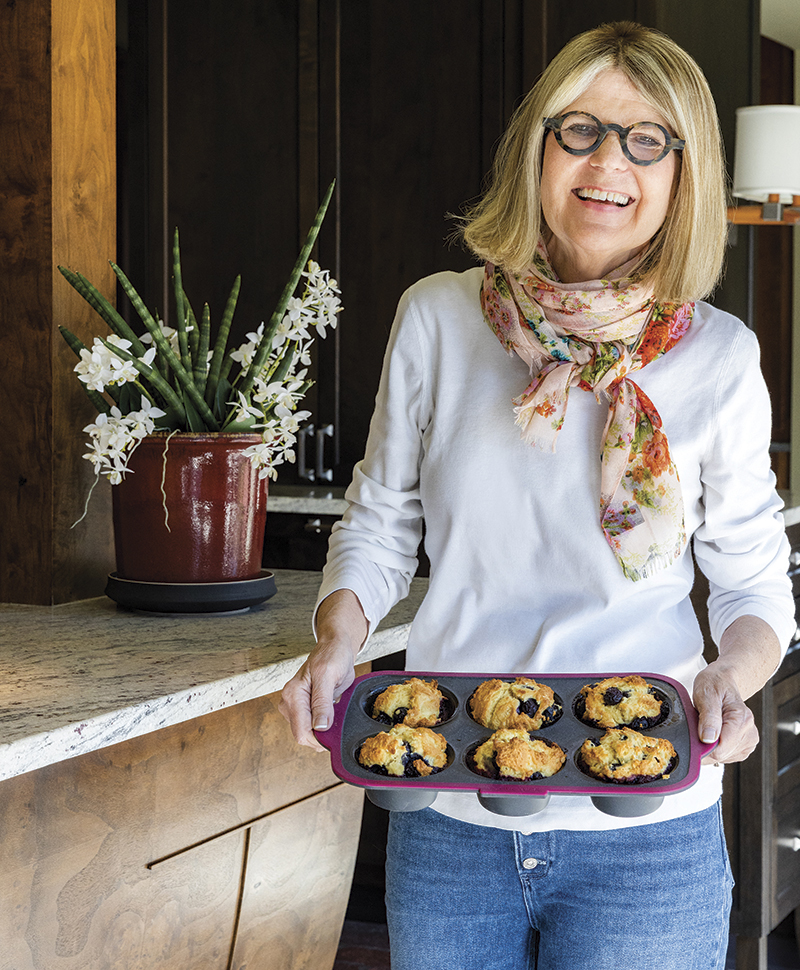 I have a new acronym to describe myself and some of my friends: SVP, which stands for Smug, Vaccinated Pensioner. I hesitate to kid about it, because so many are still desperately seeking vaccinations. If you are in this group, I sincerely believe you will be smug and vaccinated soon, too, although perhaps not as a pensioner—a word the Brits use; I prefer it to "retiree." But with the new threat of variant strains, maybe none of us will be smug for long.
We are still in the midst of a pandemic, and there is so much we don't know. No one—even the fully vaccinated—should feel obligated to accept or extend invitations to any kind of social gathering. But for now, in my capacity as an SVP, I think a cozy brunch with a very few other SVPs might be in order.
Dinner Parties, I Love the Very Thought of You
I've always meant to devote a column to the topic of brunches, never mind that I've personally eschewed hosting them in favor of the divine, the glorious, the revered dinner party. There's something so marvelous, so intimate about lingering around the table in the flickering candlelight, telling stories and drinking adult beverages, then hugging guests adieux as they toddle home to their pillows.
But that kind of party feels like a fiction of the pre-Covid world, where we could still enjoy a relaxed, maskless social life. Here's to the expeditious return of that world! But in the meantime a brunch—one where guests, upon exiting, march off to vacuum out their cars and do laundry—seems more fitting.
The Sensible, Indispensable Brunch
Even if you're not an SVP, brunch is a smart, cost-effective way to entertain your bubble, especially if children are on the guest list, or older people who no longer venture out at night, or you want to honor Mom(s) on Mother's Day, which is May 9—or if everyone is just too jittery to engage in, as the rest of high-minded society once did, a dinner party.
The Four Building Blocks of Brunch
All you need for a respectable brunch are: a big, gooey, egg casserole; a fruit salad; an assortment of baked goods, and mimosas and Bloody Marys. (And you could certainly get away with foregoing the hooch altogether; just don't invite me.) Here are some ideas for embellishing each of these elements.
Breakfast Casseroles: So Egg-Cellent
Resist any menu that ties you, the host, to the stove making individual omelets, pancakes, waffles, or French toast. You might already have a great recipe for a hearty breakfast casserole, the kind you refrigerate overnight and then pop in the oven the next morning. I have a real fondness for these. What's not to like about a big mouthful of custardy eggs, melted cheese, some sausage or ham?
My friend Devan Hartnett honors the memory of her Mexican grandmother by making a scrumptious, make-ahead breakfast dish called chilaquiles, using tortillas, scrambled eggs, sour cream, salsa with fresh scallions and cilantro, cheese, and avocados. Devan's abuela would be very thrilled, I think, to cook in her granddaughter's cucina. It is magnifica! I am pictured in it in this month's photo. Email me for Devan's Americanized chilaquiles recipe and any others I mention in this column.
If you have vegetarians coming, you could prepare Swiss Custard from Above & Beyond Parsley, a meatless egg strata made with white wine and Swiss cheese that food snobs could substitute with Havarti or Gruyère. For the carnivores, you could present a platter of link sausages and sugared bacon from Beyond Parsley, a scrumptious recipe, worth the mess of making it (see sidebar, opposite page).
Nigella Lawson's French lasagna, a savory baked croissant pudding, uses up stale croissants by having you split and stuff them with ham and cheese, sprinkle more cheese over the top and douse them in eggs beaten with garlic-infused milk. This dish does not need prior refrigeration, just stale, or briefly toasted, croissants.
Or you could veer into luncheon territory. My smoked salmon lasagna, a favorite dinner party recipe for moi, is elegant and delicious for a brunch.
Pithy Advice About Fruit Salad
Ina Garten's fruit salad with limoncello (from her excellent Back to the Basics cookbook) is my favorite fruit salad recipe. A splash of limoncello will wake up the flavor in just about any fruit salad you make. A citrus plate is also a bright, cheerful addition to any brunch. Peel grapefruits, blood oranges, and navel oranges, slice them into wheels, and arrange them on a platter. If you don't have time to peel all that citrus, buy a few refrigerated jars from the produce aisle.
Bring on the Baked Goods
If you are a person who finds baking therapeutic, by all means knock yourself out on homemade muffins and scones. Your guests will probably love it if you make Ritz Carlton blueberry muffins or whipped cream scones with chocolate and cherry (Yes! I have recipes). But they still will have a wonderful time if you serve store-bought baked goods. There are so many exceptional bakeries in Kansas City. I am partial to Dolce Bakery in Prairie Village—they make everything from scratch. Their sweet-potato scones would be the belle of any brunch.
I recently made a batch of Cheddar Swirl Breakfast Buns from Deb Perelman's tour de force The Smitten Kitchen Cookbook. They were spectacular but a timesuck. The rise time was four hours! These would be lovely to bring to someone else's brunch.
Brunch Because Bellini Bar
I saw a girl in Westport wearing a T-shirt that said "brunch because mimosas." She probably did not notice or care that I nodded in approval, although my T-shirt would say "brunch because bellinis." In any case, another reason to be sincerely enthusiastic about hosting brunch is the fun of assembling the bar. You need only makings for Bloody Marys and mimosas—or more flavorful bellinis. Classic bellinis are made with prosecco and peach purée, but you can make them with any fruit purée: kiwi, cantaloupe, strawberry, raspberry, watermelon. You could assemble a bellini bar, with an assortment of luscious fruit purées. Frozen fruits work beautifully in purées. Or put together a Bloody Mary bar, with pitchers of tomato juice along with infused vodkas, Tabasco, Worcestershire, sriracha, olives, pickle spears, celery stalks, citrus wedges, and my personal favorite, pickled okra. Don't forget salt and pepper!
---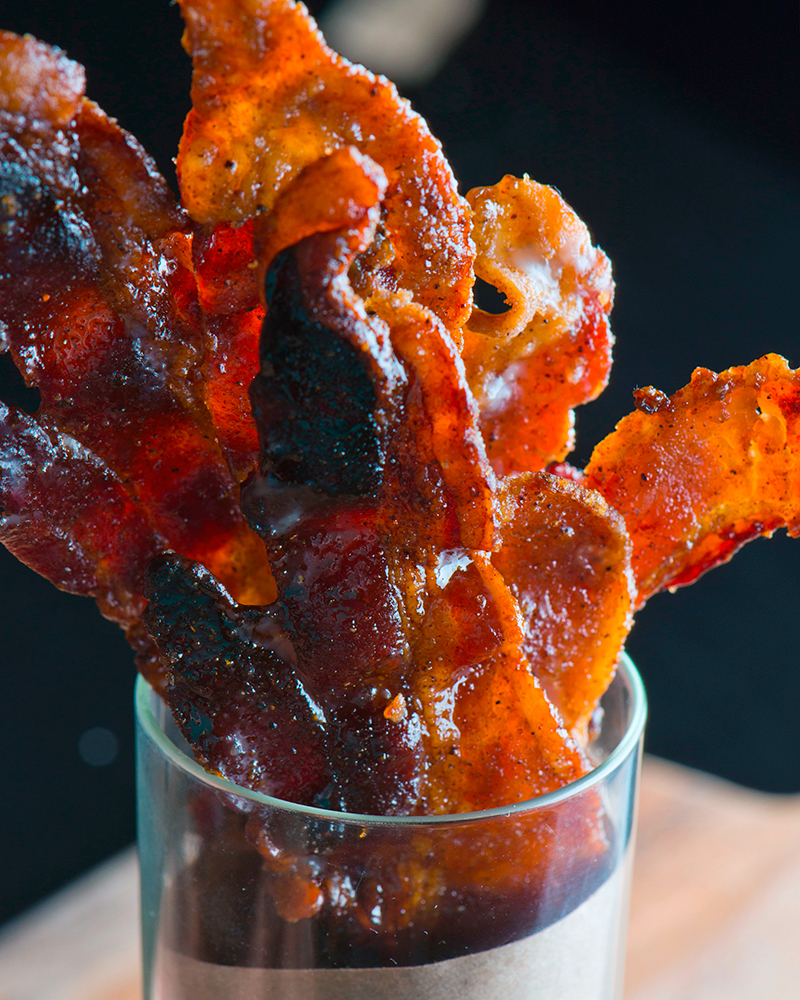 Double-Duty Sugared Bacon
Because (almost) everybody loves bacon
This recipe, adapted from one in the classic Beyond Parsley cookbook of the Junior League of Kansas City, is absolutely delicious. Even vegans will love the way it makes your house smell. These nibbles, terrific for a brunch, also make a knock-out appetizer to serve with drinks.
1 pound thick-sliced bacon, at room temperature
1¼ cups brown sugar
1 tablespoon cinnamon
Cut each slice of bacon in half, crosswise. Mix sugar and cinnamon together and thoroughly coat each slice of bacon. Twist slices and place on rack in a broiler pan in a 350-degree oven. Bake until bacon is crisp and sugar is bubbly, 15 to 20 minutes. Watch closely as the sugar burns quickly. Cool on foil. Serve at room temperature. These may be made hours ahead.
---
Email me with your entertaining questions, dilemmas, or triumphs at mjackson@inkansascity.com