Every meal tells a story. For these three women, the dishes they prepare for Kansas City at their restaurants tell stories of their childhoods, cultures, and careers. Pull up a chair and prepare for a delicious lesson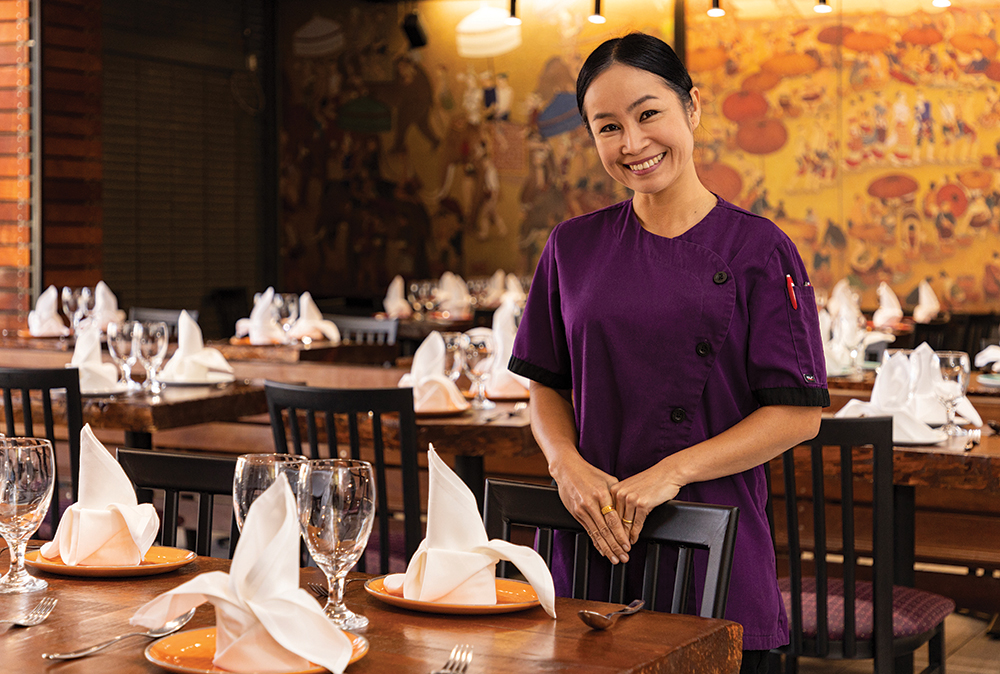 Cooking Thai food is a way to build community for Nutnisa Hoffman, the owner of Mali Thai Bistro in Lee's Summit and Baramee Thai Bistro in the Crossroads.
Hoffman felt adrift when she moved to Kansas City. Originally from northeast Thailand, Hoffman was working as a banker on the island of Ko Samui when she met her now husband, Douglas Hoffman, who was visiting for work. The two struck up a friendship that blossomed into a relationship and led to a marriage—and a move across the world.
"The first year was very hard for me," Hoffman recalls. "I tried to make this become my home. The first thing had to be food, amazing Thai food. I started to cook every day. My mother and father-in-law became big Thai food fans."
Preparing the food made her realize how much she missed cooking at her family's restaurant in Bangkok, where she worked as a college student. Hoffman visited Thai restaurants in Kansas City but couldn't find the heat and authenticity that she craved—so she decided to open a restaurant herself.
"I realized this is what I wanted to do," she says. "I want to have a restaurant and go cook every day and share our food and share our culture and meet new people and be proud to represent our food in America."
Staying true to Thai flavors was important for Hoffman, who comes from a region where spice is key. Although the menu includes an assortment of curries and stir-fried dishes, the Thai noodle soup, made with rice noodles and veggies in a savory broth, is among her favorites.
"My family grows our own veggies and chilies, so I decided to make a big garden in Kansas City," she says. "We grow chilies, lemongrass, and ginger, and grow our lime tree. We try to be authentic and cook real Thai food."
Lee's Summit proved an ideal starting point for the business. Mali Thai allowed Hoffman to get to know customers and make adjustments. As she started to think about a second location, Hoffman remembered a restaurant space she had fallen in love with during her first visit to the states: Pizzabella.
"I told my husband, if I'm going to own a restaurant, this is what my restaurant is going to be," she recalls. He reached out to the owner, who happened to be looking to sell. After nine months of work on the space, Baramee Thai opened in early 2019 to more fanfare than Hoffman expected.
"I could not imagine how busy we were going to be," she says. "When we opened the doors, I had to hire more staff right away because we had people lining up."
Kansas Citians have embraced her food, which doesn't back away from serious spice (although guests are cautioned the restaurants' medium heat level is plenty hot, lest they overestimate their own tolerance). Beyond giving Hoffman a platform to share her culture, the restaurants have helped her build relationships. Customers enjoy her food so much; they ask to speak with the person who prepared it.
"We become friends and talk. It's more than food, they ask about Thailand," Hoffman says, which opens the door to further conversations about her culture. She's happy to share. "We cannot forget who we are and where we come from."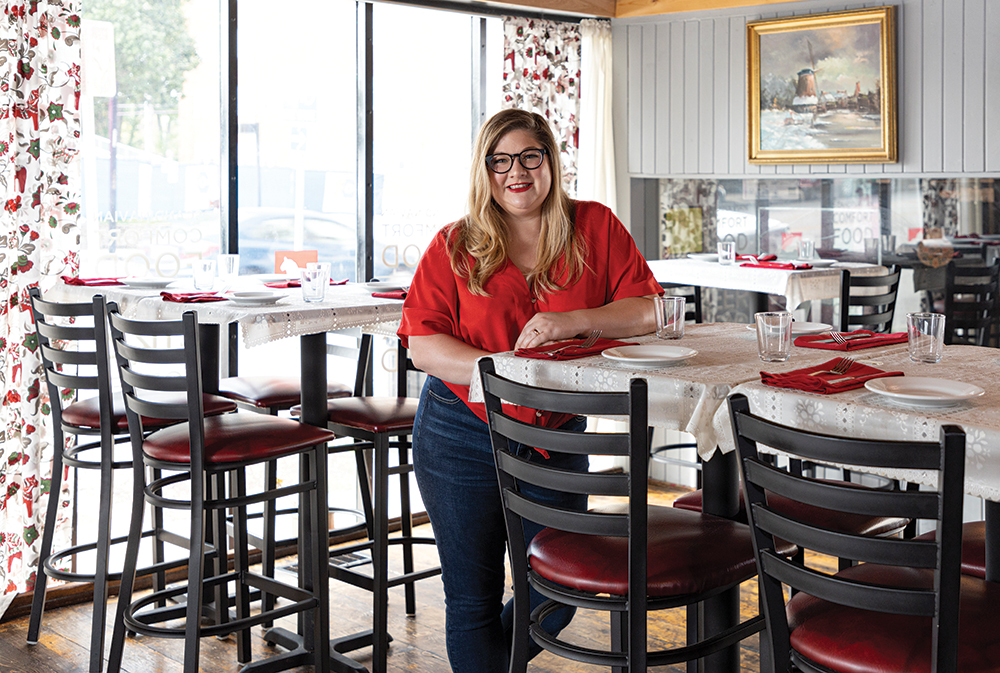 Scandinavian cuisine was always a big part of Katee McLean's life—she just didn't know it.
McLean is a third-generation Swedish-American. Her ancestors, the Krokstroms, left Dalsland, Sweden, in 1863 to come make a home in America and ultimately settled in Elsmore, Kansas.
"There are lots of Scandinavian people in Kansas and the Midwest in general, and they stayed, they tried to acclimate to the culture," McLean explains. "My family held onto recipes, and that's kind of the only part of the culture they really held on to."
McLean's earliest food memories take her back to days in the kitchen with her dad, watching him make potato bread or prepare a massive batch of Swedish meatballs for a church gathering.
Her passion for food grew and she went to culinary school, where she learned French cooking and was exposed to cuisines from around the world. McLean recalls feeling saddened that she didn't have her own unique culture to draw from when her mother reminded her that she did—all those dishes she grew up not thinking much about were a link to her Scandinavian roots. It was a light-bulb moment.
"The more I dug, the more I realized the weird cinnamon rolls my family would make that were tough were cardamom buns," McLean says. "My grandma's cream puffs were actually semla."
A desire to cook her family's food took root, but, "I never thought cooking Scandinavian would even be plausible," she says.
After a decade of experimenting while working in the restaurant industry, McLean and husband Josh Rogers decided to open their own restaurant, Krokstrom Scandinavian Comfort Food.
"Right out of the gate, I knew I'm serving food that people don't know how to pronounce and don't know what it is, so it better look sexy," she says.
McLean and company prioritized making every dish look appetizing and posting photos on every platform imaginable to provide people with a visual reference point. But Krokstrom is about much more than just the food.
"From day one, I told Josh I don't want to open a restaurant, I want to open a place that transports you and teaches the customer something new," McLean explains. "I want them to have a cultural experience and get away from the Midwestern mentality."
At its core, Scandinavian cuisine is about smoked, pickled, and cured foods. That's because before the introduction of refrigeration, preserving food to eat through the winter meant the difference between life and death for Scandinavians. McLean pays tribute to that history with pickled herring and vegetables, smoked fish and meats, and dried salamis and sausages. But the chef has also reinterpreted the philosophy for our era.
"I believe in not wasting. I believe in helping the planet. So not only are we using an old method that was used for preservation, but it's now more than ever important that we work on preserving and using and not wasting things for our future," she says. "I tell my staff one trash can a day is all we're allowed. I don't want to see waste. If there's a piece of something, you can turn it into a stock, you can turn it into a pickle, you can find a way to use anything. You just have to get creative."
Food is at the forefront of Filipino culture, says Chrissy Nucum, owner of the KC Pinoy restaurant and food truck.
"I always tell people, when you're sad, you get fed. When you're happy, you get fed. When you graduate, you get fed," Nucum explains. "Any big milestone kind of moment for every Filipino was centered on food."
Nucum grew up in the Pampanga province of the Philippines. Since the country is still developing and residents are not rich in material goods, food is an easy, inexpensive way to show support or love, she says.
For Nucum, cooking became a way to rekindle joy when she found herself working an unsatisfying job in security software sales. She threw themed dinner parties for friends as a creative outlet until a fateful night at home watching Food Network after a few glasses of wine sparked an idea: She could run a food truck while filling a void in the Kansas City market for Filipino food.
When the KC Pinoy truck hit the streets, Nucum was the only person in KC serving the cuisine and found a fan base among people excited to see their culture being represented. Filipino food combines Chinese elements like rice, noodles, and soy sauce with a love of garlic, pork, and vinegar from the Spaniards who colonized the country, Nucum explains.
"I didn't know that there was such a huge Filipino community here," she admits. "That was a concern of mine when I first moved here—is it going to be a pretty white demographic, am I going to find Filipinos who would enjoy the food, or second-generation Filipinos who maybe don't cook it but are familiar with the flavors?"
She found her audience and expanded into a brick and mortar restaurant in 2018. People come from all over Kansas and Missouri to visit KC Pinoy, but it's not just customers with ties to the Philippines who have made the concept a hit. Through dishes like chicken adobo—chicken thighs stewed in vinegar, soy sauce, and spices—KC Pinoy connected with a broader audience, who may not find the dishes they expect.
"Our goal is to really educate people on what Filipino food is, not just the potluck kind of version of what Filipino food is, but what people eat back home at the dining table with their friends or family."
That means no lumpia or pancit, the Filipino dishes Americans are most familiar with. Instead, Nucum serves traditional recipes, many of which come from her grandmother, and gets input from her family. Nucum's sigang—pork in a tamarind broth with okra, daikon, and long beans—is a favorite dish of her family's.
"It's a big bowl of sour soup and it kind of gives you a hug every time," she says, adding, "That's kind of a reflection of the menu—it's everything that I grew up loving to eat and everything that reminds me of home every time."