Open anyone's fridge or pantry, and there seems to be certain ingredients you'll always find in their kitchen. 
For internationally renowned British food writer and television chef, Nigella Lawson, a few ingredients you're likely to find in her kitchen include eggs, anchovies, and rhubarb. Anchovies and rhubarb, especially, aren't ingredients often stocked in many Kansas City kitchens, but Lawson shares the recipes that highlight the genius of her favorite ingredients in her newest book Cook, Eat, Repeat: Ingredients, Recipes, and Stories.
"I think repetition is one of the best teachers in whatever we do, and all of us also tend to gravitate toward certain ingredients and flavors," Lawson says on a Zoom call with IN Kansas City. "I chose the ones I did because I wanted to show other ways an ingredient could be used."
On November 19, Lawson will be at Johnson County Community College's Yardley Hall as part of the Midwest Trust Center's 2022-2023 Series for An Evening with Nigella Lawson, in which she'll discuss her new book with IN Kansas City's food columnist, Jenny Vergara, and chat with the audience.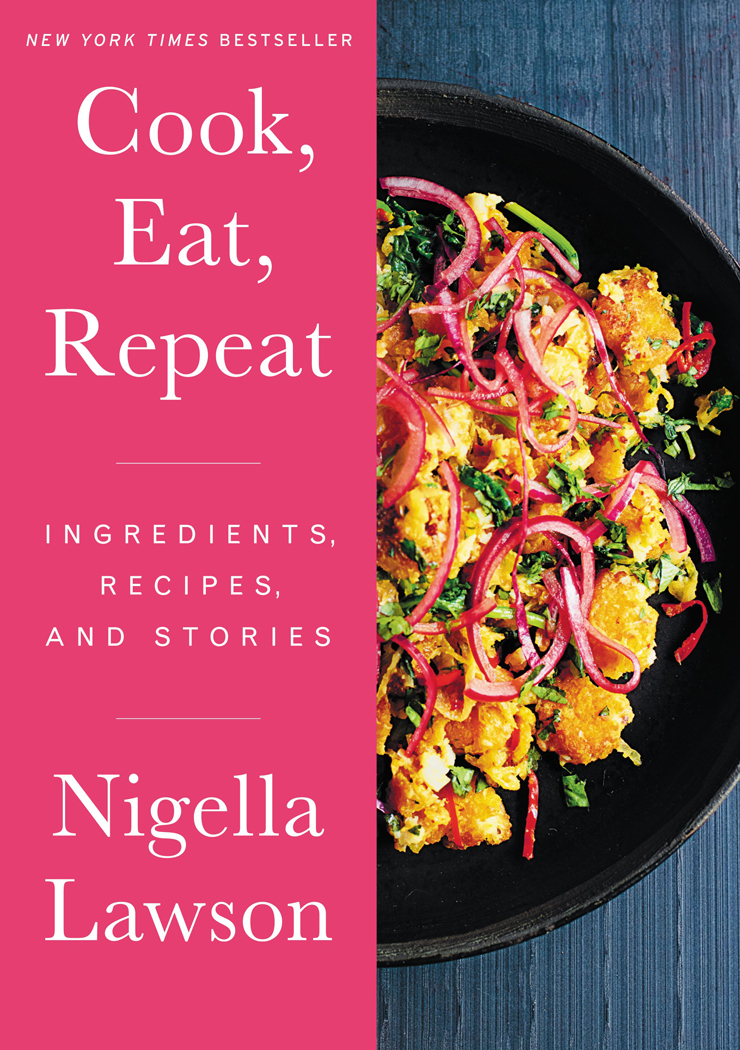 "When you write a book, it's so wonderful to talk to people and get questions and really reflect on the shared experience of food and eating," Lawson says. "I could speak about food forever, and I enjoy it. It is very interesting to find out what people want to talk about. When people talk about food, they don't ask questions; they will talk about the food that matters to them. There's an emotional component with these events I find very moving. The whole point is to engage with people—that's what interests me. In the end, I love food, but the story of food is the story of humans."
Since releasing her 1998 debut cookbook How to Eat: The Pleasures of Principles of Good Food, Lawson's 12 cookbooks have sold over 12 million copies. Within the pages of Lawson's books, readers aren't only introduced to recipes they can make in their own kitchens, but Lawson invites fans to share her memories and intimate moments in the kitchen. Lawson's newest book might just be her most intimate yet, and here's what she'll say if you ask about that.
"I think you might be right," Lawson says. "Everything I do comes from my life. I think perhaps this book shares that description with my first book, How To Eat—in some ways that I hadn't even intended; it's a companion volume to that book."
Throughout her 12 books, Lawson has shared many cooking tips and tricks with her readers. But she'd never talked about the role repetition has in her kitchen, and she wanted to share some of her favorite ingredients that some people may be hesitant to use. 
Cook, Eat, Repeat features over 150 recipes and suggestions for how to make the most out of different ingredients.
"The book is about giving ideas and taking that further," Lawson says. "Egg and anchovy go well, so what are other ways you can eat egg and anchovy together? It's really about the sort of thing you do when you're sitting with a friend, and you're talking about the food you love, and you sort of do a riff on your favorite ingredients."
"Other chapters are much more around ideas and themes," she adds. "I've got one chapter called A Loving Defense of Brown Foods. Brown foods often get overlooked now for more Instagram-worthy, bold, colorful, beautiful foods. I think that for many people, the stews and long-cooked foods—while not so vivid to look at—are even more vivid in flavor. There's something so comforting about that."
Lawson's favorite recipe in the book? Flip to a chapter called Much Depends on Dinner and look for a recipe called Chicken in a Pot with Lemon and Orzo. 
"It's a recipe I cook a lot at home," Lawson says. "It's the most wonderful one-pot meal. I cooked it only on Tuesday last week. It's chicken that you cook much like my mother would have done. With carrots and leeks, you use tarragon and garlic, lemon zest, lemon juice, and a teeny amount of chili flakes. It's one of the most comforting dishes I know, and it seems to go so much further—a bit like the children's story about the magic pot. It's very much a family food that has a lot of meaning in my family."
When Lawson joins Vergara on the stage on November 19, it will be one of her first times back to the Kansas City metro since she filmed part of the 2015 Simply Nigella Christmas Special in Kansas City. 
When she's back in KC, Lawson is especially looking forward to getting another taste of Kansas City barbecue, plus exploring some new restaurants, "No doubt I will be plaguing Jenny Vergara with requests on where to eat," she says. 
Don't worry we'll let Jenny know to have a few suggestions at the ready. 
An Evening with Nigella Lawson begins at 8 p.m. on Saturday, November 19. Tickets range from $20-$115 and can be purchased here.