The first ten months of the year may be dominated by cakes, cookies, and other desserts, but come the holidays, it's all about the pies. We caught up with the bakers behind three local pie businesses to talk crusts, fillings, and what sets their pies apart.
Amy Marcus | Sweet Tea Pie Co.
When Amy Marcus was furloughed from her job in the culinary industry at the beginning of the pandemic this spring, she started baking pies and dropping them off with friends as a way to keep cooking and stay connected.
"I'd never delved into pies," she admits. "I mostly do savory cooking, and I honestly wanted to learn something new. I fell in love with the idea of combining my love of savory into desserts, so I started coming up with really interesting flavors, and it kind of went from there."
Friends also fell in love with her flavors, which initially included an orange pekoe tea-infused chess pie and started spreading the word about her creations. Within a week of her first batch, Marcus was fulfilling orders for people she didn't know, and a new business was born—Sweet Tea Pie Co.
As a one-woman operation, Marcus announces online when she'll be accepting orders and when they will be available for pick up. Pie flavors vary—her holiday lineup included caramel apple pancetta and bourbon maple pecan, and a chai tea chess pie is among her current offerings.
In addition, Marcus has started offering three varieties of freezer-friendly take-and-bake pot pies as a way to get back to her savory roots: A sweet and savory vegan root veggie in a hard cider gravy; a hard cider-braised, chili-rubbed chicken pot pie with poblanos, hominy, and tomatillos; and a Korean chicken pie with shiitake mushrooms, plus Korean peppers and sweet potatoes.
Ultimately, Marcus would love to turn Sweet Tea Pie Co. into a brick-and-mortar pie shop with other simple menu offerings. But for now, she's enjoying the flexibility of the business as a single mom tasked with homeschooling her three kids, who might just find a lesson in their mom's new path.
"It's been fun to show them that life changes and we can reinvent ourselves, we can come up with new ways to support ourselves and new ways to stay creative," she says.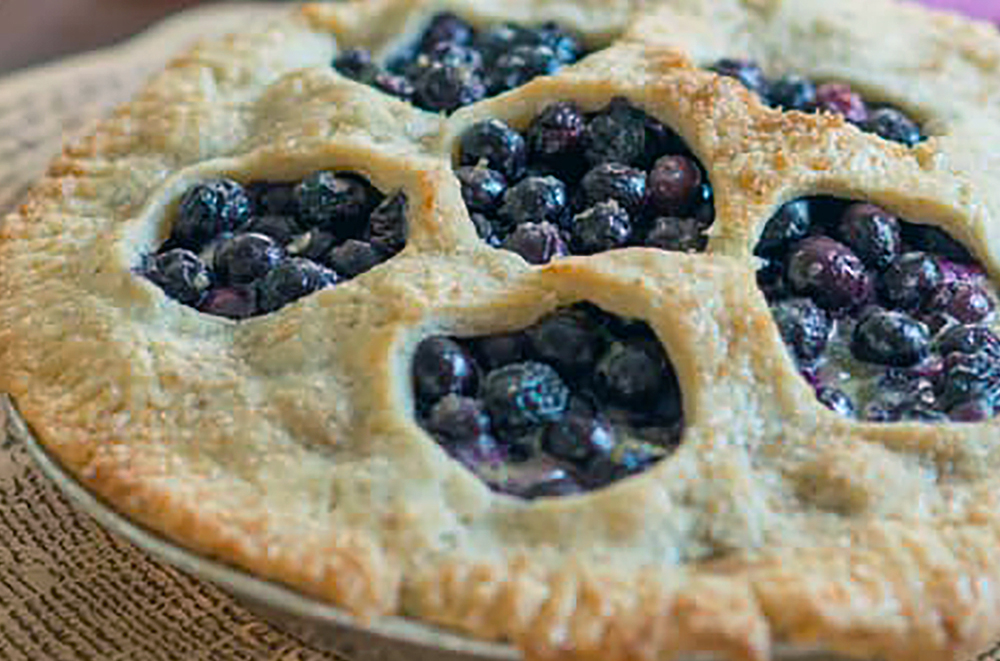 Ashleigh Luna |

Ashleigh's Bake Shop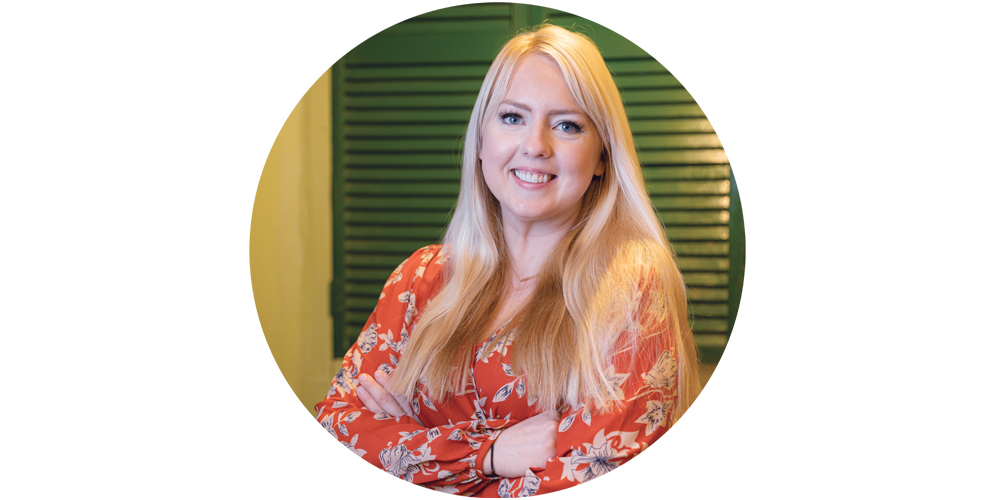 Handmaking up to 150 pies is all in a day's work for Ashleigh Luna and her dad and baking buddy, Charles Luna. The duo does all of the cooking for the bake shop Ashleigh opened five years ago inside Pryde's Kitchen & Necessities (115 Westport Road).
"It's exhausting sometimes, but we get it done," she says.
Baking pies professionally wasn't always on the menu for the Lunas. Ashleigh, who received a degree in broadcast media before completing the culinary program at Johnson & Wales in Denver, initially experimented with cookies and other sweet treats before landing on pies.
"I always grew up making the Thanksgiving pie for our family," she explains. "I feel like pie is just one of those classic, not fussy American desserts that's so quintessential."
Ashleigh and her dad liked to cook together and started testing pie recipes one summer almost ten years ago, refining them through trial and error. They're the same recipes used today at Ashleigh's Bake Shop, which is open Thursday, Friday, and Saturday.
Because the Lunas do all the baking fresh each morning, the selection in the shop is limited and prone to selling out, so advanced orders are recommended, whether you're opting for the bestselling berry patch or cherry pies, or have your sights set on a savory quiche. (The crab pie, made with real crab, swiss, cheddar, a little Old Bay, sautéed peppers and onions, has been one of the bake shop's most popular pandemic offerings.)
Ashleigh's personal favorite pies include the almond chocolate chess, which she describes as a gooey brownie pie with a little bit of almond extract, cinnamon, and toasted slivered almonds on top. She's also partial to the cranberry apple oat crumble.
"It kind of smells like apple cider when it's baking in the oven," she says. "But it's got a little bit of tartness from the cranberry."
Regardless of their fillings and flavors, Ashleigh's pies include one very important common denominator: the bake shop's much beloved, incredibly flakey all-butter pie crusts.
"We've had people almost moved to tears—it's so cute—and they'll say 'I haven't had a pie like this since my grandma's cherry pie,'" she says.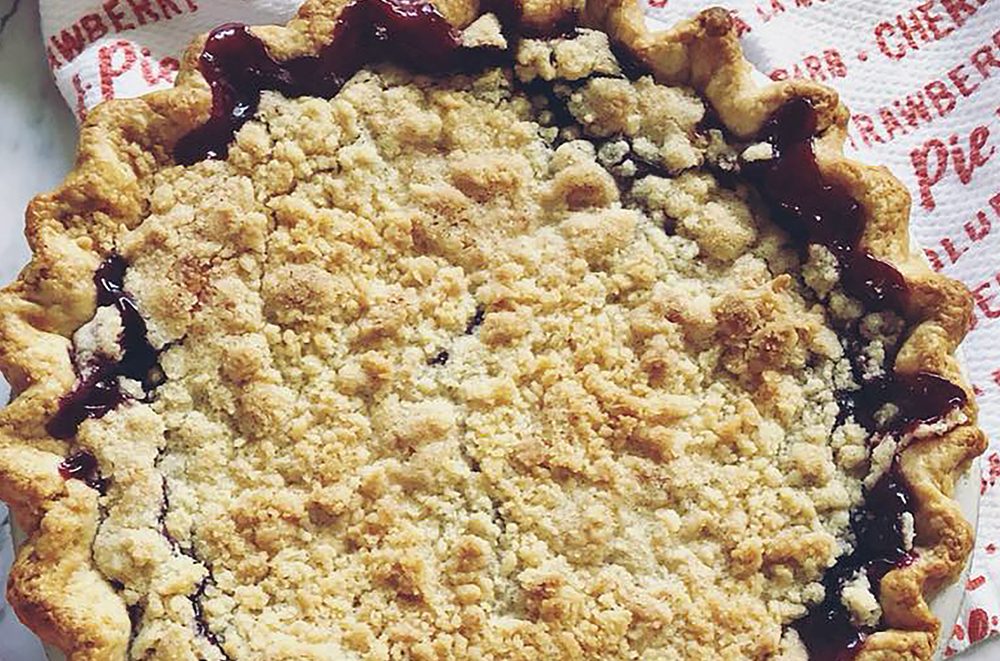 Jan Knobel & Elaine Van Buskirk |

Upper Crust Pie Bakery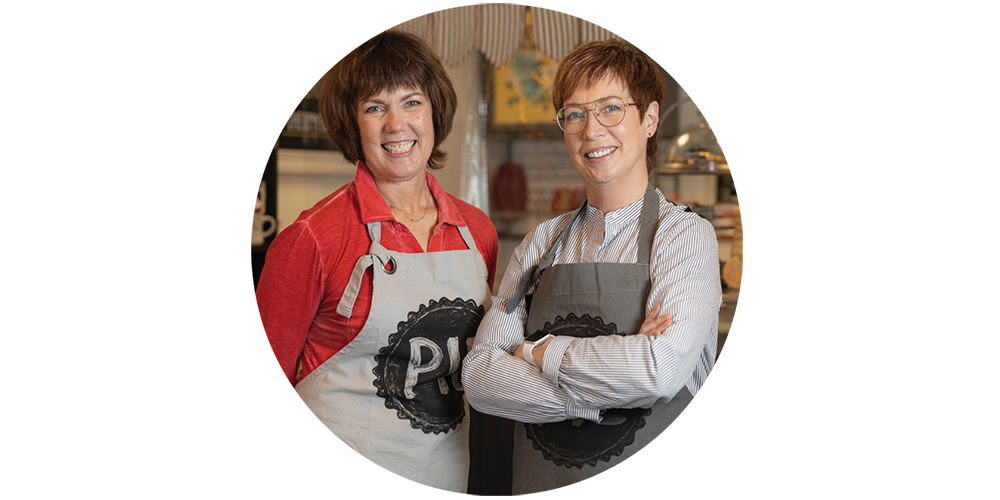 Sisters Jan Knobel and Elaine Van Buskirk have fond memories of baked goods from their childhood.
"We grew up with this custom of having delicious homemade pie at every family gathering or dinner or celebration," Knobel says. "Pie was always a part of that, and it just seemed like standard fare—we thought everybody did this kind of thing."
It wasn't until much later that they realized their experience was special. They sought to recreate it at Downtown Overland Park's Upper Crust Pie Bakery (7943 Santa Fe Drive).
Their old-school approach has made the Upper Crust one of Kansas City's premier pie destinations since the sisters opened the shop in 2005. Although the Upper Crust offers cookies and bars, pies are undeniably the focus, from fruit pies with golden brown crusts to chocolate meringue with artfully tousled, towering peaks, not to mention plenty of nut and custard pies.
After much deliberation, Knobel names the blueberry, peach, and coconut meringue pies as her favorites—Van Buskirk cuts in to say her sister is taking all her top picks.
Although the pair has similar taste in pie, they've found their own niches in the business. Knobel is still very involved in baking, spending every other day in the shop's kitchen.
"Jan is clearly the baker," Van Buskirk explains. "She has an eye, she has this sense—she can almost smell if something isn't right."
Meanwhile, Van Buskirk focuses on the retail and customer-service side of the business. "There are all these other things that come into play," she says." It's not just pulling it out of the oven—you've got to figure out what to do with it, how to package it, how to make sure you have systems in place so you always have the fresher items out there for customers to pick up."
Beyond their business savvy, the sisters say their reliance on traditional pie baking, without any convenient shortcuts, is what keeps them ahead of the pack.
"We still make our pies the way we made pie at home," Knobel says. "We're still using the same quality of ingredients. Everything is still mixed in small batches by hand. There's no artificial anything, we use 100-percent butter in our crust, we use real fruit in our pie fillings."