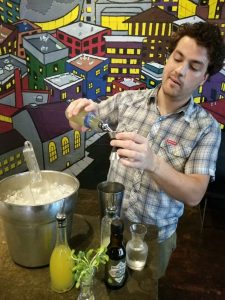 Hey, Boozie Suzie! Need a respite from drinking? Thinking about Alcohol-Free August or Sober September? Well, we've got just the thing for you—mocktails. They're just as light and frothy as you'd expect, but without all that pesky liquor getting in the way. We stumbled across a couple perfectly made, handcrafted mocktails at Affäre. "I think non-alcoholic cocktails are so pleasing to people because they are about inclusion," says Chase Ihde, bar manager at Affäre. "From a bartender's position, mixing a good cocktail without using alcohol is an important exercise. It gives a good opportunity to practice balancing flavors and textures without a base to build from. It's also a good time to hone classic soft drinks like fresh sodas and 'ades."
Because we're tight with our neighbors next door in the Crossroads District, they were kind enough to divulge their super-secret recipes you'll want to try next time you're trying to abstain. Or—even better—swing by the bar at Affäre. They have even more tasty alcohol-free concoctions on the menu for you to try.
Life Lessons
3/4 ounce Oleo saccharum*
1 ounce lemon juice
Splash tonic
Build in a Collins glass.
Gradually add ice and water while stirring continuously until full and icy.  Garnish with strawberries & candied ginger.
(*Bartender tip from Chase: "Being thrifty and resourceful with citrus is important for bartenders, and a naturally good idea for home bartending. Peeling citrus just to the pith before juicing not only makes juicing easier and higher-yielding, it gives you a pile of oily lemon peels that you can toss with sugar and let sit to give you a rich, lemony Oleo saccharum. Using this as opposed to plain sugar gives you smoother texture and deeper flavor in any drink that calls for citrus and sweetness. In a classic lemonade with fresh lemon juice, slowly stirring the two together with ice and cold water is one of the best examples available.")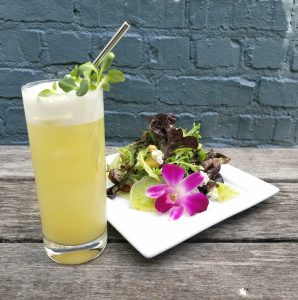 Picnic Fizz
2 ounces watermelon juice,
1/2 ounce lime
1/2 ounce Mirepoix shrub*
1 ounce Aquafaba*
Pinch salt
Wet/dry shake, splash soda
Double-strain to tall Collins glass with ice.  Garnish with sunflower shoots.
(*Chase's 411: "A tall watermelon cooler that uses aquafaba to achieve a picturesque foam cap and lend some more body to the over-juicy watermelon. Mirepoix shrub is a homemade maceration of onions in sugar and vinegar with carrot, celery, and optional small amounts of ginger, cucumber, and fennel.")