It's a subjective, even polarizing question: what constitutes a dive bar? 
For Mat "Slimm" Adkins, owner of downtown Kansas City's The Pairing, several criteria must be met. 
"A dive bar needs to have cheap but stiff drinks and a worn, weathered location that makes you think, 'This place has a story' when you walk in. Preferably, you'll also see a couple of regulars propped up at the bar. Bonus points for graffiti and/or stickers plastered everywhere, a bottle of Malort on the bar and a mysterious odor."
While you mull over your answer, take a look at our round-up of some of the Kansas City area's best low-key watering holes. Anyone else suddenly feeling thirsty? 
Kansas City's Best Dive Bars
403 Club
If you're a pinball enthusiast and you haven't yet been to "Kansas City's best pinball bar," well, consider your weekend plans made. An enticing selection of pinball machines doesn't only attract casual players; 403 Club hosts weekly pinball tournaments, too. Plus, you can catch all of the typical sporting events on this neighborhood bar's multiple TVs. If the 403 Club's exterior reflected just how much fun awaits inside, well, let's just say its Strawberry Hill neighbors would have constant noise and flashing lights complaints! 614 Reynolds Ave., Kansas City, Kan.
Bricks Pub & Grub
This low-key, brick-walled bar in the heart of downtown Lee's Summit has mastered the trifecta: a sizable draft beer list, well-made specialty cocktails and, in their words, "above-average" bar food. Pull up a barstool to watch your favorite game on one of many TVs, or savor the fall weather out back on Bricks' newly finished patio. A rotating events calendar features everything from food specials like Taco Tuesday to live music, so check their Facebook page to see what's scheduled. 18 SE 3rd St., Lee's Summit, Mo.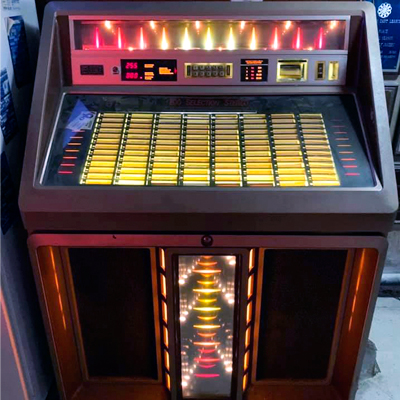 Chez Charlie
A favorite place for many of Kansas City's service industry pros to unwind, Chez Charlie is an unassuming spot in the heart of the city's bustling Midtown neighborhood. Keep the address handy, because Chez Charlie doesn't have exterior signage. Your quest will be rewarded inside, however, with dart boards, a beloved vintage jukebox (75 cents gets you seven songs) and a welcoming vibe that feels like a reunion with old friends. 3809 Broadway Blvd., Kansas City, Mo.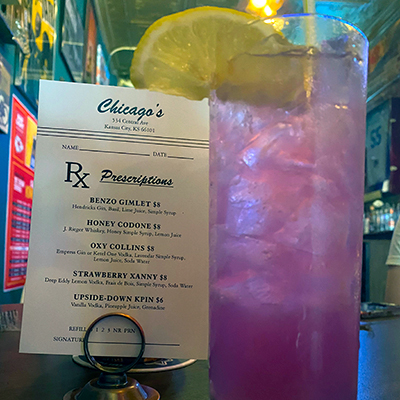 Chicago's
It's hard to know where to look first when you step into Chicago's, a corner bar that serves as the unofficial gateway to Strawberry Hill in Kansas City, Kan. There's the expertly stocked bar, the eye-catching vintage "Prescriptions" sign and a ceiling that's plastered with signed dollar bills. You'll find all of the beer and liquor essentials covered, but don't sleep on Chicago's specialty cocktail menu, aptly named Prescriptions and featuring catchy names like the Benzo Gimlet or Oxy Collins. If the main room is packed, step into the adjoining room for a low-key vibe and a trip down memory lane complete with historic local pictures and memorabilia. 534 Central Ave., Kansas City, Kan.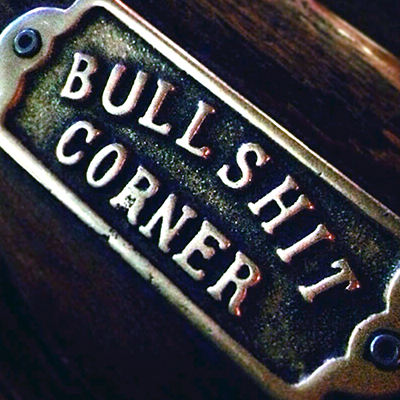 Flo's Poke-A-Dot Lounge
Celebrated in online reviews for being one of Kansas City's cleanest dive bars, Flo's Poke-A-Dot Lounge is a strip mall watering hole on the edge of Waldo. Grab a cold beer and kick back at the bar, or head to the back for a round of pool or darts. Work your way through daily drink specials. And while you're there, stop for a moment and pay homage to Flo, also known as "Dad," the bar's namesake who passed away last November. Your legacy lives on Flo. And we'll raise a glass to that. 8934 Wornall Rd., Kansas City, Mo.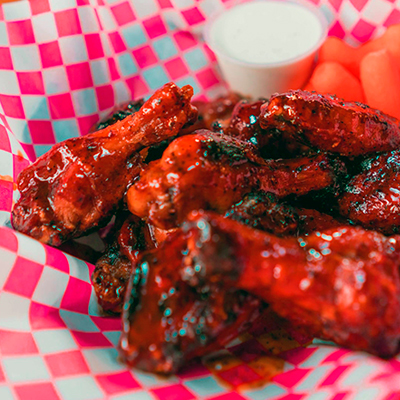 Helen's JAD
Is Helen's JAD the oldest bar on our list? It just might be, dating back to approximately 1895 in North Kansas City. These days, the bar continues to do a bustling business, thanks in part to a mouthwatering menu. See what all of the buzz is about with a patty melt (the secret: red peppers mixed with the onions) and the wings. Work up an appetite with a rousing round of shuffleboard, or simply pull up a stool and pick from one of 30 beers on tap. 2002 Armour Rd., North Kansas City, Mo.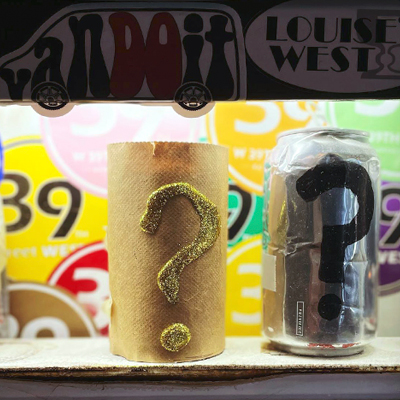 Hi-Dive Lounge
Two words tell you all you need to know about Hi-Dive Lounge: mystery beers, available from the city's only canned beer machine! It's sort of like gambling, but with much more delicious results. Mystery beers definitely get a lot of love, but you'll also find a fully stocked bar at Hi-Dive Lounge, not to mention a varied menu (complete with vegetarian options) and Sunday brunch. As the temperatures drop, grab a spot in Hi-Dive's covered, open air seating and soak up all of the 39th Street vibes. 1411 W. 39th St., Kansas City, Mo. 
Johnnie's on 7th
Calling all soccer fans! Have you watched a match at Johnnie's on 7th? If not, consider this your cue! In fact, all sports lovers should make a pilgrimage to Johnnie's, which serves up some of the best watch parties in the city (along with ice-cold beverages). In fact, for select local games, the Johnnie's staff will even organize a party bus that departs from the bar and returns after the game (with plenty of time to tailgate, too). If you can tear your eyes away from the action, take a look at the bar's ceiling, an incredible collage of huge vintage photographs. 55 S. 7th St., Kansas City, Kan.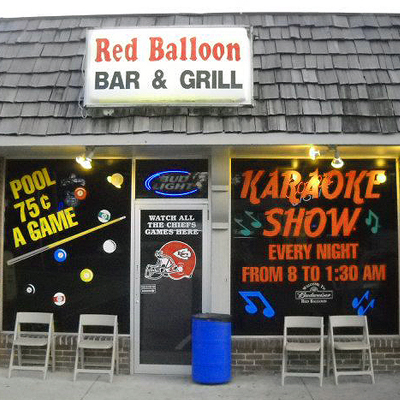 Red Balloon Bar & Grill
Your mission at Red Balloon, should you choose to accept it, is simple: karaoke! Yes, Red Balloon is a quintessential dive bar (it's even got the unassuming strip mall location, this one in Shawnee just off of I-35). But more than that, it's one of the city's favorite destinations for karaoke, complete with an elevated stage so you can live out your American Idol dreams. The Red Balloon also does a rousing business during Chiefs games. Check their Facebook page to see if a bring-your-own-side-dish potluck is on the schedule. Share your favorite game-day recipe and you'll have a bar full of friends in no time. 10325 W. 75th St., Shawnee, Kan.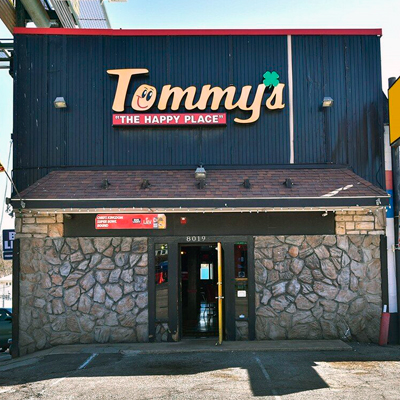 Tommy's The Happy Place
You can't miss Tommy's The Happy Place, tucked along bustling Wornall Road in Waldo. Just look for the giant yellow arrow pointing down with the word "Bar" painted in towering black letters. Inside, you'll find friendly regulars, a variety of beers on tap (including beloved "yard beers" like Hamm's), and, according to one visitor, the best bloody Mary in the city. If you're lucky, you might even leave with a souvenir: a drink coozie, courtesy of the bartenders. Disney World, move over. Tommy's might just be the happiest place on Earth. 8019 Wornall Rd., Kansas City, Mo.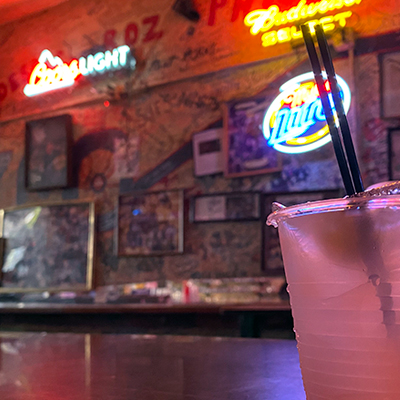 Zoo Bar
Zoo Bar is a delightful, low-key alternative to downtown Kansas City's upscale cocktail bars. Here, you'll find two long yet relatively narrow rooms that house a long bar with plenty of seating, pool tables, and the quintessential (digital) juke box. If you want to (literally) leave a mark on the bar, bring a pen or Sharpie with you and scrawl your signature in the bathroom. In fact, you might lose track of time reading the sometimes funny, sometimes perplexing array of messages. Pro tip: Zoo Bar is cash-only, but they do offer an onsite ATM. And be on the lookout for Sunshine, a friendly golden retriever who belongs to one of the bartenders and will make you feel right at home. 1220 McGee St., Kansas City, Mo.