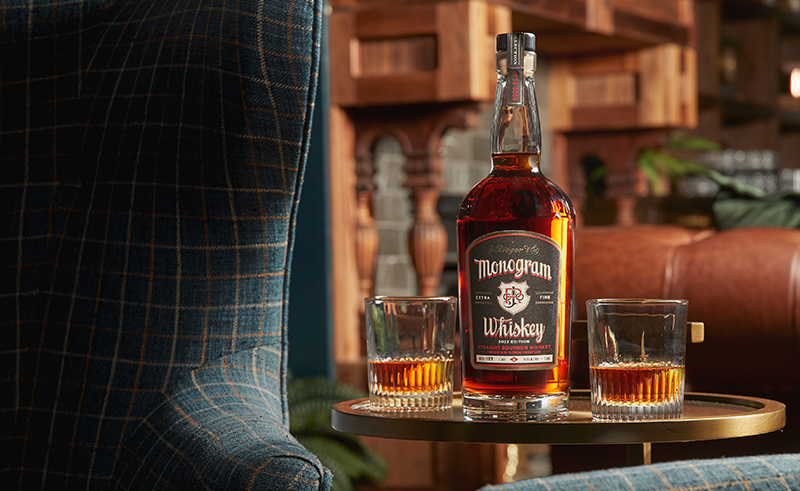 Before prohibition, Kansas Citians enjoyed the deep flavors of J. Rieger & Co.'s Monogram Whiskey, the distillery's flagship spirit. 
Over a century later, every few years the revived J. Rieger & Co. releases a new Monogram whiskey made with the rare and unique flavors of the same nearly century-old Oloroso Sherry Botas used in the original Monogram Whiskey. The wait for the fifth installment in the Monogram series ends on July 14 with the release of Monogram Straight Bourbon Whiskey.
"Rieger's Monogram Whiskey has always been a passion project for our team featuring highly unique and innovative whiskey expressions," says Ryan Maybee, co-founder of J. Rieger & Co. "This year's release is very special to us as it's a Straight Bourbon Whiskey, a first of its kind for the Monogram label. Being able to launch a Monogram Bourbon Whiskey as well as our Bottled-in-Bond Bourbon Whiskey in a single year is truly humbling."
Comprised of straight bourbon whiskey that's been aged for six and a half to ten and a half years and Oloroso Sherry Botas, the new Monogram Whiskey was aged in the same barrels that stored the 2017 and 2019 batches.
Rieger's 2022 Monogram Whiskey features sweet and spicy notes, such as clover honey, red fruits, toasted cashews, and candied almond, with hints of dried mint, sage, buttered toast, salted caramel, cigar tobacco, black cherry, and dried apricot. This year's blend features a balance between smoke and earthiness, fruit, and spice intended to be reminiscent of Kansas City barbecue.
Only 1,887 bottles of Rieger's 2022 Monogram Whiskey will be available at the J. Rieger & Co. distillery and in select retail stores throughout Missouri and Kansas beginning July 14. The suggested retail price is $129.99 and is bottled at 103 proof (51.5% abv).
Get a first taste of the new whiskey during an intimate tasting at J. Rieger and Co. on July 14. A $60 ticket includes a welcome cocktail, Spanish-inspired small bites, and the opportunity to sample Monogram Whiskey offerings from 2017, 2019, and 2022.