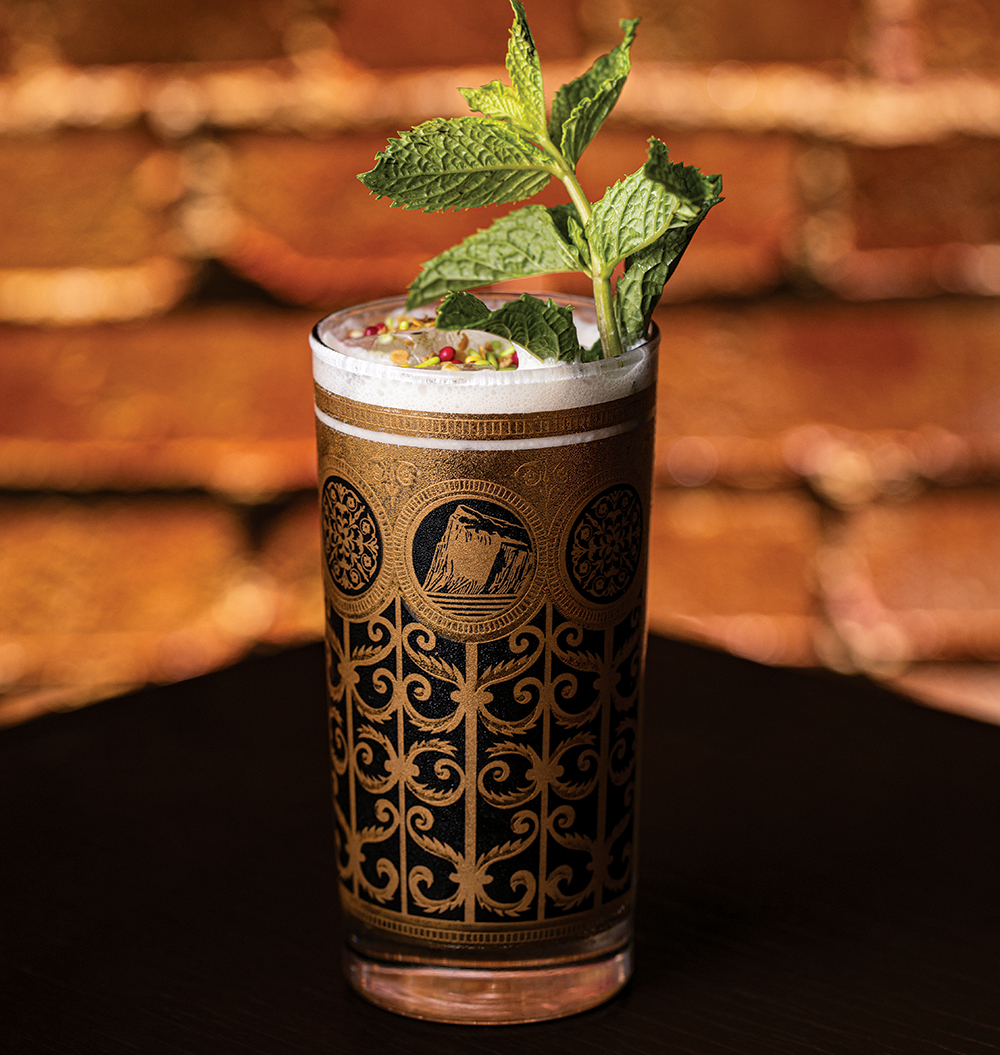 Right in the rowdy center of Westport sits a quietly glamorous restaurant waiting to transport you.
From the moment you step foot on Westport Café & Bar's black-and-white checked floor, you're enveloped by string lights, exposed brick walls, lush red drapes and a sense of Parisian sophistication. The European-style bistro boasts legitimate international cred to match—Frenchmen Romain Monnoyeur and Kevin Mouhot own the restaurant and serve as its executive chef and general manager, respectively.
In the almost ten years since it opened, Westport Café & Bar has climbed to the top of many a Kansas City foodie's restaurant rotation on a ladder of thin, crisp pommes frites. The fries are a signature dish along with favorites like escargot, the croque madame, and profiteroles. Monnoyeur and his crew also make a mean burger and a decadent weekend brunch—come for the crispy fried chicken alongside brioche French toast, stay for the complimentary cocktail or coffee included with all entrees.
But Westport Café & Bar's secret weapon isn't found in the kitchen—it's the bar program led by Bronson Kistler, who sidesteps the expected in favor of the inventive. Sure, there's a boutique wine and beer list, but cocktails are the featured performers. The classic offerings include a Pimm's Cup and Champagne Cocktail along with the lesser-known likes of the Champs Elysées—made with Cognac VSOP, green chartreuse, lemon, and bitters. Guests can also sample a diverse range of drinks on the house cocktail menu, which prioritizes interesting flavor profiles that can be enjoyed late into the night: the bar serves until 1:30 a.m. Monday through Saturday and midnight Sunday.
There's a touch of France via New Orleans' French Quarter in the WCB Clarified Milk Punch, a blend of bourbon, cognac, Honeycrisp apple, ginger, spices, citrus, black tea, and clarified milk. Tastes of Portugal and China find their way into the Medina, which features Madeira wine, gin, gunpowder green tea, mint, honey, and verjus.
For the Bay of Bengal, Kistler drew inspiration from even more culinary traditions.
"I really like Indian curry and Thai food, and I was kind of wanting to do a drink that used some of those curry aromatics to spice up the drink."  – Bronson Kistler
"I really like Indian curry and Thai food, and I was kind of wanting to do a drink that used some of those curry aromatics to spice up the drink," Kistler explains. "I focused on using kaffir lime leaves and fleshed that out with some lemongrass, coriander, and fennel."
The drink uses white rum and Jamaican rum infused with aromatics, then introduces coconut milk, lime juice, and orange juice. The Bay of Bengal is finished with mukhwas, a refreshing after-meal snack that commonly accompanies Indian meals.
---
Bay of Bengal
1 ¾ ounces infused rum*
1 ounce coconut milk
¾ ounce simple syrup**
¾ ounce lime juice
½ ounce orange juice
1 mint sprig
1 teaspoon mukhwas
Combine rum, coconut milk, simple syrup, lime juice, and orange juice in shaker tin. Shake for ten seconds and strain over ice in a tall Collins glass. Sprinkle the mukhwas on top of the drink, and garnish with a mint sprig.
*Simple Syrup
1 cup white cane sugar
1 cup water
Combine sugar and water. Stir until dissolved. Store in refrigerator.
**Rum Infusion
2 cups white rum (Kistler uses Plantation)
1 ½ cups Smith & Cross Jamaican Rum
5 kaffir lime leaves
3 chutes lemongrass (thinly sliced)
1 tablespoon fennel seed
1 tablespoon coriander
Combine all ingredients in a container, stir, and seal. Let rest for 5 days. Strain out the aromatics and store the infused rum in a bottle.