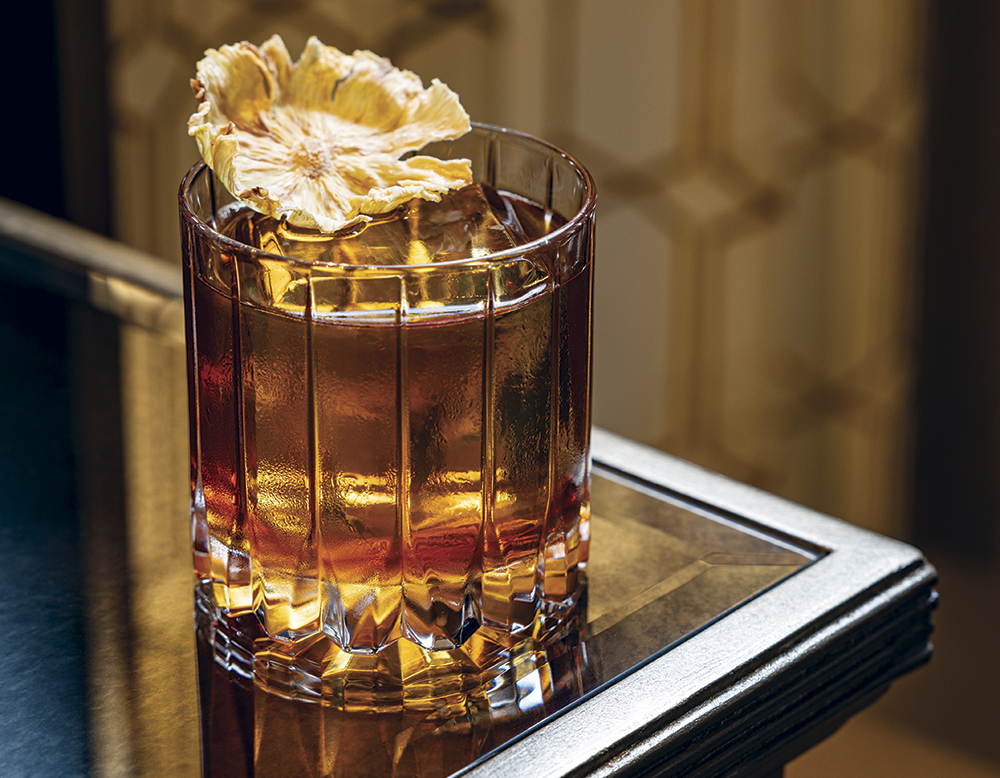 There's alchemy at work at Verdigris, and we're not just talking about how the bar has transformed Leawood into a destination for swanky cocktails. The symbolic language of the science marks the menus, and the bar's name is a nod to the green pigment that develops when certain metals are weathered and exposed to air or seawater over time.
The drinks served up at the Park Place establishment certainly have an element of precision that feels scientific, but there's also plenty of artistic spirit to admire, starting with the décor. It draws inspiration from the bar's name, so you'll find plenty of deep blue green alongside golden copper tones throughout the sophisticated Hollywood Regency-style space.
Verdigris stocks a long list of spirits in addition to a curated collection of wines and beers. Guests can also enjoy a small food menu, with dishes ranging from smoked popcorn with cumin and brown sugar to chimichurri ribeye, a tasty complement to the main attraction: the cocktails.
Drinks are elegantly presented, striking without feeling overly festooned. The cocktail menu is broken out into several different sections including classics, light, and rich. There are gems to be discovered among each group. Among the light cocktails, there's the tropical and sweet Polynesian Punch, served with a spectacular lemongrass smoke bubble that never fails to turn heads. The Oaxaca old fashioned is a more recent addition to the classic canon, combining reposado tequila, mezcal, bitters, and agave nectar for a bold drinking experience. More traditional standards include thoughtful takes on the sidecar, Sazerac, and Manhattan.
In the mood for something rich? Look no further than the Sunset Gun, an updated version of the Algonquin, a classic cocktail made with rye whiskey, dry vermouth, and pineapple juice.
"I wanted to reimagine how this cocktail could be drunk, and what we could do to amplify the flavors," explains Verdigris bartender Curtis Hayes. "To add complexity and depth, we start by using a split base of demerara rum and rye whiskey. Building on that complexity, the addition of sweet vermouth—Punt e Mes is my favorite—to the dry vermouth adds a fruitier and heavier aspect to the cocktail. The highlight to me is the charred pineapple gomme syrup. It screams pineapple definitively, and it lets us depart from the cliche of most drinks involving pineapple having to be shaken."
The original drink was created in New York City's Algonquin Hotel. Hayes's version takes its name from a collection of poems by Dorothy Parker, a founding member of the Algonquin Roundtable.
"This was a group of like-minded actors, writers, critics, and artists that met daily for lunch at the Algonquin Hotel to find inspiration, discuss ideas, and more importantly, drink their 1920s asses off," Hayes says.
Prepare to follow their lead.
---
Sunset Gun
.75 ounce Rittenhouse Rye
.75 ounce Hamilton Demerara Rum
.375 ounce Berto Dry Vermouth
.375 ounce Punt e Mes
.25 ounce Charred Pineapple Gomme (see below)
3 dashes Salted Peychaud Bitters
Combine all ingredients in a tin and stir. Pour over ice and enjoy.
For the Charred Pineapple Gomme
1000 milliliters of 2:1 (sugar to water) syrup
500 grams of fresh pineapple chunks
1 teaspoon of gum Arabic powder
Char the pineapple chunks using a blowtorch. The type of char you are trying to achieve is just after the pineapple stops caramelizing. Liquify the syrup and pineapple in a blender and strain. Add the gum Arabic powder and blend again so that it is fully incorporated.