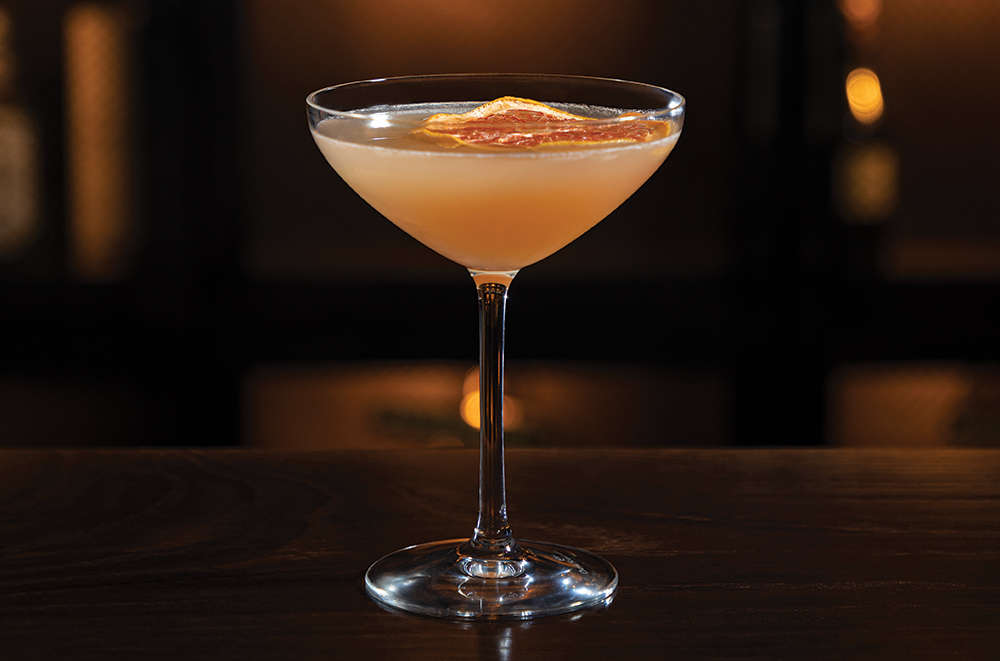 Thanks to the well-preserved Art Deco charms of Hotel Phillips, stepping into the Kansas City landmark always feels a bit like traveling to a different, more elegant time. It doubles down on that throwback appeal with P.S., a speakeasy-style bar housed in a long-forgotten basement mail sorting room.
Hotel employees lead you through a secret door and down hidden steps, delivering you to a dimly lit lounge filled with velvet and leather. The space feels secluded in a good way—after all, it's not true to the speakeasy spirit if you could be easily discovered. Bartenders are happy to discuss the history of the place, but there's also plenty to explore on your own: P.S.'s dark walls are decorated with nods to Kansas City's rowdy prohibition past.
The carefully controlled entry process ensures the bar is never too raucous. Ample seating makes it a cozy date night destination or a pre- or post-dinner cocktail. P.S. is especially lively on Thursdays, when A La Mode Trio or Alex Abramovitz & His Swinging Kansas City Jazz Band can often be found performing, adding to the sense you've slipped through the years to a clandestine jazz club.
Although the look and feel may evoke the past, the cocktails never feel stodgy. Even the classics get an interesting twist. The house old fashioned deviates from the tradition recipe with Amaro Nonino, a grappa-based Italian digestif, honey simple syrup, and black-walnut bitters. The PS Margarita is similarly full of surprises with the addition of a frothy egg white.
The bar's original cocktails are equally fearless, willing to take a swing with big, potentially polarizing flavors. The El Lobo is the rare cognac-based cocktail, partnering the brandy with mezcal, spicy Ancho Reyes liqueur, honey chili simple syrup, and mole bitters. On the other side of the flavor Venn diagram, Beyond the Tuscan Wind is a lighter, more streamlined drink, with gin and roasted balsamic pear purée.
P.S. also serves up a small selection of beer and wine, and a substantial list of bourbons, but the focus is undeniably on mixed drinks. In that vein, while there are a few snack options, you're better off making a reservation at the hotel's Tavernonna.
Brent Grinder, Hotel Phillips' director of food and beverage, offers some insight into the cocktail creation process. Grinder has lately been drawing inspiration from an adage that comes to mind during the hotel's many weddings: "Something old, something new, something borrowed…" (Something blue, it seems, will not be making its way into any recipes.)
"When it comes to this time of year, I think of spirits and cocktails that remind me of tradition, comfort, family and friends—spirits like American bourbon and island rum infused with aromas of baking spice, pipe smoke, and wood," Grinder explained. "I also think of incorporating ingredients such as egg, dried fruits, tropical fruit, baking spices, and citrus."
Those flavors come together in the Forbidden Mai Tai, a cocktail currently on P.S.'s menu prominently featuring Batavia Arrack, a classic punch building block made from fresh sugar-cane juice and fermented red rice, alongside Smith & Cross Jamaican Rum.
---
Forbidden Mai Tai
1 ounce Batavia
1 ounce Smith & Cross
¾ ounce Dry Curacao
½ ounce orgeat

1

ounce mai tai blend (3 parts grapefruit juice to 1 part lime juice)
Shake the ingredients together and serve in a Collins glass. Top with a grapefruit peel for extra flair.