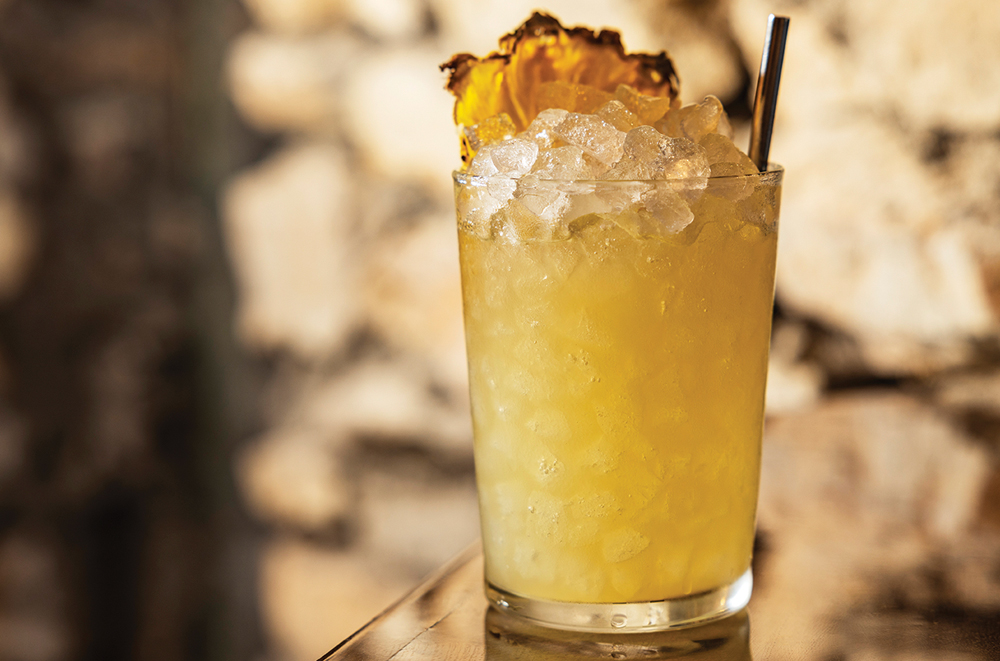 Drastic Measures encourages dramatic entrances. The Shawnee cocktail bar's nondescript façade gives way to a small lobby with a door knocker and a glowing green light to indicate there's room for more guests, encouraging patrons to thump with purpose to be let into the intimate space.
There are no reservations at Drastic Measures—seating is first-come, first-serve and cash is the only form of payment accepted, so arrive prepared (at least with your bank card, as an ATM is available on the premises). It's an important part of the bar's ethos. Opened over the summer by Manifesto veteran Jay Sanders and Swordfish Tom's owner Jill Cockson, the business is designed to keep operating costs to a minimum so they can invest in premium spirits and provide livable wages and benefits for staff.
The entry procedure may be reminiscent of a speakeasy, but Drastic Measures is much more modern in both its aesthetic and approach to cocktails. Groupings of clean-lined sofas and chairs encourage guests to linger over cocktails and conversations, surrounded by limestone and dark teal walls and spiraling pendant light fixtures.
In addition to playing off the measurements that go into building a cocktail, Drastic Measures' name gives insight into its cocktails: Drinks that are a little radical but executed with restraint by bartenders who will cheerfully debate the relative merits of any drink you're considering while effortlessly crafting an order for another patron.
Ingredients that might be garish in other hands make for remarkably balanced cocktails at Drastic Measures. It's a quality of bar program Kansas City typically looks to Westport and the Crossroads to find, parked unexpectedly in Johnson County, a welcome, tasty surprise.
Cocktails like the Measured Approach, an old fashioned made with the additions of aged rum and grilled-apple tincture, have already proven favorites among guests, but a new fall menu, unveiled in early October, offers a new batch of drinks to fall in love with, including the Antigone, a chai tea-infused Jamaican rum cocktail with black currant and lime, and the cinnamon-toast crunch-infused All Time Low.
"I really wanted to make a lower abv cocktail using sherry as a base, but I needed it to be approachable because I wanted to expose more people to drinking sherry and seeing it's potential in cocktails," Sanders says. "It's something we have been using in craft cocktail bars for years, but I don't see a lot of home bartenders using it yet."
Sanders was tossing around ideas with a team member on a slow night when the idea for a cinnamon-infused sherry came up, morphing into a nostalgic conversation about cinnamon flavors and ultimately Cinnamon Toast Crunch.
"We made it the next day and it was perfect," Sanders says. "Yes, I know it's silly; yes, I know it sounds childish and sweet. But it's just drastic enough to catch the eye and just measured enough to fall right in line with our brand of cocktails."
---
A Whole New Low
2 ounces Cinnamon Toast Crunch-infused manzanilla sherry
.25 ounce Kalani Coconut Liqueur
.75 ounce fresh lime juice
.75 ounce pineapple syrup
Shake, serve over crushed ice with a dehydrated pineapple slice.
For the CTC sherry: Take 1 cup of Cinnamon Toast Crunch and let it sit with a 750ml bottle of manzanilla sherry overnight, then strain through a coffee filter.
For the pineapple syrup: Combine two parts fresh pineapple juice with one part rich simple syrup (2 parts sugar, 1 part water).