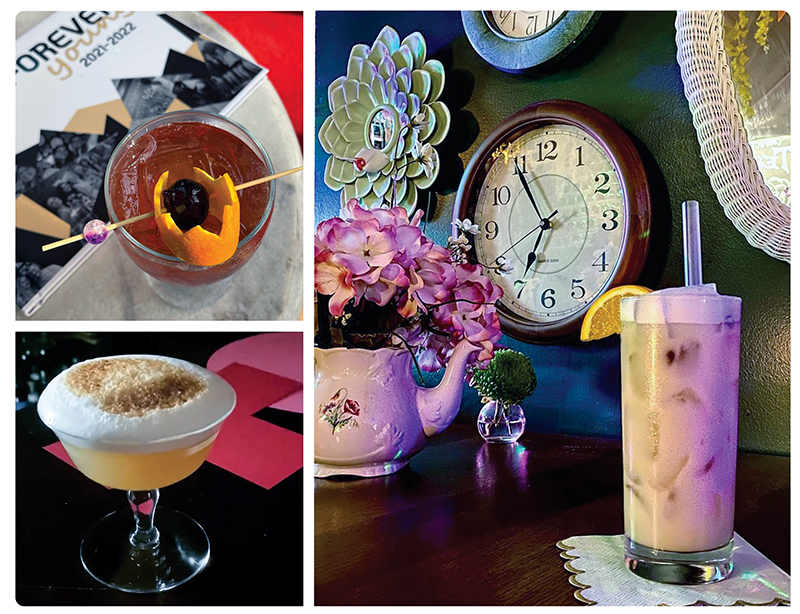 It's been the Mad Hatter's Wonderland tea party, Willy Wonka's Chocolate Factory and a grownup take on prom—but you can simply call Conductor Club Kansas City's most creative pop-up bar. 
Housed on the third floor of Union Station, the concept comes from the team behind Hereford House Restaurant Group and Pierpont's at Union Station. And like so many innovative businesses that have launched in the last two years, it was born out of Covid. 
The vice president of marketing and guest experience, Stephen Valenti, and his team were looking for alternative revenue streams as the restaurant industry struggled. They started offering spirit tastings in Pierpont's Belvedere Room and had built up a following when they were offered a separate Union Station space previously used as an office.
"I think in 30 days, we went from a white office space to a fully functioning bar," Valenti says.
The concept evolved just as quickly: Conductor Club was initially envisioned as a speakeasy, but with the 2020 holidays approaching, they decided to start with a seasonal pop-up bar and discovered Kansas City had a thirst for immersive concepts that don't overstay their welcome. 
A year-and-a-half later, Conductor Club just wrapped up its 11th theme, drawing inspiration from media, holidays, seasons, and more. Each experience runs for six to eight weeks and features a lavishly decorated space and completely fresh cocktail menu tied to the topic at hand.
"It's been fun how this thing has grown and grown each additional step," says the company's corporate beverage director, Scott Deigert. "Each pop-up, we pay attention to what details went well, what people really enjoyed, and we try to expand that and say how do we bring that idea or that representation of ideas to the next one?"
Conductor Club's Mad Tea Party stands out as one of Deigert's favorite concepts so far. Hosted this spring, guests were invited to fall down the rabbit hole with Alice in Wonderland-themed drinks like Off with Their Heads, a gin and Pimm's-based cocktail presented in a skeleton glass by a server wearing a top hat adorned with blooms. Strings of flowers and giant mushroom cutouts transformed the space into a twisted garden party, complete with plenty of teapots, clocks, and larger-than-life playing cards. 
Marketing manager Maddie Salerno helps bring each theme to life through floor-to-ceiling décor as well as the intricate chalkboard menu, which has become something of a showpiece for Conductor Club. Meanwhile, Deigert starts building a menu by taking into account the spirits the drinks should feature and looking for a specific way into the concept.
For instance, for the recent Forever Young prom pop-up, he and his team started with the idea of creating drinks named for the superlatives given out in high school yearbooks. (Naturally, the Cutest Couple, a spiked fruit punch, is designed to serve two.) 
"I have a saying when I'm making cocktails: When I start to giggle, it's probably a good idea," Deigert says. "The whole thing of the Conductor Club is to have fun. We started it on a whim to do something different."
Guests seem to be having fun, too. Reservations are released in two-to-three-week blocks and often sell out within minutes. Even on the first day of a new concept, patrons are asking staff for hints on what's coming next—and we're no better. Stay tuned for "Jurassic Park Tiki" later this summer, and follow Conductor Club on Instagram to be among the first to know what the crew is delivering next.