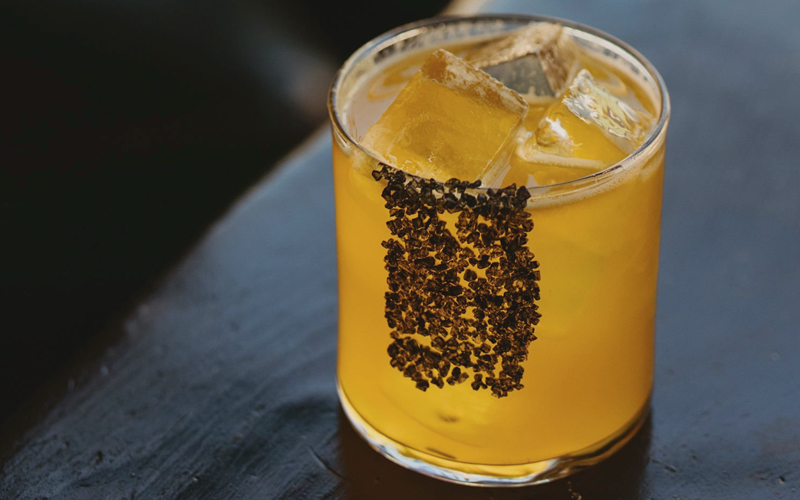 After opening multiple establishments in Kansas City, Heather White continues to impress with her own unique "old money meets urban downtown" design style that she cleverly pairs with impeccable food, drink, and service. With her own restaurant, bar, and bakery now all open and located across the street from one another on the same block of Main Street near Westport Road, she has shown us that the design style that has become her calling card translates easily across concepts. In fact, you can almost identify one of White's concepts just by the dark and moody color palette alone. Those familiar with her concepts are referring to the corner of Main Street and Westport Road as "The French Quarter" with all three concepts sharing French names and White's love of antiques and European-inspired flair.
Cheval on Main opened last year initially to function as the bar for the French-inspired bistro, Tailleur, located directly across the street, but it has taken on a life of its own with White's French bakery, Enchante, now also open next door. Cheval is a before-or-after dinner-and-a-show weekend kind of place, but it is also a 5 p.m. on a Wednesday, and I just want a cocktail or glass of bubbles to unwind, kind of place too. People are just discovering this cute bar, and you should too. 
With only a handful of tables, chairs, and bar seats available, Cheval is a tiny bar in every sense of the word. Spend some time with a friend chatting under the glow of the sparkling chandeliers above as you look at the menu, where you'll find a simple but elegant selection of cocktails, wine, and beer along with a few small plates to share. 
Almost all the cocktails on Cheval's cocktail list are a collaboration between Katie Hentzen, and her bar (and life) partner, Erick Galbreath, who serve as both bartender and server for your visit. With that kind of shared knowledge of the menu, either one can easily direct you to something delicious, so don't hesitate to ask questions or for their advice. 
One of their favorite recommendations is a refreshing mezcal-based drink called "The Flight of the Stumble Bee" that they worked on together, but cleverly named by Galbreath. With saffron liqueur, lemon juice, and honey as ingredients, the drink has a golden sunset hue to it, which helps tame the smoky mezcal it is paired with. 
Order it the next time you are in Cheval, or given the name, perhaps try this one in the comfort and safety of your own home first.
The Flight of the Stumble Bee
1 ounce La Luna Mezcal
1 ounce Apologue Saffron Liqueur
.75 ounce fresh lemon juice
. 5 ounce honey syrup (if you like it a little sweeter do .75)
Combine all four ingredients in a cocktail shaker and give it a good hard shake. Pour into a rocks glass filled with ice cubes. To garnish, paint a little honey on the rim or side of the glass and dip in black lava salt.