The concept of bar hopping is a great one. The first bar of the night might have top-notch hand-crafted cocktails, the next a great dance floor, and so on.
The bar-hopping reality, however, is often a lot less fun—especially if the weather is bad. But what if you could get that best-case bar-hopping scenario all in one place? That's the goal of Fountain Haus, a soon-to-be multi-experience venue coming to Westport in early 2022.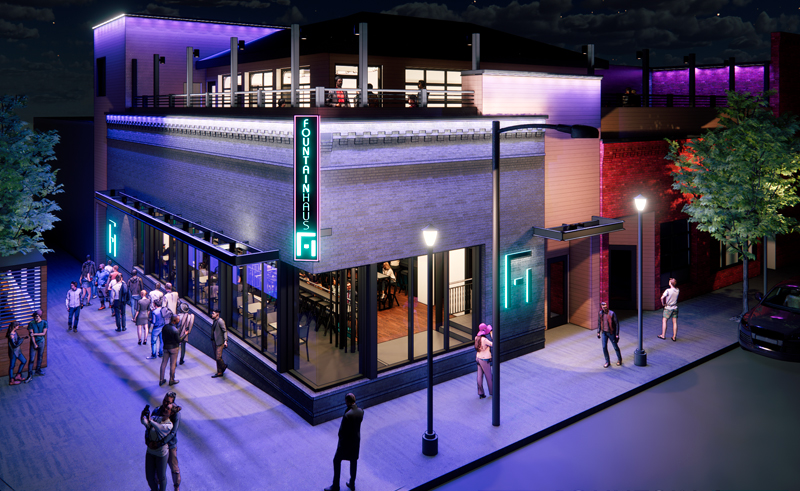 A destination for everyone—the LGBTQ+ community and allies alike—Fountain Haus will offer guests four unique spaces:
The Pump Room: a main lounge and dining area with a full menu of food and drinks.

The Cube: a dance club complete with its own bar, and reservable for private parties and events.

The Siren: an upscale speakeasy with hand-crafted cocktails and food.

Pool Deck: there won't be a physical pool, but this rooftop setting offers an underwater vibe complete with a poolside deck.
Ryan Overberg, one of the venue's three locally-based owners and operators, calls the space a "choose-your-own-adventure" experience. Guests can visit one of the venue's four spaces, or they can hop between all four concepts.
"This space is a 'haus' or place for everyone," Overberg says. "This will be a space where all are welcomed.
"It's also really focused on LGBTQ+ allies because we didn't want to make it just a gay bar," added David Brinkerhoff, a co-owner.  "We wanted to make it a place for all of us to get going, have fun, and be safe," 
At 13,000 square feet, the venue will be the largest LGBTQ+ inclusive space in the Kansas City metro, and for miles around.
Playing off Kansas City's reputation as the City of Fountains, the name Fountain Haus aims to make Kansas City a destination for people of all backgrounds to gather.
"We used the German spelling, but Haus comes from the queer history of the word house," Overberg noted. "In the New York and LA ball scene, 'house' was your chosen family and your safe space. You could go to the bar or the club and find people who would really support you. So if Kansas City were to have a safe space for the queer community, it would be fountain house." 
The ownership group, which also includes Dan Meiners, plans to host a multitude of performers and artists who match the nature of the four different spaces.
Fountain Haus is set to open in January 2022 in stages. The Pump and The Cube will be the first to open, followed by the Pool Deck in mid-March, with The Siren set to open in April. 
There will be a grand opening when all four spaces are up and running on Fountain Day when the City of Kansas City starts running all 48 publicly-owned fountains.