Fieri fever has hit Kansas City. The larger-than-life celeb chef caused quite a stir last night at the Power & Light District—shutting down streets in preparation for his pending arrival. When Fieri appeared nearly 15 minutes before his scheduled time, a wave of cheers emanated from the street and continued on as he walked through the doors of his new restaurant—the eponymous Guy Fieri's Dive and Taco Joint located on the corner of 13th and Grand.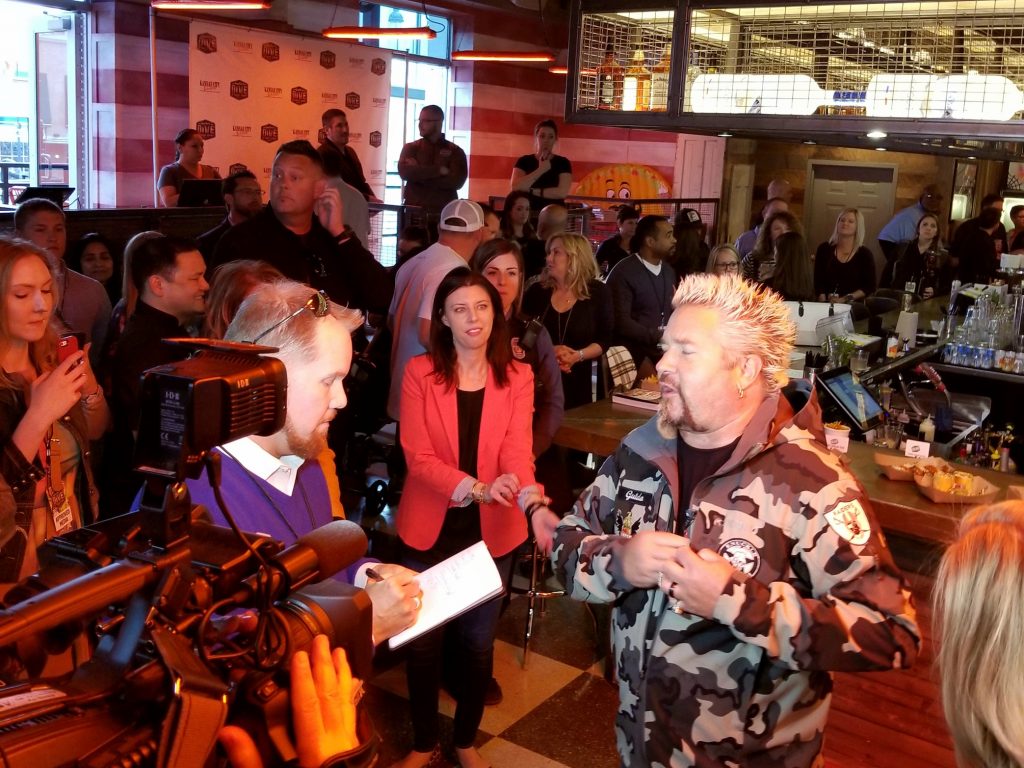 A slew of news media, VIP's and fans were on hand to fist bump with the spikey-haired chef who clearly knows how to work a crowd. Several lucky contest winners were treated to a tasty three-course meal hosted by Fieri himself. For Fieri, it was a homecoming of sorts. "How many times have I been to KC? More times than I can talk about," Fieri laughs. From shooting multiple Diners, Drive-ins and Dive episodes in the metro to countless appearances at American Royal, Fieri knows his way around the city. "It's a great town—so much history," he says. "KC has a love and appreciation for food. It's now a food destination."

And his restaurant has been garnering good buzz thanks to his boozy tequila concoctions, signature bites, and his seven West Coast-inspired street tacos. "I'm from California where fantastic tacos are mainstay," says Fieri. "Here we have great tacos, in a funky atmosphere—in a total dive bar. And everybody needs a good dive joint in their repertoire."

When Fieri wasn't busy schmoozing with the local contest winners, he was busy hobnobbing with his fans—a few of whom dressed up to resemble the blondiful culinary pro. Fieri even snatched several cameras right out of fans' hands to take selfies with them. Shirts, hats, menus, and pictures were tossed with wild abandon and he took time to sign each and every one.
When asked if he'd be making more visits to KC now that his restaurant is up and (rock and) rollin', Fieri is coy. "KC is a big small town. You guys are blowing up," he says. "I travel cross country a lot. Kansas City is a nice little stop."