Sponsored post:
It's a performance that's been mesmerizing audiences for over a century. Of course, we're talking about Swan Lake, the captivating ballet based on a German fairy tale. This fall the Russian Ballet Theatre will be unveiling a stunning, new production of Pyotr Ilyich Tchaikovsky's Swan Lake to 50 cities across the United States—with a stop in Kansas City at the Folly Theater on October 22nd.
Tchaikovsky's powerful score tells the tragic love story of Prince Siegfried and the Swan Princess, Odette, who is cursed to be a swan by day but a young woman at night. With some dazzling new choreography, hand-painted sets and time-honored Russian traditions, the show promises to be a cultural spectacle. "Swan Lake is a ballet of ballets. There is nothing like it," says Gulya Hartwick, the Theatre's co-producer. "If you only choose one ballet to see, it should be Swan Lake. Our new production of it is extra special for several reasons: our brilliant choreographer Nadezhda Kalinina did an amazing job interpreting some of the roles and adding new twists to it. We added prologue, we cheered up the ball and there are more surprises awaiting the audience. Set and costume designer Sergey Novikov made sure to support this timeless choreography with dazzling scenery and sets. There might be some downsides to it: our Rothbart, for example, might be too handsome for the evil sorcerer."
The ballet troupe reads like a veritable who's-who of internationally known dancers. The company features Olga Kifyak as Odette, Evgeny Svetlitsa as Prince Siegfried, Mikhail Ovcharov as the Jester, and Vasili Bogdan as Rothbart. "Every dancer brings something special—every one of them," says Aliaksandra Horskaya, RBT co-producer and executive director. "Our cast is from all different parts of the world—Russia, Ukraine, Belarus, Moldova, South Korea, Japan, Poland, Kazakhstan, and Kyrgyzstan—and everyone brings a little bit of their culture to the table."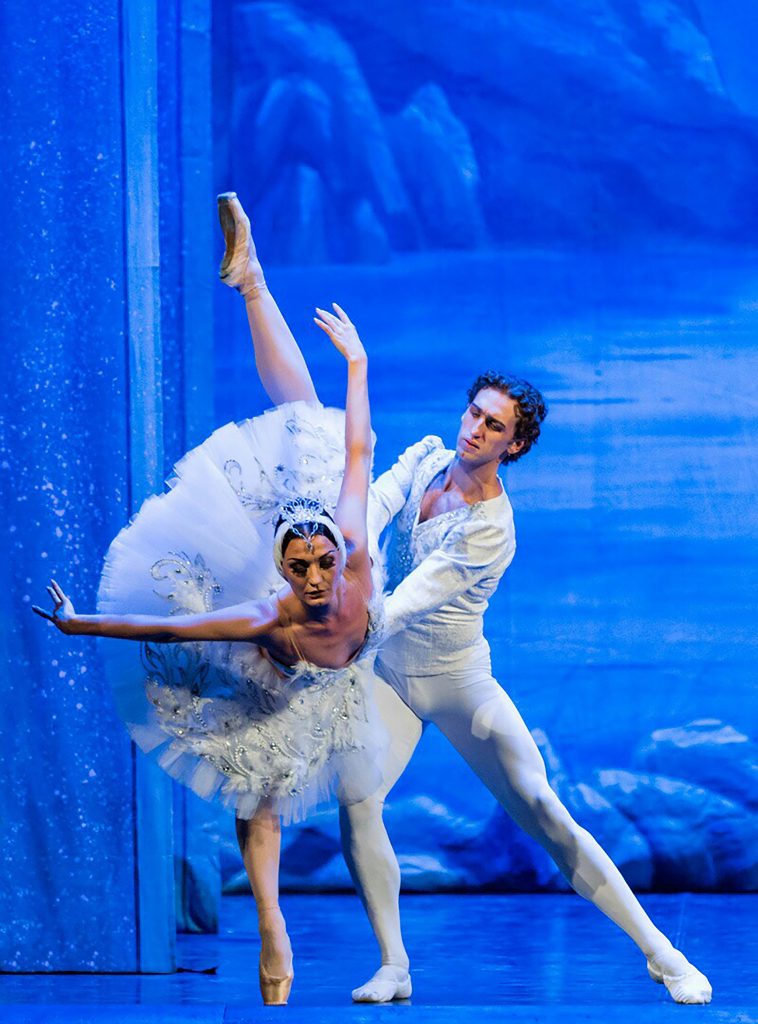 Choreographer Nadezhda Kalinina has staged more than 60 performances throughout the world and knows a thing or two about impressing an audience. She also treats the Russian classic with respect and adoration: iconic 32 Fuettes will be performed by the Black Swan in Act 3, of course. "It's amazing to watch. Over the course of Swan Lake's history, there were a few world-famous ballerinas who couldn't do it. Our Prima's Olga Kifyak technique is exquisite and she does it perfectly every time", says Horskaya.
With more than 150 colorful, hand-sewn costumes, the show promises a dazzling array of costumes to relish. Hartwick also says keep a tissue handy as you'll probably need it. Deceit and deception play a heavy hand in the timeless performance. "I always have tears in my eyes when the court, the Queen and the Prince realize that this has been a trap and Rothbart has deceived him, she says. "The Black Swan and Rothbart have this very strong evil body language of laughter. I feel terrible for the Prince—his heart is broken!"
The show promises to be one of the must-see performances of the fall. It's no wonder that tickets are going fast. As Horskaya points out, it's a one-night-only spectacle. "Each and every person on our team brings something very important to this show," she says. "It's a perfect combination of art, technique, beauty, and knowledge that we bring to the audience."
Swan Lake—performed by The Russian Ballet Theatre
Tuesday, October 22nd
Folly Theater
For tickets or more information please visit, www.RussianBalletTheatre.com.