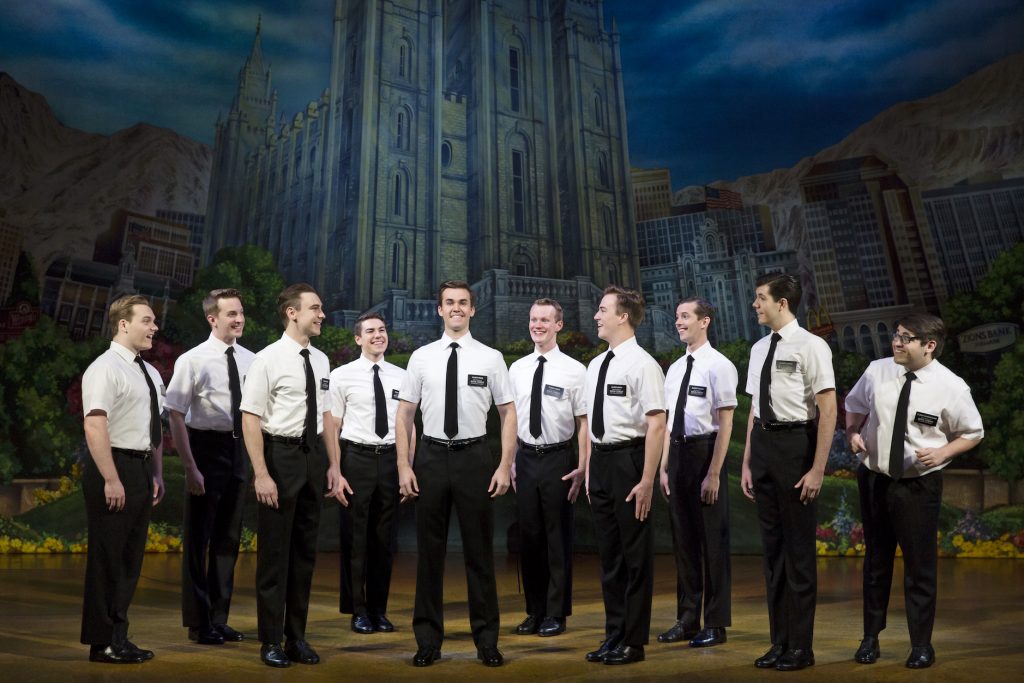 I'll just say it: the hype surrounding The Book of Mormon is real. Far more real than those golden plates Jesus gave to Joseph Smith. My guts and facial muscles are still sore from laughing so much. No surprise there considering the comedic brain-trust behind the project. South Park creators Trey Parker and Matt Stone are widely regarded for their subversive humor and that unique ability to be offensive in tandem with pointing out valid criticisms of their subject matter. Rounding out Book of Mormon's creative trio is Robert Lopez (Avenue Q), who has the distinction of being both the youngest and the quickest to accomplish EGOT status (winning an Emmy, a Grammy, an Oscar, and a Tony). Put those three names on a playbill and you know you're in for something special. The result of this team-up is arguably the most charming R-rated musical ever to grace the stage, a coming-of-age story that's both raunchy in its humor yet smart in its religious satire.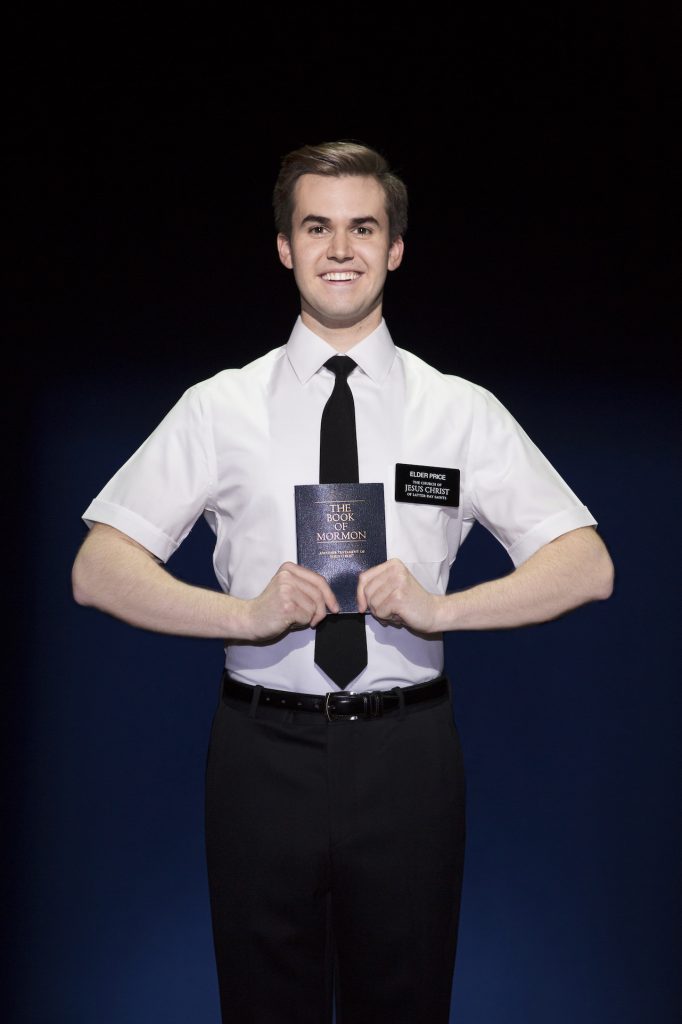 We're introduced to our two leads via "Hello," the show's upbeat opening number featuring about ten young missionaries practicing their schtick on mock doorsteps inside the church's training center. They're each wearing the same short sleeve white dress shirt, black slacks and tie ensemble. Eventually, the focus shifts to Elder Kevin Price (Liam Tobin), an overconfident upstart with huge ambitions of locating to Orlando, Florida—his personal paradise. On the opposing end of the spectrum is Elder Arnold Cunningham (Conner Peirson), a bespectacled young man who is a self-professed liar with self-esteem issues. He's obviously the weakest link in the bunch, and one of these poor unfortunate souls is going to have to deal with him. As per the Church's protocol, Mormons must do their missionary work in pairs when they go abroad. Two-by-two, they go through roll call. First, missionaries are paired up. Then, they're given the location in which they'll be spreading the word of Joseph Smith for the next couple years. Places like Japan, France, and Norway. Elder Price would be happy with any of those, but alas, the worst happens. He is paired up with Elder Cunningham, and they are being sent to one of the worst places on the planet: Uganda.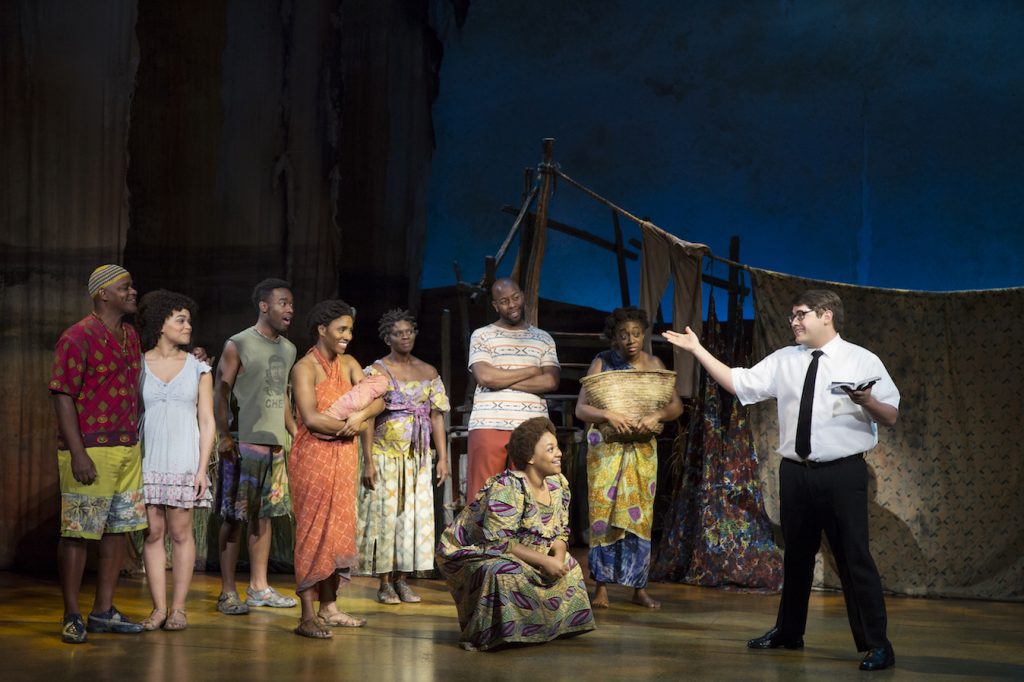 It's when Price and Cunningham arrive in Africa that a case of fish-out-of-water syndrome hits and the cultural disconnect between the Mormons and Ugandans reaches comedic heights the audience will never see coming. This is showcased perfectly in "Hasa Diga Eebowia," the Ugandan villagers big opening number about a common phrase they use in the face of hardships like poverty, war, famine, and AIDS. It's not exactly faith; it's more like the conscious denial of faith. The villagers shout out their troubles to the sky—and just as quickly—assuage them with this seemingly magical saying. The music and dancing are so infectious that Elder Cunningham joins in, recalling the adversity he's endured thus far in Africa with stolen luggage and the uncomfortable journey, all followed up with a hearty, "Hasa Diga Eebowai!" Curious, Elder Price presses Mafala (Jacques C. Smith), one of the villagers, for a more literal translation. "Well, let's see," Mafala muses. "Eebowai means 'God.' And hasa diga means 'f*ck you.' So, I guess in English it would be, 'F*ck you, God.'" Price is shocked but the villagers are already doubling down, singing about how to get back at God when He (and I'm phrasing this next part as carefully as possible) takes advantage of you from behind. Elder Price clues in his companion to the English translation of what he's reciting. "It means something very bad," Price reveals. "They are saying eff you to Heavenly Father," to which Cunningham gasps, a look of schoolboy shame drenching his face. "Eff you to Heavenly Father? Holy moly! I said it like thirteen times!" The villager's song manages to get even dirtier with a rapid succession of C-words (yes, that C-word) and dismissal of God. Elders Price and Cunningham are at a loss. They've never encountered people so cynical, so lacking in faith. The circumstances couldn't be much worse. Even with the odds stacked against him, Elder Price resolves to be the one who succeeds where all others have failed. This leads into his rendition of "All-American Prophet," a song that begins as a tribute to Joseph Smith but soon devolves into a tribute to Price himself.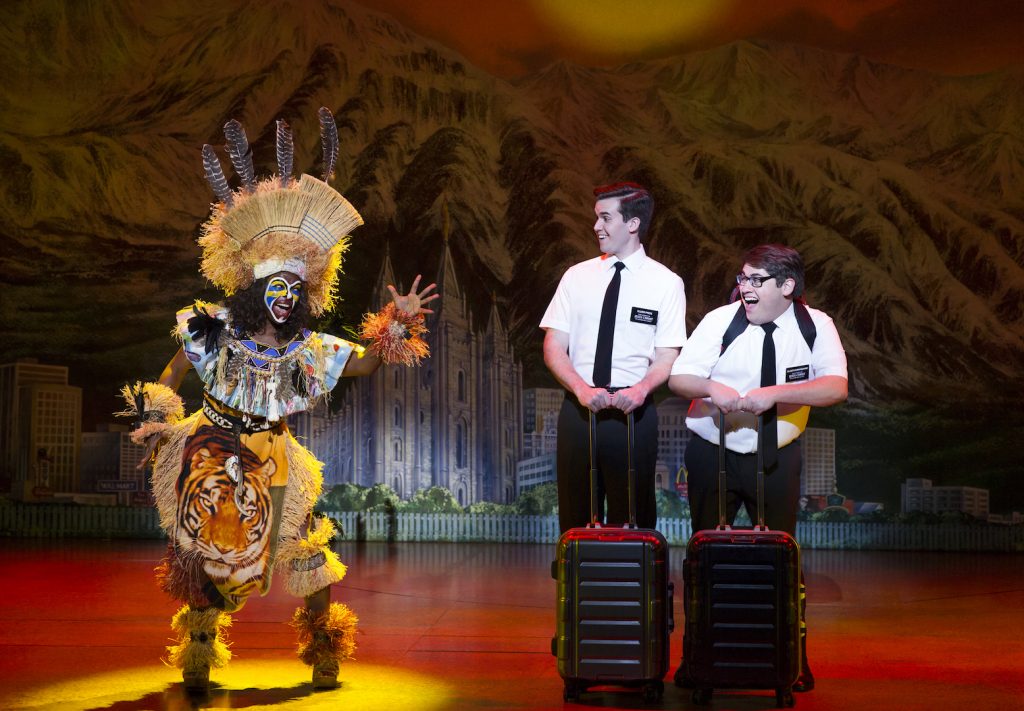 It's not long before Price and Cunningham are put in a compromising situation by a local warlord, a man hellbent on mutilating the genitals of all female villagers. The result of the encounter with the General terrifies Price to his core, and for the first time in his life, his faith is shaken. Price resigns from his missionary work, and now it's up to Elder Cunningham to complete the job and save the villagers. With the assistance of Nabulungi (Kayla Pecchioni), Cunningham is given an in with the rest of the community and they agree to listen to what he has to say. Unfortunately, the actual Book of Mormon is boring as hell, and Cunningham finds himself losing the audience. Desperate for a quick solution, he does the thing that comes naturally. He starts making up stuff using pop culture references (which the villagers aren't familiar with) from the likes of Star Wars and Lord of the Rings. It works. Everyone reengages, but Cunningham's progress and the successes that follow are now all built on a foundation of lies. The question isn't if all this will come back and bite him in the ass, but when. Cunningham is officially off the divine path, and there will be no miraculous intervention when this shaky house of cards crumble and falls on top of him. Hasa Diga Eebowia!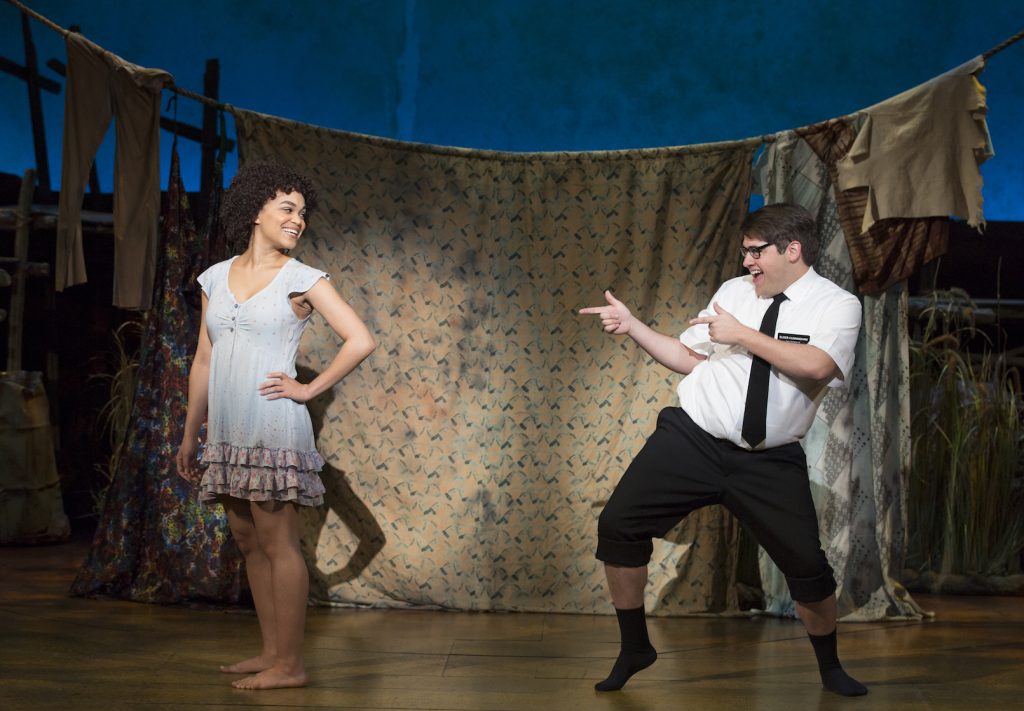 Collectively, The Book of Mormon is everything you'd want out of a musical and everything you'd come to expect out of its creators. The music is catchy as hell. The core cast and ensemble own the material and perform it fearlessly. You've got to be fearless as an actor to poke the bear of an entire religion and make infant sex jokes. Tobin is excellent as Elder Price, and Peirson's high energy performance of Cunningham make him the center of attention even when he's dancing in the background. Pecchioni handles her role of Nabulungi perfectly and turns in some of the strongest vocals of the show. I could go on and on about the cast, but the bottom line here is they make highly difficult material look easy. Their choreography is just as precise as their punchlines, and it's that balance of those traditional musical elements married with raunchy satire that make this show such a unique experience. It's in a league of its own, and I can say with little reservation that The Book of Mormon is the best production I've seen all year.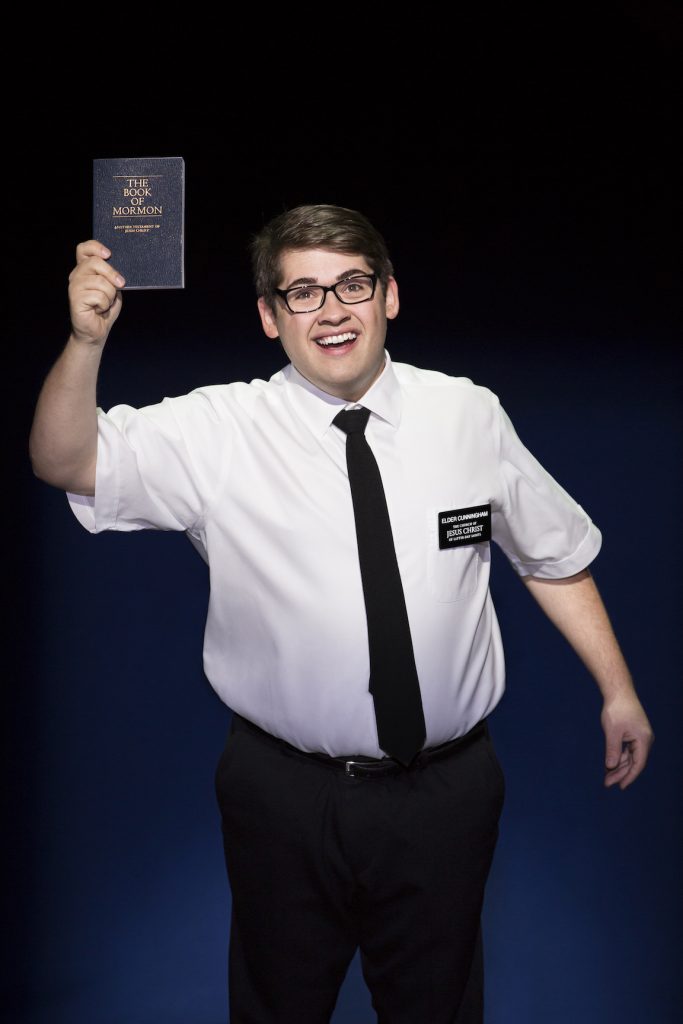 The Book of Mormon will play thru December 30th at the Kansas City Music Hall.