Review presented by UMB Private Wealth Management
Director Jeff Calhoun was nervous. The two-time Tony Award nominee stood in front of the audience, braving a smile and explaining to us that he wasn't quite sure what was going to happen next. "We don't know when you're going to clap or if you're going to clap. We don't know when you're going to laugh or if you're going to laugh." At which point Calhoun urged the audience to laugh and clap a lot. His show, The Last Days of Summer, based on the 1998 Steve Kluger novel, was set to give its first performance. Not "first performance" as in, the first at KC Repertory Theatre or the first time with this specific cast. This performance was to be the first of the play ever, and he was counting on us to let him know what worked in the form of the many applause breaks, gasps, and tears that were due to come.
One has to take note of Jason Sherwood's clever set design. A mosaic of handwritten letters hangs from the rafters, a nice nod to the novel's epistolary format. They double as both a reference to Kluger's source material and a veil between the tuxedo-clad band and the actors on stage in 1940s New York. Written correspondence is a main component of the story, and we're clued into that with the performance of "Dear Mr. Charlie Banks," a song in which 12-year-old Brooklynite Joey Margolis humorously concocts whopper tales of medical woe to the (fictional) New York Giants third baseman. Letter after letter, Joey floods Charlie's inbox with false agonies ranging from broken limbs to pulmonary tuberculosis, none of which he can hope to recover from unless a home run is hit in his name. The mischievous pre-teen—played charmingly by Robbie Berson—will even bounce ideas off his mother when he's having a hard time devising a new attention-seeking affliction.
On the other end of the postal route, Charlie (played by Corey Cott) openly complains to his teammates about the crazy kid from Brooklyn who won't leave him alone, despite the many autographed photos he's sent to placate him. The letters have become a running joke by this point, with many of Charlie's fellow Giants wanting to know what new malady Joey has this time. But Charlie has bigger things to worry about than some not-really-sick kid across town. He's trying to make his mark as a ballplayer, and he puts his tough guy exterior on full display via the performance of "They Know That It's Me" with his teammates, a standout song dripping with machismo. Despite it being early in his professional career, Charlie has already made a name for himself as one of the toughest guys in the league. He gets into a brawl of some sort every single game, and although his fellow Giants don't seem to have much of a problem with this, his lounge-singer girlfriend Hazel MacKay (played by Emily Padgett) is sick of the bumps and bruises. An ultimatum is issued. Charlie can either clean up his act or Hazel will find herself another man with a cooler head. The length of Charlie's good behavior is hilariously negotiated in a locker room duet, and we see just how much of an influence the beautiful Hazel has over this rough-around-the-edges third baseman. It's the very same influence that Joey will use to finally get Charlie to respond to one of his letters with something other than an autographed photo.
It's when Charlie and Joey are finally brought together that everything is taken up a notch. The humor hits harder as Joey continues to pull Charlie's strings and the emotional stakes are raised. Berson and Cott's performances nail the comedy odd couple aspect while dropping in those much-needed father/son bonding moments at just the right times. It's a tricky tightrope that they navigate beautifully, especially towards the end of Act I when the Charlie and Joey relationship reaches new levels of authenticity. These two are truly engrossing when paired together, but it was Emily Padgett's performance of Hazel that felt like the real show-stopper. In an ensemble of strong voices, Padgett's voice came through the strongest and most faithful to the sound of the era. "Don't Believe in Romance" and "At Tom Kilkenny's Irish Grille" are speakeasy perfection.
Berson, Cott, and Padgett are clearly the main attraction, but one can't neglect the performances by the supporting cast. Laura Braton and Katie Karel are hilarious as Ida Margolis and Aunt Carrie. Jim Kaplan, who plays Craig Nakamura, delivers an emotionally complex performance that defies his chronological years. And Chris Dwan's Stuke, best friend and teammate to Charlie, is a constant source of laughs throughout the show. This is a cast that plays well together but can most definitely hold their own when it's their turn to step up to the proverbial plate.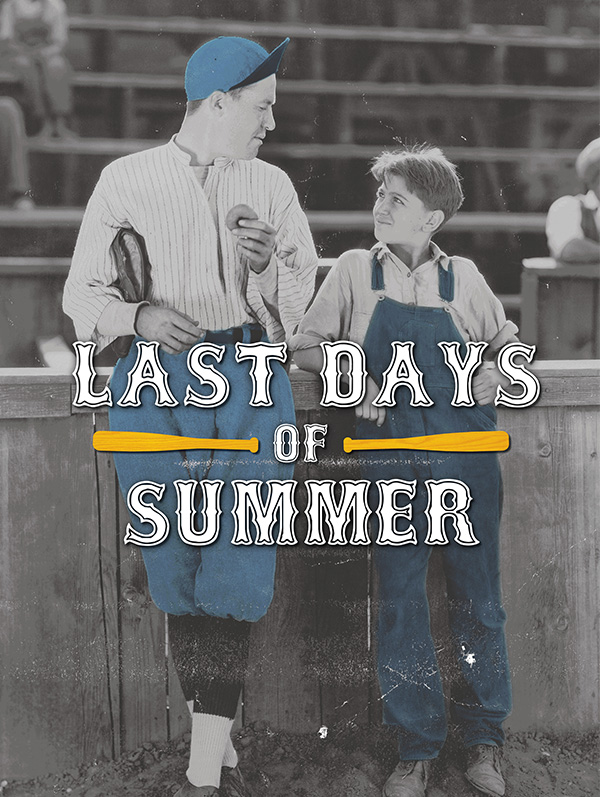 I'm hoping by this point that director Jeff Calhoun isn't nervous anymore. His story of a young Jewish boy connecting with a professional baseball player was well-paced and well-acted. The laughs were there. The tears were there. The music was on point and the scene transitions were seamless. If this is the kind of show he's putting on during a preview, then I can only imagine how good it's going to be when preseason is over. Last Days of Summer is a fantastic original adaption that Calhoun and Kluger should both be proud of and audiences should line up to see.
Last Days of Summer will be showing throughout the month of September at the KC Repertory Theatre.