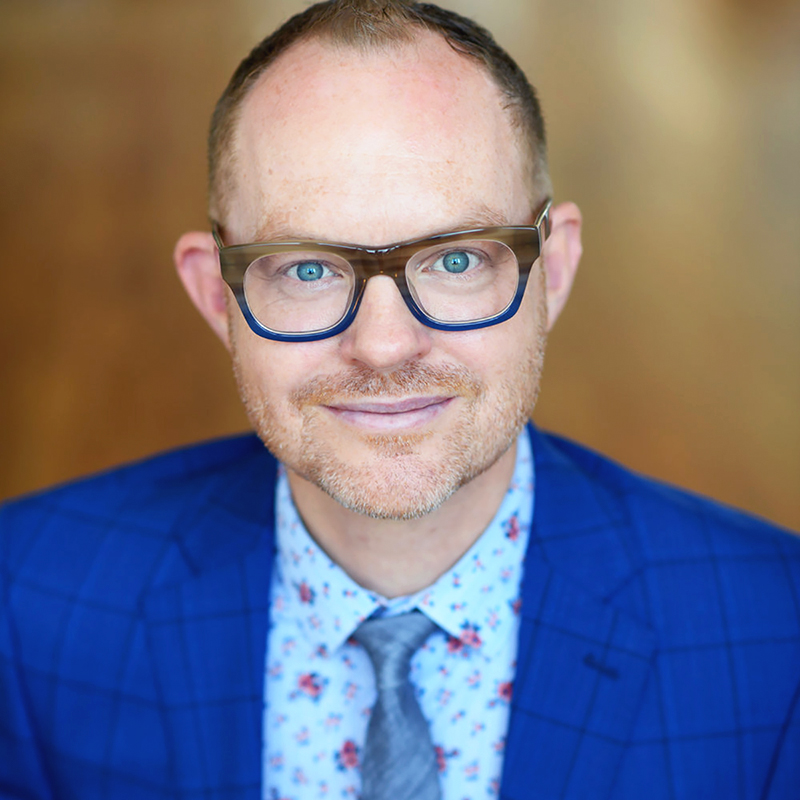 With one foot in Chicago, where his family lives, and the other in Kansas City, where he works, Stuart Carden balances writing, directing, teaching, and a host of other creative activities. Carden is married to contemporary art and public art curator Neysa Page-Lieberman and is dad to twins Dashiell and Griffin Page-Carden.
Says Carden, "It is a dynamic time in the theater for new plays because we've entered an era of 'making' that is less bound exclusively to the word and psychological behavior and more driven by theatrical experimentation and invention, multi-disciplinary approaches, poetic gesture, and creating experiences for the stage that can only exist in the theater." 
After a year-plus spent improvising on a pandemic-canceled live theater season, Carden is excited to bring it all back. "Theater, at its most thrilling, is an invitation to participate in a singular event every night—an invitation to participate. Sometimes that may be the call and response that happens between a performer and audience or it may be a moment where the audience is invited to make an imaginative leap or quite literally, as many will experience with Mary's Wedding on the lawn of the WWI Museum and Memorial. Audiences will be immersed in the experience of the story."
You were just in your first year as artistic director with KCRep when the pandemic hit. What resources, personal and professional, did you draw upon to navigate this?
This is a wonderful and extraordinarily big question. The pandemic hit followed powerfully by the social justice movement that has inspired so many in our industry and all of us at KCRep to work to create a more equitable theater that is truly for all. It has been a seismic moment of change and transition and by far the most challenging and meaningful work of my career. I have drawn on every ounce of every aspect of my life to help me navigate these last 15 months. All of my experience as an arts leader over the past 20 years was tapped again and again. And in so many moments, I drew from a sustaining belief in the transformational power of live performance and how we could be a part of bringing our community together during and on the other side of the pandemic. Holding on to our purpose and belief that KCRep plays a crucial role in bringing our community together, mourning the things and those we have lost, healing, and celebrating a return to community and affirming our shared humanity—this is what I looked to in moments of despair, heartache, and confusion. That and an endless pot of coffee.
You have become a specialist in building new plays. How do you bring a written play to life to be immersive for the audience, that they experience rather than witness the drama?
There is something electric about bringing a new story to life that speaks to who we are, in this present moment, that invites us to reflect, examine, challenge, celebrate who we are as individuals on our singular life's journeys, what it means to be a community, and as a country. Developing a new play is always an opportunity to learn about yourself and the world. And right now there are as many ways to build a new play as there are artists creating them. There are incredible playwrights writing plays on screens from their homes and coffee shops, but there are also playwrights creating through improvisation with actors, partnering with designers, and starting with a visual concept, ensembles that devise new plays that are multi-voiced. 
You're married to a contemporary art curator and father to twin sons. Does raising children influence what values you want theater to convey?
Oh, absolutely. Being a parent and thinking about my own experiences as a young person going to live performance—this has profoundly shaped my thinking about the types of stories we share on our stages. Theater at its best and at all ages is perspective expanding, empathy building, right brain and left brain energizing, and heart expanding. We also are thinking a lot about the value of intergenerational experiences at KCRep, and you'll see in this season and seasons to come—a focus on theater experiences for all ages that create a shared space for audiences of multiple generations to engage and make new connections through the conversation happening between performer and audience.
The arts are back! After a season-plus of offering outdoor and streaming performances, KCRep audiences can return to live indoor theater. Can you highlight the upcoming season for us?
This is going to be a year of so many firsts! We'll share a gorgeous and adventurous love story in Mary's Wedding on the lawn of the National WWI Museum and Memorial in September, followed by our 2nd Annual Ghost Light evening of haunted songs and stories featuring Enrique Chi and Juan Carlos Charaund of the Latinx band Making Movies on the lawn of the Nelson Atkins Museum of Art. Then the return of our much-loved holiday tradition, A Christmas Carol in Spencer Theatre. Then a world premiere by one of my favorite playwrights, Kate Hamill, a wonderfully raucous feminist take on Sir Arthur Conan Doyle's Sherlock genre, with Holmes and Watson – Apt 2B. Then we are so excited to share the powerhouse and thrilling boxing play, The Royale by Marco Ramirez, which tells the story of Jack Johnson, the first Black heavyweight champion of the world (who fought right here in KC at the Folly Theater), and then closing the season will be one of my signature productions, The Old Man and The Old Moon. This music driven, lo-fi/hi-imagination piece is an all-ages experience—a feast for music lovers and the imagination. Our doors will be open wide as we welcome all in our Kansas City community to join us to experience theater that sparks imagination, awakens resilience and hope, and inspires wonder and joy.