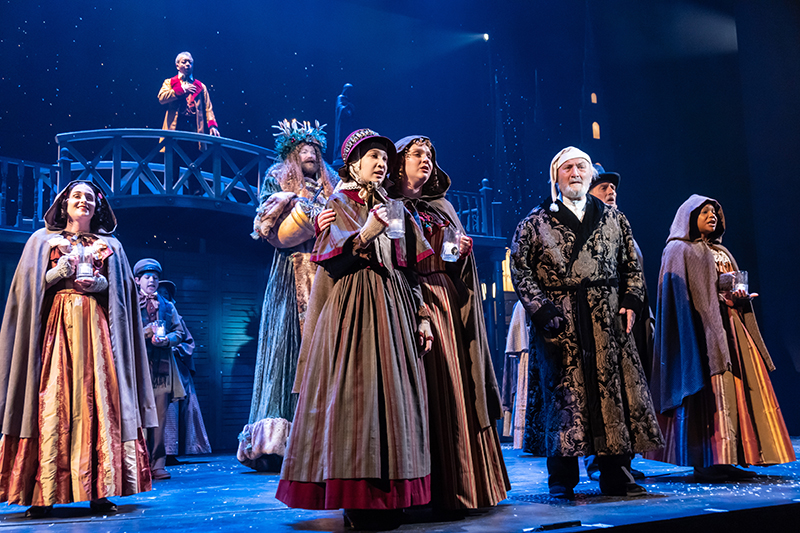 I can clearly remember the first time I saw A Christmas Carol performed at the Kansas City Repertory Theater. I was in my late 20s and very familiar with the story, but it was still a thrill to see the stage come to life in Dickensian splendor and squalor. After nearly two years dark at the UMKC Spencer Theater, the Rep is back with A Christmas Carol, and it feels like the very first time—again. 
A Christmas Carol marks the first indoor show at the UMKC Spencer Theater in nearly 600 days, as was pointed out by Stuart Carden, the artistic director, before opening night on November 28. The house was comfortably full for a pandemic audience—while there was no spacing between seats, guests were required to show a vaccine card or negative test results to enter, and masks were required throughout the show. Those safeguards allowed the audience to enjoy the show comfortably. 
And enjoy it they did. The energy both in the audience and on the stage was palpable. There was a feeling of comfort—going to the theater, especially a holiday stalwart show like A Christmas Carol, means a return to real life, even if adjustments must be made. The actors crackled with energy and anticipation. They are back—finally.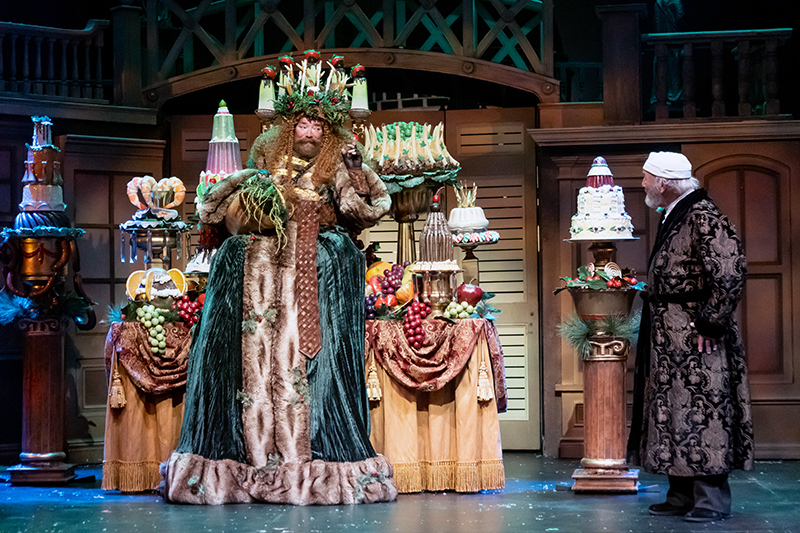 The staging for A Christmas Carol has changed over the years, and this year's production dazzles with a two-sided set on a turntable to create a lifetime's worth of experience for our friend Scrooge. John Ezell's scenic design was rich and textural, with special effects that dazzled—levitating ghosts, falling snow, and glowing doorknockers were just a few. 
This year was the first time my eldest daughter saw the show, having been deemed mature enough to sit still for two hours, and the wonder with which she viewed it was refreshing. (Full disclosure: she fell asleep in the second act, but 9 p.m. is late for a five-year-old.). The audience is warned that actors will use the entirety of the house space for the show and having wandering musicians and glitter-throwing ghosts mere feet from her created an all-encompassing experience that was spectacular. 
While Dickens's speech patterns aren't always the easiest to understand for the younger set, the actors made the dialogue come alive with their performances. While my memory may be clouded by time, it seemed that the cast took extra care to pack humor into small moments between more significant beats that helped build the characterizations and make the ensemble more than an additional set piece. 
Gary Neal Johnson seems to have reignited his love of the role. He's held parts in the Rep's production of A Christmas Carol since 1982 and played Scrooge since 2000. But this year, his performance was particularly nuanced. Rather than just playing irritable, as would be the easy choice, he added physical humor that brought fresh energy to the role. 
Matthew Rapport reprises his role as the Ghost of Christmas Present, using stilts to tower over the rest of the cast. This year, he added in asides that addressed his mask-wearing audience that elicited gales of laughter. And his glitter game was very strong. As my daughter said when he first appeared on stage, perched on his throne of plenty, 'He looks like a food mermaid!"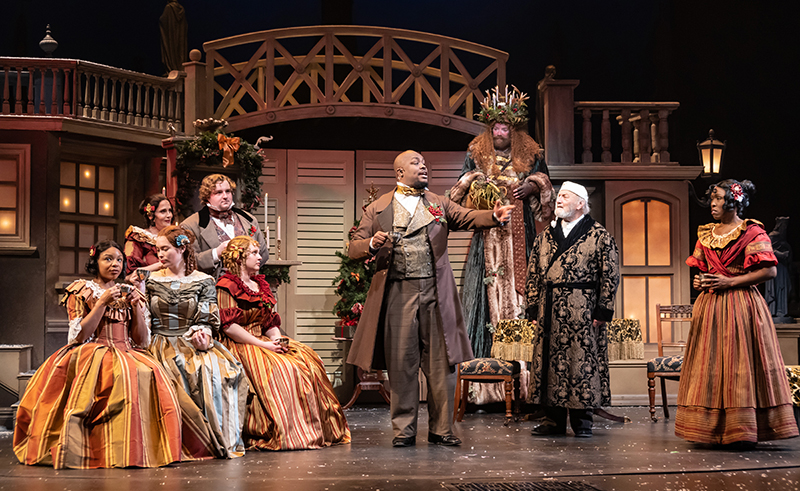 Two other aspects also stood out. The cast was racially diverse, and rarely was there a scene where there wasn't at least one Black actor onstage. While Walter Coppage is an institution at the Rep, it was lovely to see such representation onstage, especially in a period piece. 
The second was the music. While there has always been music involved in A Christmas Carol, pun notwithstanding, the integration of full chorale arrangements within the scene transitions was stunning. It truly felt like a joyous celebration of the season. The soprano soloist on the mid-show version of O Come All Ye Faithful was transcendent, and the fullness of the ensemble's arrangement was genuinely moving. 
For many theater companies, A Christmas Carol represents their seasonal cash cow—a story so familiar that it becomes a staple for budgetary reasons, but little joy goes into it. This year, the Rep has produced the opposite. Everyone on stage seemed genuinely invested in their roles, and income inequality and greed have never been more relevant topics. With safety measures in place that allow patrons to enjoy the show without fear, this is one Christmas tradition that audiences will thoroughly enjoy this season. 
A Christmas Carol runs now through December 26. Tickets are available at kcrep.org.